Check out this killer diller list of 1940s slang. Have you heard any of these terms? I love the old movies and got most of the 1940s slang from those old flicks like Twice Blessed, Jive Junction, and Buck Privates. Sitting for hours with pen in hand, I wrote down as much 1940s slang as seemed appropriate for my stories. I use most of the terms below in  my vintage writing, too!
To Slang or Not to Slang?
What do you think? Do you like slang in fictional dialogue? What about in the narrative? Are you hep to the jive and would you use any of these words today?
Adding 1940s Slang
I just found another killer diller list of 1940s slang. Check out 
Cat Gardiner's list
to see some of our cross-over terms and hep yourself to more. I plan on incorporating a few of these new-to-me terms in the sequel as well as the short story collection of Swing Shorts I'm working on! 
This list is always evolving and I value your suggestions on the 1940s slang you've read, heard in movies, or experienced when listening to older relatives. Please keep sharing and come back often.
1940s Slang
Able Grable = Girl with low morals
Above my Pay Grade=Don't ask me
Ameche = Telephone
Anchor Clanker = Sailor
Bird = Girl
Bobbysox Brigade = Young Jitterbugs
Cheaters = Sunglasses
Chucklehead = Unintelligent person
Clams = Money
Clobbered = Have a crush on
Cookin' with Helium = Dances well and fast
Christopher Columbus = Exclamation of surprise
Crumb = Jerk, no fun
Cut a rug = Dance
Dead Hooper = Poor or bad dancer
Digging the Jive = Dance
Dish = Cute Girl
Don't go into a decline = Don't get depressed
Dopey = Not smart, nerdy
Drip = A boring person
Duds = Clothing, apparel
Flip Your Wig = Lose control of yourself
Floy floy = Nonsense
Gab = Short for Gabardine fabric
Gate = short for Alligator = Jitterbug
Goo and the moo = Pancakes, syrup and milk
Humdinger = Remarkable, outstanding
I'm Going Fishing = Looking for a date
Jalopy = Car
Jeepers = Exclamation of alarm
Jiffy = Quick
Jits = Jitterbug
Jive = Swing Music
Keister = Rump
Khaki Wacky = Boy Crazy
Killer Diller = The best, ultimate
Knockin it out = Dance amazingly
Kopescetic = Fine, okay
Lamb = Nice person
Lay an egg = Be Boring
Lay off = Leave alone, quit bothering
Licorice stick = Clarinet
Mitts = hands
Off the cob = Corny, goofy
On the beam = Cool, A-one
Peepers = Eyes
Pegs = Legs
Pennies From Heaven = Easy money
Quenchers = Cold Drinks
Reet = Very
Rug cutter = Dancer
Rusty dusty = Rump
Slack happy = Dumb and happy
Specs = Eyeglasses
Squidy = Sailor
Strictly from Dixie = Corny, not cool
Swabbie = Sailor
Swell = Great
Swing a wing = Dance Swing
Take a Powder = Get Lost, Lay off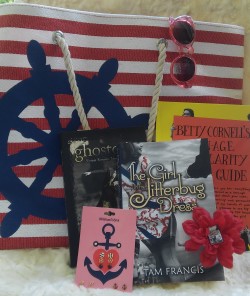 See who won the SUMMER READING GOODIE BAG  here. Don't miss out on the next give-away join the  mailing list
::
Did you know these 1940s slang terms? How many have you  heard in movies or music.  Do you use any 1940s slang in every day life? I use killer diller a lot, swell, and humdinger. Which 1940s slang words do you use? Please add any slang I missed! Read the novel The Girl in the Jitterbug Dress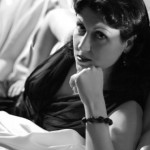 Tam Francis is a writer, blogger, swing dance teacher, avid vintage collector, and seamstress. She  shares her love of this genre through her novels, blog, and short stories. She enjoys hearing from you, sharing ideas, forging friendships, and exchanging guest blogs. For all the Girl in the Jitterbug Dress news, give-aways, events, and excitement, make sure to join her list and like her FB page! Join my list ~  Facebook page