I was recently inspired by Chronically Vintage's 40 Random Beauty Questions Tag, and thought it would be fun to do the same and have readers weigh in on random swing dance questions. Before you get started, if you haven't stopped by Jessica's blog, make an effort. She's got tons of great vintage tips, and she's a darling 'ta boot!
Don't think to hard or too long. Answer the swing dance questions quickly and from the heart. GO!
25 Vintage Swing Dance Questions
1  How long have you been swing dancing (any form of swing)?
Would I sound too old, if I said over twenty years?
2   How often do you go out swing dancing?
It used to be 3 to 4 nights a week. When I lived in San Diego, I knew everyone and felt comfortable going out even when the hubby was deployed. Now, sadly maybe once a month. Unless you count dancing in the living room. I'll pull Dave into the middle of the room and have him give me a whirl. Or I'll lead my daughter around the kitchen when I hear a great song.
3  What's you fave, 20s Charleston, Shag, Balboa, Lindy, Blues, East Coast Swing, other?
It's always gonna be Lindy, but I love to mix Bal and Shag in my Lindy, and of course there's tons of Charleston in Lindy.
4  Pants, shirt, shorts or dress?
A-line or multi-gored skirts or dresses with gored skirts are the best. I love the way they swish!
5. Fave dance teacher ever?
That's too hard. Some teachers are GREAT at Lindy, some great at Bal, Some great one-on-one, others excellent group teachers. Peter Loggins (back in the day late 90s) taught some kick-ass Dean Collins style. Joel Plys teaches great Bal. Frankie, of course. Rob and Diane van Haaren for Lindy.
6  Most underrated old-timey swing band to dance to?
I'd have to go with late 30s Bob Wills. I just love his Big Band Western Swing and find it amazing to Bal, Lindy, and Shag, to.
7  Best contemporary band to swing dance to?
Might be a tie, George Gee Orchestra and The Jonathan Stout Orchestra
8  Most amazing place you've ever danced?
Casino Ballroom on Catalina Island. I feature it in, Hops the Atlantic (sequel to The Girl in the Jitterbug Dress) and also Lindy by the Bay. Dancing under the open sky with the rush of waves at my heels. Heavenly. Hmmm, I've noticed I cannot commit to one.
9  What made you take up swing dancing?
Everyone's got a swing story, and I love 'em all. I use mine in The Girl in the Jitterbug Dress. I had always wanted to learn how to swing dance and saw a couple dancing at a Rockabilly show and followed the girl into the bathroom and found out where she learned. I started that week and never looked back.
10  Movies that inspire you to dance?
Everything Fred and Ginger. I know they didn't Lindy, although Fred does something that looks a bit like Jitterbug in Second Chorus (shown above), but the energy, music, and elegance inspired me from a very young age. I'll watch any movie that has dancing in it, contemporary, classic, animated. I can never get enough.
11  Flats, heels, or wedgies? What's the best shoes to dance in?
Wedgies of course. Although I can dance in heels, my husband is not very tall, and it makes it a bit harder to feel centered with him when I'm in heels. Plus, I don't feel I can dance as wild in heels. Flats are good for places like Lindy by the Bay and Gruene Hall, but wedgies allow me to spin on the balls of my feet and yet flat-foot it for certain styling moves.
12 Do you or did you want to become a professional dancer?
I think at one time I did, but with my husband deploying periodically and having two children to raise, it didn't seem viable unless I wanted a career without my husband. I did not. Thank God for fiction writing. I have been able to transfer those dreams to my characters and live through them when I'm writing and reading.
13 Do you hope to inspire others to dance? How?
Dave and I have taught off-and-on for years and love sharing our dance joy with people. We started classes when we moved to our little town, but had to put them on hold as he prepared to go to Afghanistan. Then, he went back to school full-time, but we hope to start up again in 2017!
And of course with my writing. My fondest hope is for those who read my books for the historical aspect or romance angle will find themselves looking for a dance class.
14 What other dances do you do that people would be surprised to know?
Polka! I cannot get enough Polka. I learned it when I was very young. My dad used to take us camping in Ohio and there was this huge Rec Hall, and they had dances every night. I learned Two-Step and Polka. Polka was so fun, energetic, and simple, I loved it and never forgot it. Whenever I find out someone who knows how to Polka, I drag them on the floor. Lead or follow, I'm in!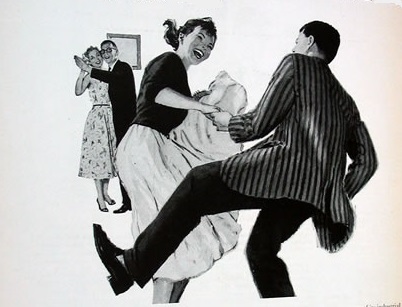 15 Have you ever had any embarrassing dance moments?
Many, but the worst one has got to be when I was dancing at the Firehouse with a great dancer named Joe and I tried to do a round high-kick, sweeping from left to right, and totally clocked him in the head. I was so embarrassed and afraid he'd never dance with me again. Thank goodness he forgave me. But I never tried that move again.
16 Do you have any favorite dance quotes and if so, what? 
On many occasions when I am dancing I've felt touched by something sacred. In those moments, I felt my spirit soar and become one with everything that exists !~ Michael Jackson ~ I feel the same way!
17 What has dance taught you?
Acceptance of people's differences. Different reasons for dancing, different walks of life, different styles, different ways of communication overcome with dance. Also, to let go. Let someone else lead. Trust.
18  What's the hardest thing about dance?
Not dancing. Seriously. Once you start dancing and you fall in love with it. The hardest thing is to NOT dance. It's been a hard couple of years.
19 Do you have a dance costume, vintage or otherwise?
Of course. I do dress for the venue, though. If I'm going to see a live band, I dress up more. If I'm going to a house party I might wear a cute skirt, t-shirt, and chucks. If I know the band plays more Hot Jazz style than Big Band, I'll dress more 1920s, 1930s. If it's a Rockabilly band, I try to dress 50s.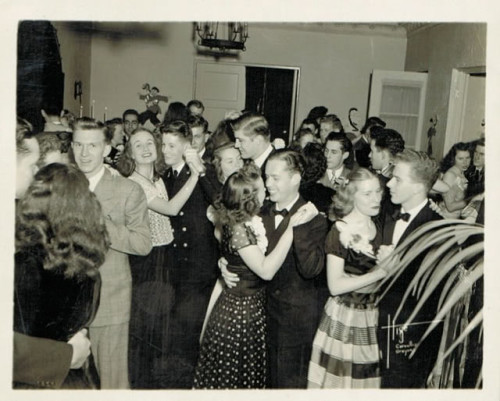 20 If you could dance anywhere in the world, where would you like to dance?
Paris, somewhere beautiful where everyone wore vintage, the club was dark, and the tables filled with martinis.
21 What is you favorite swing dance move?
Besides the Lindy Swing-out, I like the Shoulder-release turn. It feels so free, fast, and fun, and there's the moment when you're not sure you will meet up with your partner again, but there they are and your hand clasps into theirs and you resume your connection.
22  Vintage garb or no vintage?
Vintage of course, or reproduction, home sewn, or any effort toward the appropriate era.
23  Best NON-swing song to dance to?
Crazy Little Thing Called Love by Queen
24 What emotions do you feel when you swing dance?
Wonder, joy, sometimes confusion, frustration, triumph, and love. It can be a roller coaster of emotions.
25  What is your favorite part of swing dancing?
The shared connection to the music and the person I'm dancing with it. It always feels like a bit of magic.
::
Tag! You're it. Post on your blog or below on my blog. Tag me and tag friends. How many answers are similar? How many different? Why is swing dance for you?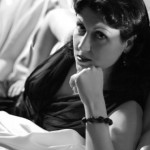 Tam Francis is a writer, blogger, swing dance teacher, avid vintage collector, and seamstress. She  shares her love of this genre through her novels, blog, and short stories. She enjoys hearing from you, sharing ideas, forging friendships, and exchanging guest blogs. For all the Girl in the Jitterbug Dress news, give-aways, events, and excitement, make sure to join her list and like her FB page! Join my list ~ Facebook page