What is Kindle Scout?
What is Kindle Scout, why should you vote for my Kindle Scout book, and what does it have to do with The Girl in the Jitterbug Dress? No, it has nothing to do with the Girl Scouts or Boy Scouts. For many of you who've been following my blog, this book has been in the works for a LONG time. I wrote the first draft while living in San Diego when my husband was deployed for Iraqi Freedom.
VOTE March 31-April 30
Kindle Scout has a new program to find and promote new authors. I sent them the info about The Girl in the Jitterbug Dress and they liked it enough to approve it for the contest. So, now I need your help to make this indie swing dance book be a best seller.
VOTE March 31-April 30
If I win the vote for my Kindle Scout, I will be awarded a contract for 5 years with a 50/50 split, a small advance (big for me, it can pay for the editing and cover design. (Do you love it as much as I do?) Amazon will also promote it and consider it for translation. We all know how many swing dancers there are globally and tons don't speak or read English, but would love this story and perpetuate our communal love of Lindy and vintage.
5 Top Reasons to Vote for my Kindle Scout
Its FREE FREE FREE to VOTE for my Kindle Scout. That's right. I'm not asking you to buy, just asking you to show INTEREST in the book by voting or nominating it.
Its one of the only fiction novels written specifically for swing dancers by a swing dancer for those who love vintage fashion, music, dance, and vintage lifestyle.
You can influence the market, well the kindle market, but telling them that you want to read more books about WWII and dance.
You'll make a writer's dreams (mine) come true. I'm not a corporation. If I win the contract, I will give it back to my faithful readers with more freebies and give-aways (Posters, flower hair-clips, vintage merchandise), and more vintage swing dance fiction.
It's not just for swing dance vintage crazies like us. People who love WWII fiction and coming-of-age stories will LOVE this book!
VOTE March 31-April 30
The Cover Reveal!
This is it the final cover. I am so excited. The photographer and cover designer took my ideas and nailed it. My goal was to capture a feeling and a mood. Below are the concepts I hoped to convey through the cover.
Coming of age
WWII
Swing Dance
Romance
Malt Shops
Americana Nostalgia
VOTE March 31-April 30
About the The Girl in the Jitterbug Dress
The past doesn't always stay in the past. Sometimes it comes to life on the dance floor.
Enter a world of nostalgic fashion, classic cocktails, and dance halls. 18 year-old June finds herself face to face with one of her deepest desires. Dance.
She embarks on a path of discovery and relishes the vintage skirt wrapping around her warm thighs on the crowded dance floor. And the way her partner moves her to distraction by expertly shifting his leg between hers, delicately pushing her into intricately guided steps.
When an accomplished dancer is injured before the international jitterbug contest, June is tapped to take her place. June struggles to overcome her fears, win the contest, and not fall in love with her—otherwise engaged—dance partner.
Fifty years earlier, another 18 year-old jitterbug, Violet, leads the life June and her friends emulate. But Violet's life begins to unravel when she and her sailor beau find her grifting father passed out on her doorstep, blood oozing from his head.
They race against his deployment to tie the knot before the war can tear them apart. When his letters mysteriously stop arriving, Violet is forced to make the decision of a lifetime alone.
Half a century later, while practicing for the contest, June finds an antique dress which may lead her to the one person she's been looking for, her biological grandmother, and the key to unlocking a fifty year-old mystery.
THE GIRL IN THE JITTERBUG DRESS is the parallel story of two young women struggling with love, loss, and redemption, united across generations by a 1940's swing dress.
VOTE March 31-April 30
Please VOTE NOW! You'll have my undying gratitude and a vintage swing fiction written just for you! And guess what else? I wrote a sequel. So if you like this one and Amazon picks it up, I can shoot another one to ya in a couple of months!
::
Did you vote? Do you like the cover? Do you prefer to read paperback or ebook? Does the idea of a modern Jitterbug and a WWII Jitterbug appeal to you? How much fashion, music, and dance do you like in your vintage fiction? Would you PLEASE share my blog on your fave social media?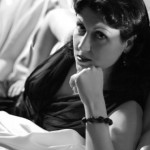 Tam Francis is a writer, blogger, swing dance teacher, avid vintage collector, and seamstress. She  shares her love of this genre through her novels, blog, and short stories. She enjoys hearing from you, sharing ideas, forging friendships, and exchanging guest blogs. For all the Girl in the Jitterbug Dress news, give-aways, events, and excitement, make sure to join her list and like her FB page! Join my list ~ Facebook page