A Vintage Visit Home-Adventures in Dance

Longing for Lindy
My navy 30's lace-ups clicked on the sidewalk as I walked myself to the dance for  my visit home. The school auditorium perched between two rows of classes, creating a U-shaped courtyard. A vendor displayed t-shirts, shoes, stickers, and Lindy paraphernalia. I stopped and fondled the Remix reproduction wedgies. I ached for another pair, but my budget was as rich as dirty sock water.
Voyeur eyes kept watch as the beginner Balboa lesson came to an end. The circled students looked wide-eyed at the instructor, their limbs twitched, longing to try out the new steps. They completed a basic Balboa and rotated to the next. My sister, niece, and cousin made their way around the circle of leads. A chilly breeze sneaked up my dress and pushed me inside.
Hopping in the Dance Pool
Sweating bodies crowded and warmed the hall, not gross or steamy. Tropical warm and just right, like jumping into a pool the same temperature as the air. Four musicians graced the stage, all of them dressed to the vintage nines, hats, ties, gab jackets, spectator and cap toe shoes, jitterbug socks winking from below their trouser cuffs. They opened with a strength and energy of a band twice their size. The newly trained Balboa-ers forsook their new steps and fell back into the simplicity of East Coast Swing. The beat was just too fast and jangly for the newbies. The veteran dancers smiled and busted out the Bal and Lindy.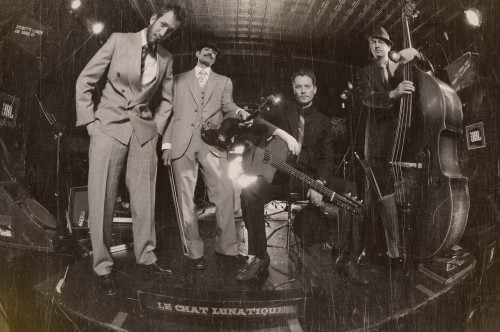 Swing Like Crazy
The band, Le Chat Lunatique knocked me out with their mix of tempo and style – Django meets Western Swing. I was in love. When they played Andy Reynolds, "Beer Bottle Mama," I caught my sister's eye and we sung along. This was straight up Hillbilly Boogie with a French Twang and, oh baby, was it good for Balboa. Most people scratched their heads to this style of music, but I'd done my sis and niece right, a solid education in swing music from the 30's-50's. They rewarded me with this great night out for my visit home.
I spied a newcomer with a cool retro look. He donned 60's horn-rimmed glasses, pegged pants and a sports coat. Not exactly 30's-40's, more 60's swinging bachelor/blond Buddy Holly, but I'd take it.  I tried my best not to look like a stalker, but guys rarely had to ask the gals to dance. The odds were on their side. He acquiesced to my request, and we danced a nice mid-tempo Lindy. He counter-balanced on the three & four, zinging me into a killer swing-out. I lowered my center of gravity and sat into my swivel switches. I could have dance with this guy all night, but knew I wouldn't.
I thanked him for the dance and wandered off in search of more. It was gonna be a great vintage visit home.
::
Ever go back to a place you used to dance and find it changed? Do you think you can go home again? What makes a swing scene feel like home? Do you like Western Swing music for dancing swing? Who's your fave from the 40s and 50s?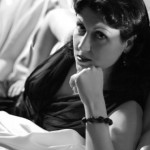 Tam Francis is a writer, blogger, swing dance teacher, avid vintage collector, and seamstress. She  shares her love of this genre through her novels, blog, and short stories. She enjoys hearing from you, sharing ideas, forging friendships, and exchanging guest blogs. For all the Girl in the Jitterbug Dress news, give-aways, events, and excitement, make sure to join her list and like her FB page! Join my list ~ Facebook page