All Time Favorite Vintage Christmas Movies You'll Love
by Tam Francis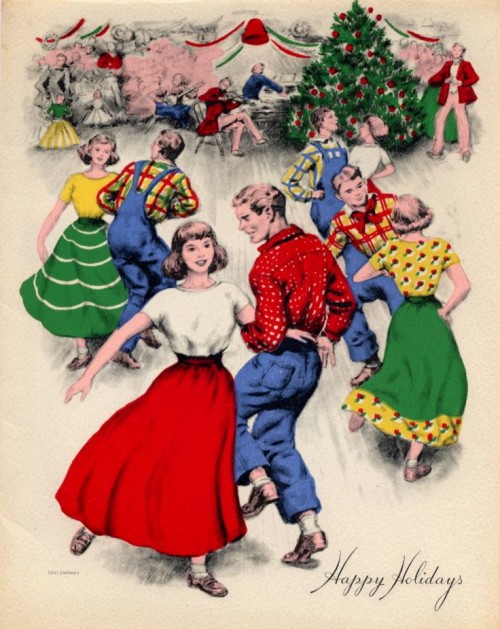 It's that time of year when we dust off the old DVDs or even VHS tapes. Oh yes, we still have some of those. Of course many of these movies can be found on the handy-dandy Netflix, but to much sadness, too many haven't found their way there. Amazon seems to have the best selection of streaming.
I've compiled a list for the vintage enthusiasts like me out there who try to keep their Christmas classy and classic. Some of the choices on my list are tried and true favorites that everyone watches, but a few other films are a little more obscure or even a bit of a stretch, but were chosen because they have all the elements I love: great fashion, great music, great writing and acting, and in many cases some fabulous dancing.
And I don't know about you, but I can't abide the colorized versions, so my recommendations are for the unadulterated originals.
It's A Wonderful Life
I'll start with one of the most obvious, It's A Wonderful Life from 1946.  If you've never seen (which I find hard to believe), the story follows George Bailey from boyhood to adult. The choices he's made for thos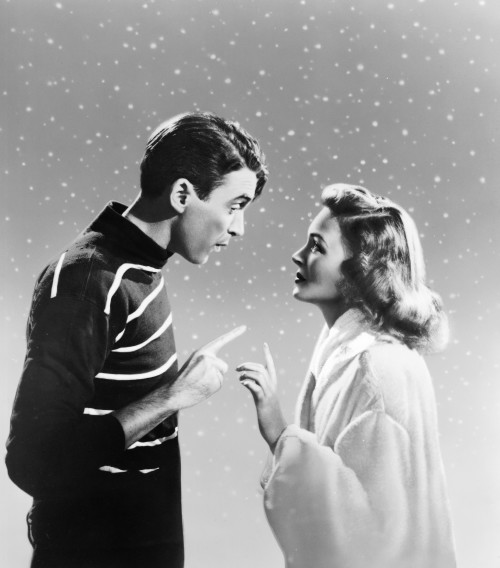 e he loves, finds him frazzled and desperate on Christmas Eve, ready to take his life, until a fledgling angel shows him what life would've been like if he'd never been born.
This movie's got romance, great vintage fashion, and some fun dancing. I especially like the scene where the swimming pool opens up, but my hubby and I can't help cringing at all that rayon and wool getting ruined! Nothing wrong with Violet's (Gloria Grahame)  clothes, though. Although Donna Reed has some cute frocks, Gloria's dresses are to die for! And fellas can't you just see yourself in George Bailey's striped sweater? Jitterbug perfection!
So, not only does this movie have all the vintage Christmas fun we've come to love and cherish, but it has the sweetest story about realizing the importance of family, friends, and love. I don't think there's a single time I haven't cried when watching this movie. How about you?
Sun Valley Serenade
Here's one of those more obscure movies I was talking about. Sun Valley Serenade from 1941 starring Sonja Henie, John Payne,  Lynn Bari, and Milton Berl is a bit hard to find and currently only available on VHS on Amazon, but worth the search. (Did I mention what a hot potato John Payne is? Check out this photo by George Hurrell). Its not a traditional vintage Christmas story, but it has wonderful tunes featuring the Glenn Miller Orchestra all bundled up in fabulous sweaters and winter fashions set against the backdrop of a darling ski resort.
Ted Scott (Payne) is a big band pianist whose publicity manager decides that the band should adopt a foreign refugee to generate publicity for the band's tour. When the fellas go to Ellis Island to meet the girl, they find she isn't a 10-year-old child, but an attractive young woman. The boys are thrilled but the band's lead singer Vivian and girlfriend to Payne (played by Lynn Bari), isn't happy. The band, with refugee in tow, travels to Sun Valley, Idaho for a Christmas gig. While on the ski slopes Karen and Vivian vie for Ted's affection which leads to wonderfully funny scenes.
Add to that an amazing performance and dance sequence by Dorothy Dandridge and the Nicholas Brothers and you can't lose with this film.
The Shop Around the Corner
The Shop Around the Corner  from 1940 is another vintage Christmas favorite, although not a typical Christmas movie. The story takes place in a little retail shop in Budapest, Hungary. Why Budapest, I'm not sure, because the story would work well in a New York, Chicago, or big city setting. Though, the set is lush with wonderful vintage Christmas decorations and of course I wouldn't pick this movie if I didn't think it had swell fashions.
The story centers around two employees, Alfred Kralik (Jimmy Stewart) and Klara Novak (Margaret Sullavan) who work at the gift shop and have a very adversarial relationship.They're both highly competitive salespersons, both opinionated and hardworking, and both have a secret pen pal. Of course the pen pals fall in love with each other and finally plan to meet, and of course they're each other's anonymous pen pal. The fun is watching the skill of the two actors develop their romantic relationship below the surface of their daily competitive bickering. And did I mention Margaret's wonderful dresses? The polka-dot jumper dress is to die for.
The supporting cast is outstanding with Frank Morgan (you may remember  him as the wizard from The Wizard of Oz). Felix Bressart, as Pirovich, and Joseph Schildkraut, as the haughty antagonist. The combination of the writing, directing, and acting with the Christmas setting makes this a delightful choice for the holidays.
Miracle on 34th Street
No vintage Christmas collection would be complete without this gem. It's my husband's favorite and as a matter of fact, we just watched it last night. The story centers around a single mom, Doris Walker (Maureen O'Sullivan) and her daughter, Susan (young Natalie Wood). In the mother's infinite (jaded) wisdom she's taught her daughter not to believe in fairy tales or myths like Santa.
Enter John Payne as Fred Gailey, the romantic suitor and  Edmund Gwenn as Kris Kringle to try to convince the non-believers that Santa, not only exists, but Kris is actually him. Along the way, Kris loses heart and purposely fails his mental acuity test and ends up in a mental institution. Gailey uses his wily lawyerly skills to convince the judge,  all of New York, and the Walker ladies that Kris is Santa.
Though this movie is not packed with as much vintage fashion fun as I'd usually like, Maureen's suits are fab, as are John's. This movie may not inspire you to sew a must-have vintage frock, but it will pull at your heart strings and make an indelible mark on your Christmas season.
Meet Me in St. Louis
Meet Me in St. Louis, (1944) is another one of those, not so vintage Christmas movies, but really quite perfect for Christmas in its unique way.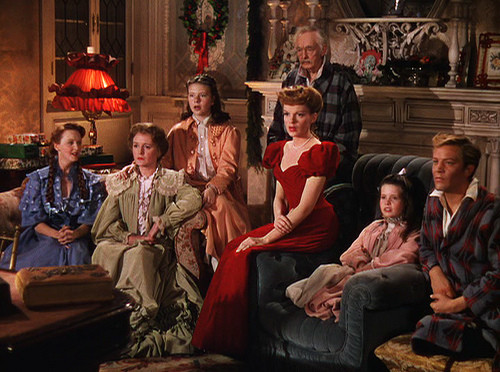 Set a little earlier than my usual vintage preference, I cannot live without this one. In 1903, the story follows the well-to-do Smith family, their handyman, and wise-cracking house maid, played by character actress Marjorie Main. One eldest son and four daughters, two teens and two grade school girls, struggle with the unique challenges of growing up, but most of the focus is on Ester, Garland's character and her budding or not-so-budding romance with John, the boy next door, played by Tom Drake.
Just as Ester finally gets John to take notice of her, Mr. Smith announces he's been given a promotion and the family is relocating to New York. This makes for some powerful drama and comedy throughout. The entire movie is laced with amazing song and dance numbers by Judy and her sisters. Not to be missed is the wonderful scene where Judy Garland sings the touching and best rendition of Have Yourself a Merry Little Christmas. She's absolutely breathtaking in her sequined, white headscarf and this scene alone puts it at the top of my vintage Christmas list.
It Happened on 5th Avenue
This little 1947 movie doesn't get much press or attention. It might be due to the fact that in this day and age most of the actors are not as well known as other vintage Christmas favorites. But don't let that stop you. This movie has it all.
We pick up the story up just after WWII. A very wealthy man, Michael O'Connor (Charles Ruggles).who spends half of the year in his 5th Avenue home and the other half of the year out of state, comes home early to find a hobo, Aloysius T. McKeever (Victor Moore), has taken over his home and is impersonating the owner. O'Connor is appalled but curious, and lets not only the hobo stay, but the screwy cast of character he's invited to share the mansion.
Through comic and poignant scenes that culminate to a Christmassy end, O'Connor learns the true meaning of life as does his disenfranchised wife and spoiled daughter. Its not quite, It's a Wonderful Life, but it comes darn close and worth putting on your Christmas viewing list.
And for those of you keeping track of vintage fashions, this one's killer diller!
Christmas in Connecticut
Another sweet film starring one of my favorite actresses, Barbara Stanwyck. This movie from 1945 has all the fun of classic screw-ball comedy of films like Bringing up Baby.
Journalist Elizabeth Lane is a columnist and famous food writer. She portrays herself as a down-to-earth, hard-working farm woman who love nothing more than to tend her children and fix fancy and traditional meals, which couldn't be farther from the truth. In real life she's an unmarried woman that would burn water if you asked her to cook. She gleans the recipes for her column from her friend and restaurant owner, Felix, (S.Z. Sakall–you might remember him in another Stanwyck film Ball of Fire).
Her publisher Alexander Yardley (Sydney Greenstreet, known for Casablanca) decides Elizabeth should host a returning war hero, Jefferson Jones (Dennis Morgan) this Christmas and give him the good ole American family farm holiday. Of course she has no kids, no husband, and no farm. In reality, she lives in a small apartment. What ensues is a highly comedic adventure as Elizabeth tries to create the illusion her boss expects.
Stanwyck knows how to wear her clothes, too. From cute gingham check dresses to swanky evening gowns, Stanwyck is a vintage fashion parade throughout the movie, not to mention the brief dance scene. Besides the awesome apparel, the acting is first rate and the vintage Christmas vibe is worth the watch.
Holiday Affair
1949 Holiday Affair with Janet Leigh, Robert Mitchum, and Wendell Corey is a Christmas romance with a classic love triangle. A WWII widow struggles with the memories of her dead husband by trying to make a new life for herself and her young son. Add in trying to make ends meet and buy the train set little Timmy wants for Christmas on her tight budget.
Carl, (Corey) is the steadfast successful business man,  who tries to hold  on to her as the drifter, Steve (Mitchum) vies for her affection. Can Connie make room for any other man in her heart? And whom will she chose.
Fellas make sure you keep an eye on Mitchum's style. He's got some humdinger ties and sharp suits. And once again, I wouldn't have picked this movie, if there wasn't some nice garb for the gals. Janet looks amazing in her dress-up date clothes and her hat and coat ensembles are to die for.
Overall, Holiday Affair is a beautiful, not overly-sentimental movie with great acting, wonderful writing, and fully developed characters. With deeper and more sophisticated writing than the traditionally sentimental likes of It's a Wonderful Life and Miracle of 34th Street, it will still tug your heart strings and insist you cheer for this vintage Christmas classic.
::
That does it for my list of favorite vintage Christmas movies. I hope you found some new ones and will check them out this season. I'm sure I missed plenty of your favorites. Did you happen to notice all these titles have romantic elements? Do you agree with my list? Any you don't like? What do you like best about the vintage movies? What's your fave?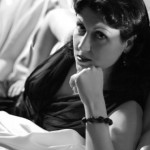 Tam Francis is a writer, blogger, swing dance teacher, avid vintage collector, and seamstress. She  shares her love of this genre through her novels, blog, and short stories. She enjoys hearing from you, sharing ideas, forging friendships, and exchanging guest blogs. For all the Girl in the Jitterbug Dress news, give-aways, events, and excitement, make sure to join her list and like her FB page! Join my list ~ Facebook page