~ Bakelite The Queen of Plastic Jewelry ~
The Clink of Bakelite Bracelets
This past Christmas and birthday I received my first Bakelite bracelets, a gift  from my dear friend Lynnda. As a swing dancer I had never bothered to invest,(if I knew then, what I know now, I would have). Sure, I'd picked up cute pins, earrings and the occasional necklace, but bracelets just didn't work for a jitterbug. Now that I'm writing and substitute teaching more than dancing, I can wear bracelets again and wow, what I've been missing.
The distinctive musical clink rang in my ears when I raised my arm, sliding silky plastic across my skin. I returned my hand to my side, the trill repeated in a sublime shuffle. The sound was magical. I had no idea what a thrill it would be to hear my little bracelets talking to me throughout the day whispering the past and hinting at a more fashionable, respectful time. I was hooked! The beat sounded like the beginning refrain of a big band song, the improvisation of a jazz riff or a distant tap dancer. But whatever they sound like to you, they hearken to a more fashionable past where woman wore stockings and hats, and men wore suits.
Bakelite, that elusive little plastic everyone wants, (or anyone who loves their vintage accessories). It's not just about the fashion jewelry though, because all metals were collected and recycled for the war effort, Bakelite was used for radios, telephones, purses, buttons, even billiard balls and game tiles.
History of Bakelite
Baketlite has become a generic term for yesteryear's phenolic resin plastics, but not everything is bakelite. We can trace the origin back to the celluloid boom in 1868. Originally called Xylonite, it peaked in popularity as the demand for coral and amber was at an all-time high. Celluloid was the next best thing, it could be manufactured and made into everything from hairbrushes, to buttons to jewelry. The only problem was, it was was highly flammable.
In 1907 Dr. Leo Baekeland, a Belgian born inventor hit the jackpot with a combination of formaldehyde and phenols resulting in that elusive and highly collectible Bakelite that was completely heat resistant.
How Can you Tell It's Bakelite and NOT Plain Plastic
Bakelite, Catalin and Lucite often get confused, mixed up and lumped int he same category and 1970s and 1980s plastic which enjoyed a retro resurgence, often gets passed off as Bakelite. BE WARY! There are two simple tests to check for real bakelite, one is to rub it and smell it; it should smell of a  faint burnt aroma. A better way to test is to carry a tube of weinol, a silver polish; rub a little on the object and if it turns pink you have Bakelite. Make sure you ask permission especially at a vintage expos, antique malls or shops.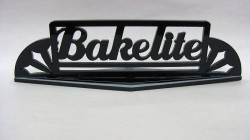 Catalin and Bakelite are both names for the same phenol formaldehyde compound. The main difference is that most Catalin products were cast whereas Bakelite was predominately molded, though they are interchangeable. In the vintage and collector community  Bakelite usually, (but not always), refers to solid pieces whereas Catalin refers to more translucent or swirled pieces that have an amber-like quality.
Be Wary of Lucite
Do not confuse Bakelite or Catalin with Lucite which was invented in the 1930s by Dupont (polymethyl methacrylate). Although Lucite jewelry and purse are highly collectible beware, they have a shelf life and smell like vinegar or have an oily covering on them when they begin to breakdown. Poor storage, change in heat and moisture can cause a chemical reaction that changes them into a gas. Do not under any circumstances by these pieces. They can infect your other pieces.
Vintage Coolness
When I was a fledgling swing dancer and vintage newbie I admired and was in awe of the vintage girls and their beautiful, colorful accessories. I started out with pins, earring and necklaces and have always head an affinity for pins. Recently I've transformed carved belt buckles, dress clips and shoe clips into wearable pins. My husband had an eye for bakelite as well and looks for toasters, silverware and other vintage home accessories to add retro flair to our everyday lives. It's expensive and the prices don't look like their going down anytime soon, but with patience and persistence you too can build an inspiring collection.
::
Do you have any favorite pieces or stories about your first Bakelite purchase? What's your favorite Bakelite color? Do your friends understand your Bakelite obsession?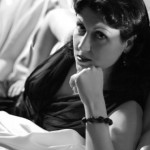 Tam Francis is writer, blogger, swing dance teacher, avid vintage collector, and seamstress. She  shares her love of this genre through her novels, blog, and short stories. She enjoys hearing from you, sharing ideas, forging friendships, and exchanging guest blogs. For all the Girl in the Jitterbug Dress news, give-aways, events, and excitement, make sure to join her list and like her FB page! Join my list ~ Facebook page