~ Call the Midwife: Vintage Reviewer ~
by Tam Francis
The Synopsis
Call the Midwife (Penguin Group, 20o9), originally  The Midwife (Orion, 2002), by Jennifer Worth is a memoir of birth, joy, and hard times set in post WWII England against the backdrop of the East End of London, generations of families living, loving, birthing, and dying. We meet Jennifer (Jenny) Worth at age twenty-two as she first arrives to Nonnatus House, a convent dedicated to midwifery skills and community outreach. The experience tests her patience and strength, and challenges her perception of life, death, and God.
Worth takes us on a journey from the warm convent kitchen with culinary-gifted Mrs. B, through small winding streets with shouts of cockney hellos, past jagged bombsites turned dumpsites, to smelly shipping and fishing docks, and in and out of over-crowded tenement flats where often times ten to fifteen person-families try to eke out an existence. Along the way we meet colorful local characters who make us laugh and cry, garnering respect for their dogged determination in the face of their poverty.
As the interconnected short stories unfold we get a peek beneath the nun's habits and Worth's past. The nun's idiosyncrasies and histories slowly unroll like Sister Monica Joan's ball of yarn.
Worth gives us a front row seat to the birthing process and offers a close-up view of all three stages of labor. She effortlessly weaves bits of midwifery history, medical advancements, and family tradition throughout the narrative. The connected vignettes are often heart-breaking and viscerally descriptive.
Worth sets out to take journalist Terri Coates' challenge: to raise the status of the forgotten midwife to memorable literary heroine. She accomplishes this goal and much, much more. Worth pulls us down in the muck and enables us to find the beauty and tragedy in all of us.
What I Liked 
The first person narrative and sense of drama in the writing.
Insights into the human psyche and archetypal personalities that exist in real life.
The mini-history lessons about midwifery, the West End, Nursing school, and convent life.
A wonderful chapter about her dresses and dressmaking.
The sense of empathy she created for the people she wrote about, bringing me to tears and laughter throughout.
Appendix explaining the cockney dialect.
The glossary of midwifery terms. Many of them have evolved or are different for non-British readers.
Heart-breaking descriptions of living conditions without being condescending or sensational.
What I Didn't Like
The first chapter/story—the books namesake—Call of the Midwife was written in present tense and the rest of the book written in past. Being a memoir, it threw me off at first.
How she jumped out of the narrative to explain cockney, especially when she had a large appendix in the back of the book.
In many stories, she made reference to a first love or early heartbreak, but we never got to hear that story or know what happened or if it was the catalyst for her going into nursing.
Several times she hinted at having a spiritual awakening, but that theme was never fully explored or developed.
Favorite Quotes
"Why did I ever start this?…A broken heart certainly, the need to get away, a challenge, the sexy uniform with the cuffs and ruffs, pinched-in at the waist and pert little caps."
"…the sweating, the slight panting, the curious in-turned look that a woman has at this time as she concentrates every ounce of her mental and physical strength on her body, and on the miracle she is about to bring forth."
"A dockyard is not really a glamorous place, but to a young girl with only three hours of sleep on twenty-four hours of work, after the quiet thrill of a safe delivery of a healthy baby, it is intoxicating."
"I was young, too young to understand. Too young to see the pain in her eyes, or to hear the tortured urgency in her voice."
"Now and then in life, love catches you unawares, illuminating the dark corners of your mind, and filling them with radiance. Once in awhile you are faced with a beauty and a joy that takes your soul, all unprepared, by assault." 
"Every child is conceived either in love or lust, is born in pain, followed by joy or sometimes remorse." 
"They [soldiers WWII] were so young, so very young. A whole generation of young men died, leaving a whole generation of young women to weep."
Overall
The narrative flowed from one tale to another in a logical sequence, some taking several chapters to finish a particular story. The author's older perspective and insights added more weight and provocation to stories that might have been repetitive or too blood-stained to be palatable. The view of her young-self seen through her older-self held a mirror the reader's own prejudices and judgments. So what's in it for the vintage enthusiast? Even though there was relatively no music or dancing, anyone who loves stories told from a 1950s vintage era will enjoy this bittersweet memoir and fall in love with the West Enders, the Nonnatus nuns, and Jenny Worth.
Vintage Enthusiast Rating
Fashion: ♥♥
Music: 0
Dance: 0
::
Have you read Call of the Midwife? Have you seen the television show? How is it different or similar to the book? Do you have a birth story, either own entrance into the world, or that of your children. Do you think 1950s nursing uniforms are attractive? Have you read or written a book you'd like reviewed by the Vintage Reviewer. Please contact me!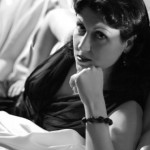 Tam Francis is a writer, blogger, swing dance teacher, avid vintage collector, and seamstress. She  shares her love of this genre through her novels, blog, and short stories. She enjoys hearing from you, sharing ideas, forging friendships, and exchanging guest blogs. For all the Girl in the Jitterbug Dress news, give-aways, events, and excitement, make sure to join her list and like her FB page! Join my list ~ Facebook page