Confessions of a Neo-Swing Dancer: Truth be Told
by Tam Francis
Writing Isn't Enough
I've written a fictional jitterbug novel, the first draft of a sequel and a ghost story collection of vintage, romantic tales of fright. I love old movies. I still wear vintage and sew from vintage patterns, but the truth is: since we moved to Lockhart, Dave (my husband) and I haven't been to Austin to jitterbug for about two years.
Sure we've danced at some local events like the wonderful Hot Rods and Hatters, and parties, and anywhere we came across a band neo swing, Western, big band or jazz. And we had a pretty good group going for Lindy lessons here in Lockhart, but Dave was slated to go to Afghanistan, so we stopped the lessons and prepared for his deployment. He didn't end up going due to kidney stones. Praise the Lord for kidney stones – of course, I don't have to pass them. But we never got the lessons going again and life has a funny way of getting in the way.
Until last night, I didn't realize how much I missed swing dancing. In San Diego, CA, I used to go out three times a week. Sometimes with my hubby, sometimes with my friends, and sometimes by myself. But as anyone who's been dancing since the neo swing revival, you're NEVER by yourself. If you can dance, you can make friends.
Magic Moments
It's never the same though. There are magical times in your life, mini eras, snapshots, where time, place and people come together and make us more than we are alone. I had that time in San Diego. We had the Balboa Rendezvous in our own beautiful Balboa Park, dancing every night of the week, live neo swing music at Henry's, Tio Leos and the Casbah, canned music and crowds of friendly folk and enough vintage preservationists, that my vintage aesthetic was sated.
I haven't had that in four years which is probably why I've managed to finish The Girl in the Jitterbug Dress, Ghostoria (soon to be self-published on Amazon), and knocked out a first draft of the sequel The Girl in the Jitterbug Hops the Atlantic. Fiction is great and I love to read, but no matter how real I make the characters or how well I live out my dance dreams, it's not real life.
Back in the Saddle
Last night I ventured out, almost alone. I took my daughter and one of her best friends, both freshman in high school. I have to confess. I was nervous. It's not that I forgot the moves, but I'm older, middle aged and carrying twenty extra pounds (thank you BBQ Capital of Texas – and beer). Would anyone dance with me? Would I be marginalized? Would they play some of my fave neo swing or classic 40s swing? How should I do my hair? And what would I wear?
If you dress too vintage, you can be thought a dance snob or try-too-hard. But I'm not one to wear jeans or shorts to lindy in. I love the swish of a skirt around my thighs and how the lines flair out and accentuate the dance. I opted for a gored skirt with pretty flowers, a ringer-tee and my green chucks. But would I be able to keep up?
Lindy Resurgence?
We arrived a little late (traffic and parking) for the free lesson at the Women's Federation building. A beautiful 1930s mansion tucked in the middle of downtown Austin with large southern style pillars gracing the wide front porch, surrounded by sprawling oak trees. It was dreamy, except for the long line of dancer snaking out the door. I hadn't seen so many people, outside a dance festival, since the late 1990s.
We took our place in line. My daughter and her friend weren't the youngest–that was good–but, oh my, from what I could see, I was the oldest. Did I look my age? I hoped not. I grew more and more insecure as teenagers and college kids cued up behind us, the line moved slowly.
We finally made our way inside. The building shimmered with spectacular beauty and big band music drifted down the hall beckoning us to the ballroom at the far end. We took a quick look at the anterior rooms, two sitting rooms flanked the foyer, one with a fireplace, antique furniture, the other more open with West Coast Swing being taught. We hurried toward the main room hoping the girls could get in on the lesson.
The room stretched into a long rectangle with a handsome raised stage at one end. The newbies jittered in a haphazard oval–two and three couples deep–while a peppy couple taught a combination of six-count moves. The instructors were half-way through the lesson and the girls didn't feel keen on jumping into the fray. Plus, I was uncertain how much they would learn besides footwork in the crowded class.
Little Known Secret
I'll let you in on a little known secret, well unknown to newbies and non- veteran swing dancers: There will always be a corner, a section, an area where the advanced dancers hang out. Not because they're snobs, but because they've known each other a long time and enjoy dancing with each other. I circled the room looking for the sweet spot. I've been dancing jitterbug for twenty years, and it's not that I won't dance with a newbie or intermediate, but I wanted to get my lindy on.
Usually the sweet spot is by the DJ booth, for the same reason, most DJs have been around the scene and want to hang with their buddies. I circled the room like a shark, looking for someone to sink my teeth into. Finally, once the lesson broke up, I found it, toward the far end by the stage. Now, I saw it. The local hotshots casually sat on the stage or leaned against, waiting for the newbies to get tired and clear some room.
I didn't have the nerve to ask any of them to dance. Instead, I lead my daughter and her friend in a variety of six-count and eight-count moves. My not-so-subtle plan worked. Not only did the girls get asked to dance, I did too.
Keeping up
I kept up with the guys half my age, feeling pretty good and loving the lindy jive flowing through my veins. The deejay played a couple of my favorite neo swing faves and some of my 40s fave, Anita O' Day at the top of my list, solid jack. I spied a man I knew I'd seen before and took a chance on embarrassing myself.
"I know this is going to sound strange, but have you ever danced in San Diego?" I asked.
"Yes," he replied. "Wait, I know you, you're Danielle's Aunt, right? Let me think." He put his hand to his head, closed his eyes for a second. "Tammy?"
"Yes. That's amazing. I'm sorry I don't remember your name," I said.
"Michael. I've been to Bal Rendezvous and your niece used to come here a lot."
"Small world."
"Would you like to dance?" he asked.
"Yes," I said, but thought, HELL YES!
He danced me around the room in the way I liked to be handled. Not bouncy, not gigantic wide swing-outs, but tight, well-led moves, even leading me into moves I'd not done, but had no problem following. He gave me enough room to style and explore the musicality of the song, before pulling me back in, delightful.
NOT Keeping Up
I danced with other fun leads, some more skilled then other, but all joyous, sweet, and friendly. I thought I was keeping up until my daughter walked by, "Mom, um, your face looks the same color as your shirt. Are you okay?"
I had to admit, I was a little hot and slightly dizzy. The hallway pressed in on me as I made my way to the ladies lounge, yes lounge, with a sitting area and vanity mirror, so vintage. My face looked like a giant peach and my attempt to cool my cherry cheeks and neck became futile. I remained pink and now realized, I'd grown dizzier and my stomach hurt.
My daughter found me sitting on the Duncan Phyfe sofa in the fireplace room. I sipped water and practiced deep breathing, but I was done in. I regretted not saying good-bye to some of the new acquaintances, but we'd be back. And I planned on upping my weekly cardio workout, bringing ice, and a snack for next time. There would be a next time for sure.
Maybe I didn't have to only be the girl in the jitterbug dress in fiction.
Maybe, I could be her in real life, again.
::
Have you been to the Women's Federation Building? What did you think? Did you start dancing during the neo swing revolution? Have you ever been intimidated to go out dancing alone? Have you ever felt too young, too old, too tubby to go dancing? How did you deal with your fears? For more personal stories like this one, check out: Summertime, Casbah, Swinging Blind, Party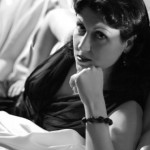 Tam Francis is writer, blogger, swing dance teacher, avid vintage collector, and seamstress. She  shares her love of this genre through her novels, blog, and short stories. She enjoys hearing from you, sharing ideas, forging friendships, and exchanging guest blogs. For all the Girl in the Jitterbug Dress news, give-aways, events, and excitement, make sure to join her list and like her FB page! Join my list ~ Facebook page