Halloween Hallow's Read & Ghostoria Book Trailer
I just received an ad about Neil Gaiman starting a new tradition called All Hallow's Read! The idea is to give a book as a Halloween gift. But not just any book. A scary book! Well, of course I recommend Ghostoria! Its got something for everyone. If you haven't heard about the short story collection make sure to read the description or read the reviews.
Already own Ghostoria? Give one away. Don't forget to review on Amazon & Goodreads, too please.
Some of my fave scary reading is:
Ghostoria: Video Book Trailer
I've got a special treat for y'all. I premiered Ghostoria: Vintage Romantic Tales of Fright video trailer last week with my email list subscribers and they loved it. Now, I'm happy to share it with you and the world! I hope you like it, too. I'm testing out this site called Animoto. Its easy and fun to do and ideal for writers who would rather be writing. I made the Girl in the Jitterbug Dress trailer through Movie Maker and it took all day. Animoto only took an hour! I haven't decided if I want to jump in and pay for a year subscription, yet. Although it's fun to make book trailers, I'm not sure how many a year I would make and the least expensive service is approximately $100 a year. Not bad, but I need that money for editing and cover designs. Don't you?
Don't forget to Join my list so don't miss the next freebie or exclusive premiers.
Have a Happy Hallow's Read!
::
Do you have any favorite Halloween traditions? What are some of your favorite Halloween books or scary story books?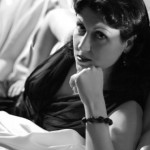 Tam Francis is writer, blogger, swing dance teacher, avid vintage collector, and seamstress. She  shares her love of this genre through her novels, blog, and short stories. She enjoys hearing from you, sharing ideas, forging friendships, and exchanging guest blogs. For all the Girl in the Jitterbug Dress news, give-aways, events, and excitement, make sure to join her list and like her FB page! Join my list ~ Facebook page