Hot New Release in time for Halloween & the Writer's Journey
by Tam Francis
Time to Buy
The collection of short stories, perfect for Halloween, is finally here and available on Amazon, Kindle, Nook, and Smashwords. But who besides yourself could you buy one for?
Dance Teachers/Instructors
Librarians

October Birthdays

Language Arts Teachers

Friends

Halloween Tea Party Guest

Prizes for Halloween Party Games

Add to Halloween Gift Basket
If you like Women's Fiction, Historical Fiction, and Romance wrapped in a Twilight Zone paranormal package, you are going to love these stories. Some are scary and spine-tingling while others are bittersweet and thought-provoking. Written by a swing dancer and vintage enthusiast, this collection is ideal for anyone who loves getting caught up in the past and doesn't mind a few turns on the dance floor. Here is a brief synopsis of a few of the stories:
What happens when a WWII secretary is trapped in the office with a ghost and the only way out is to make an unwelcome choice?

Drive-in movies, hot rods, and jitterbugs populate Long Way Home; can one young man survive a bloody night in a historic cemetery with his girlfriend?

Young residents of a cursed Texas town grapple with what they're willing to sacrifice in order to save their crops, animals and loved ones?

Find out what happens when a college coed gets more than she bargained for with her vintage swing dress.

Can a kindergarten teacher silence the talking doll that has frightened her students by solving a fifty year old mystery?

A lone lady hitchhiker hops a ride in a 1959 El Dorado Cadillac by a roadside grave. Who will be alive at the end of the drive?

A turn of the century jail that housed murderers, liars, and thieves for over a hundred years is taken over by six teenagers on Halloween. What happens when a childhood chant turns deadly?

The Road
What a long and winding road it is to self-publishing a book. If you've been following my blog you know that the learning curve has been steep with learning about social media, platform, POV and tense, promotion and even NaNoWriMo. All of the stories were work-shopped through the Lockhart Writer's group and I struggled with writing a back cover blurb for the collection. Not to mention my journey with cover art, editing and formatting. Every step of the way provided a unique challenge and trying to navigate the road for the first time left me anxious and frankly, exhausted. Below is a short list of the road to self-publishing:
Write
Workshop/critique groups
edit, edit some more, and more, and more…
Beta-readers (readers that will read the book as a whole and critique)
Pay for a good cover art
Pay for professional editing
Formatting print
Formatting for ebook
Uploading
The Moment of Truth
The moment of truth turned out to be a bit of a letdown. After years of writing, months of editing, weeks of designing and formatting I would have thought the actually publishing would have been more momentous. Everyone in my writer's group had encouraged me to self-publish, The Austin Romance Writer's of America had just had a wonderful guest speaker, Katie Graykowski, touting the merits of self-publishing. They all made it sound somewhat easy and gratifying.
What I needed at that moment of truth was for Amazon to have a pop-up screen that said CONGRATS! YOU DID IT! YOU ROCK! Now here are some links to help you promote. My mailchimp account was more exciting when I sent the press release. Note to publishing outlets: give us a little huzzah, please. And for goodness sakes, please give us easy to find links and share options?
The Why
So, why did I do it? And would I do it again? Short story collections are not a hot commodity for agents, unless you're already an established brand. I wasn't ready to self-publish my beloved The Girl in the Jitterbug Dress, so I thought Ghostoria would be a great test run. AND, I love to experiment.
I can read all the blogs in the world and listen to testimony from my peers, but everyone's journey is unique. Plus, as much as I grumble at the difficulties, I LOVE learning new things. I love challenges and puzzles and setting goals. I love the feeling of accomplishment, of seeing something to the end.
My jury is still out on if I would do it again, or if I think it's a good idea to self- publish my Jitterbug Dress series, but, yeah, I would do another collection.
It's Not Over
I thought getting to this point was hard, the journey long, but I realize it's just the beginning. We need to find each other in the big world of books and self-promotion is just as mind-boggling and the wisdom changing so rapidly it's hard to keep up. The self-publishing thing is gigantic and only getting bigger. I read one blogger compare it to a tsunami or avalanche, but those have an end. From where I sit, the glut of new books is more like a virus or rapid cell mitosis. That may sound negative, but I like the idea of us all being interconnected and can infect each other with the love of words.
:: Have you self-published anything? What do you think of short story collections. Would you rather buy a short story collection by a known author or take a chance? What are some of your favorite short story collections?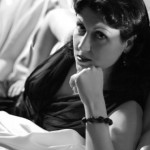 Tam Francis is writer, blogger, swing dance teacher, avid vintage collector, and seamstress. She  shares her love of this genre through her novels, blog, and short stories. She enjoys hearing from you, sharing ideas, forging friendships, and exchanging guest blogs. For all the Girl in the Jitterbug Dress news, give-aways, events, and excitement, make sure to join her list and like her FB page! Join my list ~ Facebook page