~ Lindy Hop at the Historical Chisholm Trail Ballroom ~
Remembering the Night
Smelling of mango and mandarin, I arise from a steamy bath pink, glowing and inspired. The Belgium White Ale softens the edges of a long week, permitting my recall of the weekend's frivolity: the grand opening of the Chisholm Trail Ballroom in downtown Lockhart Texas, (population: thirteen-thousand).
Velvet curtains tumbled into lush pools on the newly refinished long leaf pine floors. The wagon wheel chandeliers cast soft spoked shadows, muted light glowed across the arced ceiling. We sipped dark ales out of frosty mugs and the band, J.W.W and the Prospectors, permeated the ancient walls and blanketed us with sweet Western Swing sounds which probably hadn't been heard in this hamlet since 1947.
Polishing the Floor
My man and I Lindy hop hopped up swinging a tight fast rhythm with a classic Balboa glide. Our feet shuffled across the wood in easy sweeps. The steel guitarist, Jeremiah W. Wade, slid and stretched the notes into hot wails. The drummer, Tim Campbell, kept the back beat with his sticks, his bobble head rolling like a cartwheel. The upright bass player, Shannon Marino, thumped strong and gave us a solid beat to follow. Tom Umberger's lead guitar echoed the steel, adding dimension and weight tethering us to the beat. Heather Rae Johnson's fiddle and vocals cut through our skins and pierced our souls syncing us with the eternal. Even as I write, the elusivity of capturing the singularity of being one with the music in dance is just beyond my reach, but the joy of the moment isn't. Everyone in the joint was connected and I felt like I was home.
I hadn't felt that particular quiet serenity since I moved to Texas almost three years ago. I need music, and not just any music, but music which sets my toes to wiggling and lets me share it tangibly through dance, especially Lindy hop and Balboa. J.W.W. and the Prospectors did that for me this night. The band covered Bob Wills, Ernest Tubb and Milton Brown, among other classics along with authentic originals. One of our favorites was a Tennessee Ernie Ford/Kay Starr number, "Ain't Nobody's Business." Heather Rae and Jeremiah recreated an old-time radio show with voices brandishing a vintage quality which most modern country musicians lack. Their ribbing and camaraderie invited the audience into their inner circle and by the end of the night we were all old friends in our Texas home.
::
What makes a place special? Have you had to relocate and find a new swing scene to lindy hop? What's your fave Western Swing band to lindy hop or balboa to?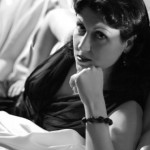 Tam Francis is writer, blogger, swing dance teacher, avid vintage collector, and seamstress. She  shares her love of this genre through her novels, blog, and short stories. She enjoys hearing from you, sharing ideas, forging friendships, and exchanging guest blogs. For all the Girl in the Jitterbug Dress news, give-aways, events, and excitement, make sure to join her list and like her FB page! Join my list ~ Facebook page