~ Love Vintage: 6 Must-See Modern Movies ~
Not all classic movies are from the Golden Era, there are some modern movies that get it right. I've chosen a few which feature the Hot Jazz era to the Big Band war years. These films excel in capturing period style, great acting, witty dialogue and killer soundtracks reminiscent of old Hollywood.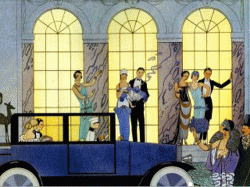 To my delight and surprise I am adding and featuring the remake of The Great Gatsby, (2013) directed by Baz Luhrmann. I was prepared not to like it. I'd seen the trailers, too slick and I like my vintage…vintage. But, Luhrmann accomplished a remarkable feat. He converted this stickler for authentic vintage.
The beauty and opulence of the era was captured in outrageously ornate costumes and decadent sets. Although the women's dresses weren't spot-on era reproductions (I usually don't budge on this), they exuded flapper glamour and I lusted after every gown, pantsuit and headdress.
The cast was superior to the 1974 version: Daisy (Carey Mulligan) combined the sensitivity, shallowness and fragility to elicit the right amount of pity and dislike, true to the writing, DiCaprio, dazzled with his "role within a role," letting us glimpse the insecure idealistic Gatsby behind the polished slick exterior. Jordan, (Elizabeth Debicki), Myrtle (Isla Fisher) and Buchanan (Joel Edgerton) were not only beautiful to look at, but packed their supporting roles with complexity and believability.
At first the MTV quality of the party scenes abraded my vintage sensibilities, but the more I watched, the more I realized and appreciated that Luhrmann has made Fitzgerald available to a new generation. I couldn't help thinking, "my daughter (thirteen-year-old) would LOVE this."
The real star of the show was Carraway (Tobey MaGuire). He never let us forget that he was telling the story and it was story-telling that was important. The transparent overlays and use of text and type ensured Fitzgerald's beautiful words, which inspired the movie, were not lost in the glitz.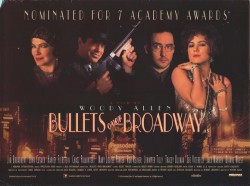 Bullets Over Broadway (1994) written by Woody Allen & Douglas McGarth. Directed by Woody Allen, stars John Cusak, as a struggling 1920's New York playwright who finds himself indebted to a local gangster when he bankrolls his debut play. In his struggles with the bad acting of the mobster's girlfriend (Jennifer Tilly)and script re-writes, he befriends the molls bodyguard who ends up helping him rewrite the show. This leads him to question his talent and what it means to be an "artist." The dialogue is classic Woody Allen and the actors ensure their wacky characters ring true. My favorite line comes from Rob Reiner's character, "Artists make their own moral universe." Ha!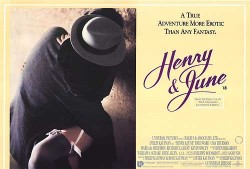 Henry & June (1990) Written by Phillp & Rose Kaufman, directed by Phillip Kaufman, is a beautiful sensual romp through 1930s Paris. Writers Anais Nin (Maria de Medeiros) and Henry Miller (Fred Ward) meet and exchange intellectual ideas while falling into an entangled love triangle with his wife June (Uma Thurman). The costumes, sets and music paint a dreamy haze on Paris 1931. Anais and June's costumes are delicate, gorgeous and would make any vintage lover drool. The rooms of Nin's house are each painted a different color to evoke deliberate moods. This is not a movie for the conservative, Anais inspired to write like D.H. Lawrence and Henry, well, we all know, Henry wrote about fucking.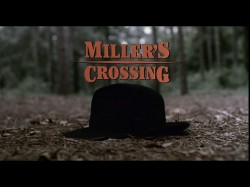 Miller's Crossing (1990) Written by Joel & Ethan Cohen Directed by Joel Cohen. Stars Gabriel Byrne, Marcia Gay Harden, John Tutorro, Steve Buschemi. The Cohen brother's mix the high-style and witty dialogue of classic film noir in a tale of rival gangs in 1930s. What elevates this movie is its complex characters and dark humor juxtaposed against graphic violence. If you're squeamish about blood and guts it's best to skip this one.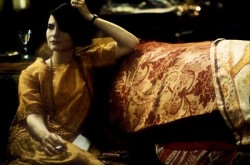 Mrs. Parker & the Vicious Circle (1994) Written by Alan Rudolph & Randy Sue Coburn. Directed by Alan Rudolph. Stars Jennifer Jason Leigh, Campbell Scott, and Matthew Broderick. Novelist Dorothy Parker remembers the heyday of the Algonquin Round Table (impetus of the New Yorker Magazine). Witty dialogue fueled by alcohol and despair, affairs and friendships span the 1920s-1940s.
Not least, take a look at The Hudsucker Proxy (1994), Mrs. Pettigrew Lives for a Day (2008), The Cotton Club (1984), Tucker: The Man and His Dreams (1988), Barton Fink (1991), Racing with the Moon (1984).
::
I'm sure there are a few I left out but these are must watches for any lover or vintage and classic Hollywood. What's your favorite?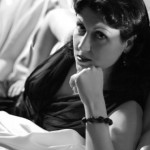 Tam Francis is writer, blogger, swing dance teacher, avid vintage collector, and seamstress. She  shares her love of this genre through her novels, blog, and short stories. She enjoys hearing from you, sharing ideas, forging friendships, and exchanging guest blogs. For all the Girl in the Jitterbug Dress news, give-aways, events, and excitement, make sure to join her list and like her FB page! Join my list ~ Facebook page