~ Make it Hurt So Good ~
by Tam Francis
Up to Shenanigans
I wasn't sure what to expect as we drive by the tiny bar called Shenanigans. We'd heard Rip Carson was playing and there wasn't a single other venue open to accommodate our insatiable Lindy lust. The joint is so small I almost miss it. As we pull in we spy Ed, the Stiletto's drummer and yell at him out the window. The movie American Graffiti flashes in my head. There's something nice about being in a strange place with familiar faces–an anchor to grab onto if we feel too lost?
We bop in the back door and I'm instantly dismayed. There's no real dance floor, a pool table hogs space and a tiny stage juts out of the corner. We perch at the counter-like tables attached to the wall of the narrow space. Three of our regular dance cronies are already there. Brian, a compact dancer with an artsy side than never allows him to keep a real job for long, but one of our favorite leads for his innovative and inexhaustible dance prowess. Steven, local deejay and resident teddy bear. He and his Lindy are big and he doesn't hesitate to throw us, and his own weight, around the dance floor. And Jen, our new vintage neophyte friend, just out of college and new on the scene. Already duded up with perfectly arched eyebrows, swooping 40s hair, and iconic red lipstick.
Brian is already sunk into a beer, Steven looks ready for anything, and Jen looks as skeptical as I feel.
Taking over the Joint
The band takes forever to set up. Lynnda, my partner in crime and bff, asks a guy at the table in front of us if he is using that stool.
"Yeah, it's for my friends," he says indignantly.
I always feel like a stranger in a strange land, but tonight it's more like we're a plague of dancers descending on a village of non-dancers. You never know if they will ignore, resent or dig your presence. Well, we're here to dance, and dance we will…if the band would only start.
The indignant guy's friends show up toting bags of Jack in the Box, infusing the joint with greasy meat smell. I kinda like it. It reminds me of endless childhood summers, family rooms, and enclosed patios where the smell of cooking burgers drifts through infusing your clothes with backyard Americana.
The band, Rip Carson, finally starts and Brian and Steven rotate dances with we three girls. Rip belts-out the tunes giving us everything we want in a set, and man, can that boy can sing. He adds a twang to his speech as he introduces songs and trades banter with the patrons.
Jeff and Jackie, a local couple mismatched in age and style float in, her bright hair flows down her back like spilt Orange Crush, and her brighter red lips always look ready to kiss. The night begins to look up with even more dancers joining the fray. Our good friend Mikey, blonde, dimpled, and just a touch shy of looking like Leonardo DiCaprio, shows up to add to the fun.
Mikey glides me across the stained carpet as he executes perfect Balboa crossovers and throws a new lead-and-follow simultaneous spin. I know it has a fancy name, as all the moves do now, but I've forgotten it and it doesn't matter anyway. The move is good and solid sending quivers of joy through my body as my skirt and hair wrap and unwrap in wild twists.
We cram four couples onto the tiny make-shift dance floor and soon we're overflowing out the front door onto the wide concrete walk. Instead of men hovering over cigarettes outside the joint, car drivers are treated to dancers in bright clothes, skirts and limbs flying, and smiles flashing. We get a few honks which fuel our Lindy fire. I sit back and dig into my swivel, sassy hips sashaying as I scoot around my partner. The sultry air wraps around our bodies. It feels good and right and timeless.
Shaggalicious
Just then my Shag buddy, Glenn, trails in making it just in time to dance before the break. Glenn sports his usual mathematician uniform of button down collared shirts, pleated pants which may or may not be just a tad short of high-waters, but always solid on the dance floor. His painstakingly combed-down hair curls up at the edges, reflecting the neon bar sign with a hint of green.
I flash to the first time I danced Shag with him. We were at DNC (Dance North County–a dance venue just North of San Diego) in a little back room. He pranced over as he always did, walking on his toes, an eagerness in his stride like he'd been saving it up all night, and asked if I wanted Shag. Collegiate Shag, the six-count, kick-the-can jitterbug dance birthed from jumping jitterbugs made popular in the 1930's and revived in the 1990s.
"Glenn just shagged the shit out of me," I'd said as I ran over to friends.
He took the basic Shag and worked the rhythm. We hit it solid, sinking into our hips, feet flying with an invisible book on our heads, torsos stiff as trunks. He took that dance form and improvised the hell out of it. I remember having so much fun I was high with the thrill of finding new ways to use the Shag rhythm.
Tonight is no different. Glenn is on his game, shagging me silly across the tiny floor and out the door.
As we're outside shagging, up walks Carl, another favorite dance man. I haven't seen him in ages and my Bal radar goes ping. I can't wait to get my hands on him! When we come back inside I see Jen dancing with a guy wearing a ringer tee. It fits him nicely across the chest, the contrasting band across his bicep jumps with each turn of his arm. He dances Shag and East Coast and I know I gotta dance with him. He's a new transplant from Alabama. His lead is good, all East Coast, but quite possibly the best ECS I've ever done. It doesn't have any of jangly street swing and is root to boot, hitting the breaks and nuances in the music like a pro. I need somebody teach this Alabammy boy some Lindy, please!
Jeff and I do what Jeff does best, a little bit of everything with the kitchen sink thrown in. He's so full of dance joy it's infectious. Next up, Brian and I do some crazy, Salsa, Mambo Lindy, Bal thing-a-ma-jiggies, that defy naming. It's all play and all good.
Making Friends with the Natives
The band plays set after set, and we hang out, talk, drink and dig the vibe. The regular barflies become our long lost friends, now inviting and curious about us like we're foreigners or a new breed of person. Hell, maybe we are.
Before we know it, it's time for the last set. Rip and his boys decide to have a little fun and start the set off with some Black Flag. Yup, I said Black Flag, then a little of the Knack's, My Sharona, topping it off with the best rockabillied-out version of Baby Got Back you ever heard!
The night wraps up and I ask myself, if I'd go back to the little hole in the wall for more Shenanigans? Hell yeah. Would I make it my regular Thursday night venue? Probably not, but it's a good alternative with a small group of fun folk. I don't know if my legs hurt from dancing on carpet, cement, or just all the Shag and Bal, but it hurts so good.
::
Since editing this story, my good friend Carl who I mention above and will mention again in my San Diego Swing stories passed away. I'm glad I captured dancing with him and had many years of turns on the dance floor with him. Do you have any special dance night memories? Have you every gone to a non-dance venue and danced? I'd love to hear your stories. Ever feel like a stranger in a strange land when you go to a non-dance venue and dance?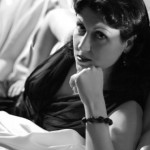 Tam Francis is writer, blogger, swing dance teacher, avid vintage collector, and seamstress. She  shares her love of this genre through her novels, blog, and short stories. She enjoys hearing from you, sharing ideas, forging friendships, and exchanging guest blogs. For all the Girl in the Jitterbug Dress news, give-aways, events, and excitement, make sure to join her list and like her FB page! Join my list ~ Facebook page