~ Memorial Day, Flags, Girl Scouts & WWII ~
by Tam Francis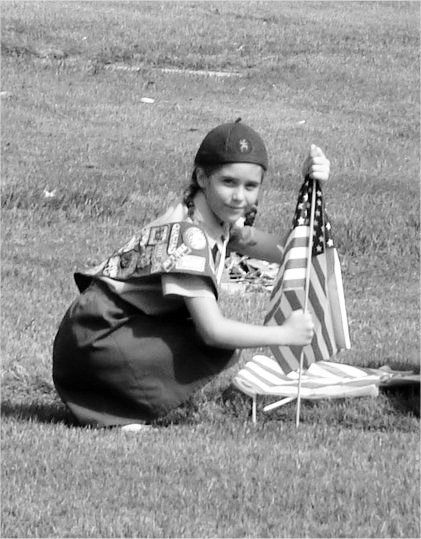 Another Memorial Day approaches and I find myself helping my husband (who is our county's Veteran's Commission Officer) put together a Memorial Day ceremony. This year he's decided, in lieu of the cushy courthouse, to take the ceremony to its roots, or to the roots of the great Live Oaks in our city cemetery. The idea is to remind people that Memorial Day is about the people who died for our freedoms, not a trumpeter for Summer or big sales or BBQs. What better place to be reminded than at a cemetery?
I'm reminded of the first time my children and I participated in a Placing of the Flags event…
Our Quest
We woke to brilliant clear blue skies with a wash of fresh rain still puddling across our sidewalk.
"Let's get this Memorial Day going," I said to my daughter Clara.
Her bright blue eyes stole my heart every time she lifted them to meet mine. They were almost the exact shade of my mom's, though my mom had never seen them since the brain tumors took her eyesight.
I hustled Clara into her vintage Brownie uniform and found something appropriate and warm for my tagalong, her younger brother, Chas. His arms and legs still clung to the slight chub of his baby fat, so tender and juicy I could have eaten him up. I dressed him in a khaki military style shirt and pants.
"Clara," I said, "why don't we invite your fellow Brownie, Alaina, to join us on our quest?"
"Sure mom, that would be fun," she replied in her husky voice, deep for a girl her age.
The quest was to meet other Brownies, Girl Scouts, and Boy Scouts and place flags on all the graves with military service markers in the cemetery at the heart of the city and viewable from the freeway overpass. With a short conversation, Alaina's mom rushed her into her uniform and sent her over from across the street. By the time I buckled everyone into the car, the clouds had begun to bully the clear sky.
Why Memorialize
"So, why do you think it's important that we memorialize those that have served and those that have died so long ago for our country?" I asked as we drove.
Just what did this mean to the younger generation that heard the "War in Iraq" thrown around with a mixture of reverence and disdain. We talked about why war might sometimes be necessary and how other countries and leaders, if allowed, would change our way of life and limit the liberties that we have. I mostly focused on WWII, since most of the grave markers would be from this era, and explained how insane Hitler was.
I didn't go into detail about the Holocaust, but tried to explain it in simple terms they might understand.
"He was a crazy leader who basically wanted to kill everyone with brown eyes, anyone who was not purely German."
That seemed to hit home with them. My Brownie's grandfather has brown eyes and so did most of Alaina's family. We also talked about how Clara's dad, a U.S. Navy sailor was on his way to the Persian Gulf to support the war efforts there. I explained a little about the religious wars going on in that region, and about the rights that were taken away from the women there, (though I knew it was more than that and was wrapped up in monetary gains for the U.S.). I had a hard time understanding the war myself, although I thought I had when it began.
Out of Flags
By the time we arrived at the cemetery, the sky was crowded with heavy clumps of gray. Girls in bright green and chocolate brown bounded across the parking lot and I knew we were in the right place. Small clusters of like-colored groups gathered on a cold corner of cement beneath an eave as we waited for more flags to be delivered. The Boy Scouts and some very zealous Girl Scouts had come early and were already scattered across the grounds pushing wooden flag sticks into wet ground.
"I'm so sorry," the organizer said, a solid, ample woman with kind eyes and fading lipstick. "We ran out of flags. We didn't expect such a good turn-out, but we'll have more to hand out if you could hang in there."
Of course we could hang in there. I didn't see any familiar faces but Clara and Alaina admired another girl's badges and made fast friends.
Finally, more flags arrived, the children excited to tackle their task, made a game of who could find the most veteran graves and counted how many different kinds of markers their were. Eagles for WWII and Korean War, Bamboo or Stars for Vietnam, (the war my own father was in). Other bronzed medallions molded into fantastic deco stars, a few older markers etched with fading G.A.R. Grand Army of the Republic with symbols throughout, American hieroglyphs.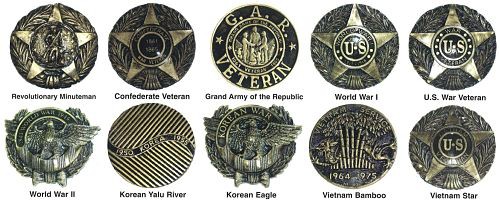 I talked to the kids about respecting the dead, being quiet and restrained, but they were so untouched by death that they couldn't quite grasp the gravity and maybe at this tender age, they shouldn't. Maybe this was enough for now.
WWII Questions
"Here's one," the girls called out as they darted across the manicured lawns. "Most of them seem to be WWII, huh?"
"It was a very big war," I replied then added, "it was supposed to be the one that ended them all. The last one." I closed my eyes and said a silent prayer for my husband and the sailors on his ship.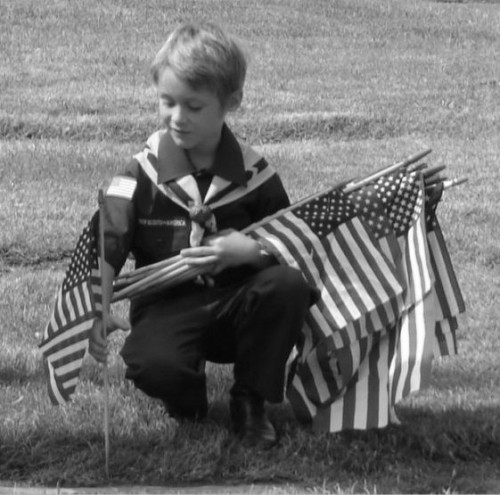 I reveled in the smell of fresh mown grass, sweet jasmine, pungent pine, and a spicy cinnamon scent I couldn't place. The bliss of finding myself above ground rushed at me, overwhelming and filling with the gift of life.
I filled with pride at the brown, blue, and green blobs bobbing up and down the rows of graves. When Alaina ran out of the flags, Clara rushed over and split her store, continuing on in earnest. I wished I could've gotten in their little heads and seen through their eyes and heard their thoughts, for just a moment.
As we walked, and sometimes sprinted, looking for the markers, I read the names and wondered how they'd spent their lives.  What would they think of the way we spend ours. What would think of all our technology. Would they be happy at our efforts today. I hoped they were loved. And I couldn't help wonder if any of them were jitterbugs in my favorite era?
I asked myself why I had such a fascination and affinity for the WWII era. I knew that that war, just made more sense. The ideas of right and wrong seemed so clear cut, but maybe that's how it always is in retrospect.
::
Do you have any Memorial Day rituals or ceremonies you participate in? Do you have any loved ones in the military? Have you ever participated in placing flags on graves? How did you feel?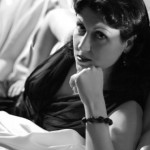 Tam Francis is writer, blogger, swing dance teacher, avid vintage collector, and seamstress. She  shares her love of this genre through her novels, blog, and short stories. She enjoys hearing from you, sharing ideas, forging friendships, and exchanging guest blogs. For all the Girl in the Jitterbug Dress news, give-aways, events, and excitement, make sure to join her list and like her FB page! Join my list ~ Facebook page