~ My Dream Vintage Girl Scout Troop ~
By Tam Francis
What's a vintage mom supposed to do when her daughter joins the Girl Scouts? Form a Vintage Ambassador Troop, of course. Here's my story of how I went from idea to realizing the dream of a vintage girl scout troop.
Getting it together
It was the summer of 2009, We had found a great troop and a wonderful co-leader, Electra, who liked vintage crafts, classic home arts, and the outdoors as much as we did. She was game for a vintage girl scout troop and we found a few other mom's willing to lend us their gals for the Ambassador Troop. An Ambassador Girl Scout Troop is one in which the troop is called on to do special public appearances and represent the organization in a way a bigger troop might not be able to.
Our Mission
We aimed to be a VINTAGE AMBASSADOR TROOP. We not only wanted to meet all requirements for an A-Troop, we wanted to do something unique and original by recreating a 1940's WWII Era Troop.
Ambassador Troops enjoy unique and exciting experiences, interact with new people and receive a special recognition pin.
A-Troops have appeared in newspapers and on TV, modeled for council publications, stood centerfield during Padres games, marched in parades, participated in UCSD events, performed flag ceremonies at conventions, greeted guests, met the mayor, presented awards, led the Pledge of Allegiance at City Council Meetings, and ushered at concerts.
To be an ambassador Troop we required:
Flexibility-some opportunities were announced in advance, others were last minute
Mentorship-Experienced Ambassador Troops helped mentor NEW A-Troops by answering questions, demonstrations and flag ceremony, etc.
Uniforms– Ambassador Troops needed COMPLETE uniforms. Miss Electra and Miss Tammy had volunteered to sew and recreate vintage uniforms, but we needed parents help in buying fabric, hats, socks and shoes.
Fundraisers- We asked for help for ideas for those that needed assistance in buying supplies for vintage uniforms.
Image Release– Each girl had to have a form signed by a parent or guardian to permit photographing and or filming for Girl Scout publicity purposes.
One-year Commitment-We asked out A-Troops  to make a commitment to participate whenever possible during the current Girl Scout year
Uniforms
I studied, bought, and perused old Girl Scout magazines and publications, looking for clues to uniforms, shoes, hair and accessories
We found most uniform parts online at sites like etsy and ebay, measured are girl,s and fudged their rankings to make the uniforms work. We found belts, socks, hats, pins, and kerchiefs
We ended up with three Girl Scouts and two Brownies
I found very few uniforms for leaders and my co-leader, being a plus size gal, could find nothing in her size. We decided to sew our own skirts and kerchiefs
Since finding authentic vintage shoes for the gals proved an impossible task, we ended up with ordering saddle shoes from Payless Shoe Source to complete our vintage look.
Beyond the Look
Vintage Banner
Made out of felt
Vintage-look banner split the banner between the Girl Scout and Brownie colors. (Every good Girl Scout is good at sewing, cutting and gluing!)
I looked at old pictures of Girl Scout banners and tried to give ours the same vintage nostalgic feel, scalloped edge with dowel rod through top for easy carrying and roll up
Used in parades, television appearances, and events where we had a booth set up
WWII songs we taught the girls to sing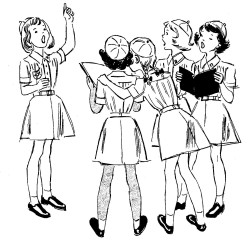 Extras
Vintage Clip art
The Brownie Story in Reader's Theatre format
Sock hops
Memorial Day Flags on Graves
Although when we moved to Texas my daughter no longer wanted to start up with a new Girl Scout troop, it had been a wonderful and rewarding experience for us both. My daughter started out quite shy, but my the time we were done with our Vintage Girl Scout Troop, she was as comfortable selling cookies to strangers as she was in front of T.V. cameras and in front of a packed room of Veterans. I hope someone else out there is as passionate about Vintage Girls Scouts as we were and tries a vintage troop of their own!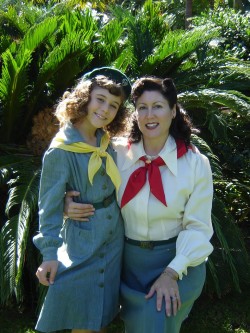 ::
Do you do Girl Scouts vintage style? What's your experience? Where did you find uniforms? What do you girl's think? Please email me if you're looking for vintage Girl Scout clip art or other items, I might be able to help!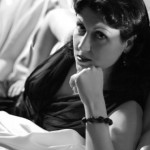 Tam Francis is writer, blogger, swing dance teacher, avid vintage collector, and seamstress. She  shares her love of this genre through her novels, blog, and short stories. She enjoys hearing from you, sharing ideas, forging friendships, and exchanging guest blogs. For all the Girl in the Jitterbug Dress news, give-aways, events, and excitement, make sure to join her list and like her FB page! Join my list ~ Facebook page