Remembering the First Camp Hollywood
By Tam Francis
In  honor of this year's Camp Hollywood, I go back in time, into the archives of Swivel: Vintage Living Magazine and tell you what is was like to be at Camp Hollywood that first year…
The First Night
Blinking lights beat the rhythm of the Hollywood street as the Seven Star Motel beckoned us into the underbelly of its structure. We scrambled to our dingy room, careful not to walk on the coagulated carpet in bare feet. We donned vintage dress and did our hair in 40s glam for our first night at the first Camp Hollywood.
We slipped into the Women's Club of Hollywood greeted by friendly faces, white plastic wrist bands, and information packets. The club, a simple war era building with multi-paned windows, tiered molding, and high ceiling, made me feel like a hostess at a USO dance– Serviceman Welcome.
Peter Loggins dimmed the lights and humorously narrated a montage of rare (rare then) dance footage from the golden age of Hollywood. We watched Dean Collins whip Jewel McGowan into perfect swivels. Jean Veloz smiled and bounced across the screen with Arthur Walsh,  Lenny Smith, Irene Thomas and more. WWII hoppers flickered on black and white celluloid.
Meeting our Heroes
When the lights came on at that Camp Hollywood night, we sat face to face with our living idols, Lindy Hop legends. That first year played host to Jean Veloz, Freda Angela, Lola Cole, Hal and Marge Takier and John Mills. Vitaly emceed as the awe-struck students asked questions and listened to stories about how the floors were just as crowded back then as they were for us today.  They talked about how the throng of dancer were there to have fun, and were fairly average dancers, but there was a small group of dedicated, hard-working hoppers who pushed Lindy to its limits, (just like now).
I felt the past rushing to meet the present, and the future sneaking into the drafty dance hall. I pictured myself re-telling this story to wide-eyed grandchildren about how I listened to stories from the innovators of an American dance called The Lindy Hop.
Day Two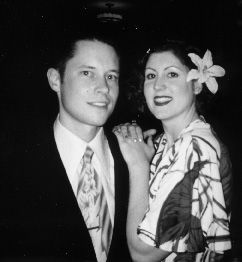 After a sleepless night of bumping and thumping from the room above, (overzealous dancers practicing at 4:00am), I clad my feet in my fave forties wedgies and headed out for a day of dance instruction, sleepy Dave at my side. Of course being the die-hard vintage collectors, we had to make a morning detour to some of our favorite shops like Remix and Yellowstone before returning to the Camp Hollywood classes.
We returned in time for Balboa lessons with Jimmy and Joanne. Finally after months of pestering Dave, my husband, he decided he loved Balboa. The class moved fast without too much emphasis on the basic. We found the style different from the Bal we had been taught several years earlier, (originally taught with a rock-step, but not so today). Once we got used to Bal-ing without the rock-step, it was clear sailing, our heads bobbed around the room like ocean buoys.
The Evening Dance with Eddie Reed
Arriving fashionably late, we walked into a room of vintage clad dancers hopping to the sounds of The Eddie Reed Big Band and a Welcome to Hollywood 1940 banner. Eddie was in rare form, feeding off the energy of the hopping bodies, his favorite kind of audience. Reed watched the crowd and played with the dancers as jam after jam exploded across the wooden floor.
Erik Robison and Sylvia Skylar swung in their original Hollywood style with all their personal movie star flair. Peter Loggins and Lisa Ferguson epitomized Dean and Jewel with added goofiness and crowd appeal. Vitaly threw Hilary Alexander around in a violent whirl. Other known and unknown hoppers strutted, Sugar-pushed, boogied, and slid to the delight of the less experienced.
The First Hollywood Jitterbug Contest
The Jitterbug contest turned out some very competitive dancing. My favorite was Adam Velez and Trina Sissen who knocked out the house with fun shag, Bal and slip-outs mixed into their Lindy. They rightly took first place as they exuded the spirit of Jitterbug. Russ Olsen and Marissa Slotterbeck, came in second and gave them a run for their money with spontaneous lead and follow footwork, (I don't think these kids planned anything or were regular dance partners). Coming in at a smashing third were Richie Roca and Debbie Smith with high-speed Swing-outs and dizzying turns.
Day Three
The next day we had a tough choice between Erik and Sylvia's styling class or Peter and Lisa's Dean and Jewel Class. Since we'd had private lessons with Peter and Lisa, we opted for Erik and Sylvia's. It turned out to be an amazing class with the leads learning Flying Lindy, Free Spins and styling tricks. While the gals learned Sugar-push variations, Swing-out stylings and an over-rotated Swing-out. (Still one of my favorites).
The next class we took was a Boogie Routine taught, again, by Sylvia Skylar. The routine conveniently combined breakaway Boogie steps into an easy to retain form. My cohorts Glenn and Rosie Mouritzen had taken the Speed Swing class and came away with secrets for fast, smooth Lindy.
My dog were barking, but we continued cramming our brain and bodies with more Camp Hollywood classes. We joined Peter and Lisa for Footwork Variations in which they broke down some of the moves in the old film clips. I especially liked the Irene Thomas variation out of the Sugar-push.
The First  Collegiate Shag Contest in 50 Years
To wrap up the weekend, Dean Mora's Modern Rhythmists graced the stage in tuxedos like lovely penguin, a stunning songbird by their side. Dean Mora's fellas were so authentic I thought I'd stepped into a 1930s hall with dime-a-dance girls and bathtub gin.
It had been fifty or more years since Collegiate Shag was featured in the United States. The competitors danced to live killer diller rhythms of the band. Each couple got thirty seconds to strut their stuff and switched out like a swing jam, each round Mora upped the tempo until they were all on the floor in a mad, crazy all-skate to super sonic beats.
Not pure Shag, the dancers mixed in a little Boogie, a little Bal and threw in the kitchen sink for good measure. They had the audience in equal fits of laughter and awe. I'd hated to be a judge that night, but judge they did.
First place: Shawn Carter and Cassandra Bugg
Second place: Buddy Gallienne & Joanna Contreras
Third place: Adam Velez and Adrienne Weidert
Wrapping it Up
Last, but not least Hilary Alexander, adorned in vintage fashion both noon and moon, was the ultimate hostess. Her organizational skills and enthusiasm made up for any small glitches that might have occurred over the weekend (great first time event).
Overall the first Camp Hollywood was a tremendous, fun event…
So, here we are sixteen years later, and still going strong. I dream about, and watch from afar as Hilary keeps the Hollywood flame blazing. I can't wait to see what she has up her lovely sleeve for the next decade.
::
Do you have memories of the first Camp Hollywood? What was your favorite part? What classes did you take? Did you try the contests? Have you been years since? I'd love to hear about. Share stories and pictures!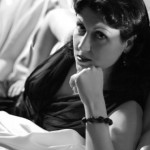 Tam Francis is writer, blogger, swing dance teacher, avid vintage collector, and seamstress. She  shares her love of this genre through her novels, blog, and short stories. She enjoys hearing from you, sharing ideas, forging friendships, and exchanging guest blogs. For all the Girl in the Jitterbug Dress news, give-aways, events, and excitement, make sure to join her list and like her FB page! Join my list ~ Facebook page