~ Romeo Blue: Vintage Book Reviewer ~
by Tam Francis
The Synopsis
Romeo Blue (Scholastic, 2013), by Phoebe Stone is the sequel to the Romeo and Juliet Code (although I didn't know when I bought Romeo Blue, but the book stands on its own, anyway).  In this Young Adult Fiction (ages ten and up), the heroine Felicity Budwig, known affectionately as Flissy is dropped off with relatives in Bottlebay, Maine to wait out the war and be kept safe from the bombs dropping in her native England.
This is not unusual in itself, but Flissy's parents are different. They're spies and they're missing. They've been missing for a year. Although Flissy hated the old house, her eccentric relatives, and her adopted brother Derek, she's grown to love them all, and none more so than the brooding, handsome, teen Derek.
When a man appears claiming to be Derek's father, Flissy can't stop her innate curiosity from setting her on a path of secrets, spies, and regrettable discoveries.
Although Romeo Blue is a Y/A fiction, I can recommend it to Girl in the Jitterbug Dress readers as a fun, compelling read perfect for air travel, a day at the beach, or a curl-up by the fire on a cold winter's night.
What I liked about it
Set in WWII in Maine, the novel brought to the forefront some of the real fears and experiences of living on the American East Coast during the war.
Insights into how the war affected Americans with rationing, shortages, blackouts, curfews, and the close relationship America had with England during the war.
The mini-history lessons/overview about U-boats, spies, and the German infiltration on the East Coast.
Stone captured the young teenage psyche, fears, and raw emotions of that age.
Compelling plot twists, that although predictable for an older reader would be very satisfying for its target audience.
I enjoyed the complex characters of Gideon and Miami, well written and three-dimensional which can be easily over-looked in a Y/A novel.
Nicely done subtle foreshadowing.
Some very beautiful and insightful turns of phrase.
The fun use of period and teen slang.
What I didn't like about it
Although I much enjoy literary devices and poetic writing, some of Stone's metaphors seemed forced and too abundant to the point where her beautiful metaphors lost their punch.
The adults in the story seemed a little too lax in their secret-keeping and often appeared less-intelligent than their real-life counterparts might. (It's a big pet peeve of mine in much of the middle-grade fiction and television that adults are dumber than children).
Occasionally Flissy seemed overly dramatic or whiney, but again that could be quite appropriate for Y/A middle grade fiction.
I wish she would have described Derek and Flissy's dancing more, especially the jitterbug which became so popular during the war. She mentions Miami and the Postman going jitterbugging, but it would have been nice to "see" them dance.
There was also a conspicuous lack of period music in the story. At that time, they would have heard Big Band on the radio and boys like Derek and Flissy would have driven their elders nuts with the new music.
That Gideon and Flissy had so many different names. It was a bit confusing at first.
Favorite Quotes
He turned and waved to me in his chipper postman sort of way and the fog seemed to wrap its long, smoky arm all around him and draw him away into whiteness.
 "We so love having you with us Flissy McBee. Perhaps you should not be here. Perhaps we are fools to keep you with us at this time. But we waited so long for you. We have waited and waited and longed to have you with us. And suddenly here you are amidst all this." She hugged me and I could feel her whole being rising and falling against me, crying in a silent, tearless way.
Mixed-up dreams came at me in the veils of shadows, the ocean crashing below, never pausing or resting or stopping. Then the old doorbell buzzed at the front door and the house shook and screeched into alert.
There was something about the sound of the water heating in a kettle on the cooker that seemed always to offer such promise, as if that sound would cure or heal any wound.
Overall
Romeo Blue was sweet, well-written, and I liked spending time in WWII Maine. Romeo Blue is a compelling coming of age story, and Felicity Budwig McBee Bathburn is an enchanting narrator. Seeing the war through a young girl's eyes, although stateside, provided a thought-provoking snapshot of how WWII impacted children both here and abroad. Although it's a middle grade Y/A historical fiction, there's enough here to satisfy any vintage WWII enthusiast.
 Vintage Enthusiast Rating
Fashion: ♥♥♥
Music: ♥
Dance: ♥♥
::
Do you like a little romance mixed in your historical fiction? Do you read much Young Adult fiction? If so why or why not? If you're a parent, would you have sent your kids out of country for the duration of the war? Would you spy for your country? Have you read or written a book you'd like reviewed by the Vintage Reviewer. Please contact me!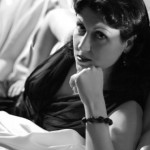 Tam Francis is a writer, blogger, swing dance teacher, avid vintage collector, and seamstress. She  shares her love of this genre through her novels, blog, and short stories. She enjoys hearing from you, sharing ideas, forging friendships, and exchanging guest blogs. For all the Girl in the Jitterbug Dress news, give-aways, events, and excitement, make sure to join her list and like her FB page! Join my list ~ Facebook page