Scottie Dog Facts You May Not Know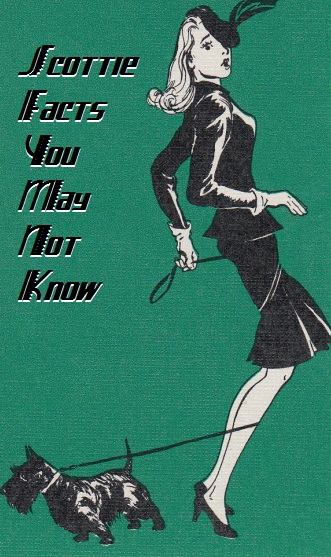 I have always loved vintage, and I have always loved Scottie dogs. They appear in everything from decor to glassware to fashion to literature made most popular in the 1930s, 1940s, and 1950s, but not limited to those eras. I was thrilled when my husband suggested we get a Scottie dog for our family dog.
Now, not only is my vintage collection growing (everyone loves to give us Scottie presents), but my love for this iconic dog knows no bounds. In honor of our dear Maisie Maclennane Francis's first birthday, I have researched and put together many Scottie Dog facts you may not know. And look how many of your favorite classic movie stars and icons from the 30s and 40s have owned and loved Scotties!
* * *
If you have a fact to share or want to tell me about your Scottie, please comment below!
• Scottish Terriers are also called Aberdeen Terrier falling under the Skye Terrier umbrella in a group of Highland breeds which include Dandie Dinmont, and West Highland White Terrier.
• The First Earl of Dumbarton nicknamed the breed "the diehard."
• The modern breed is said to be able to trace its lineage back to a single female, named Splinter II.
• The first written records about a dog of similar description to the Scottish Terrier dates from 1436, when Don Leslie described them in his book: The History of Scotland 1436-1561.
• Recorded history and the initial development of the breed started in the late 1870s with the development of dog shows. The exhibition and judging of dogs required comparison to a breed standard and thus the appearance and temperament of the Scottie was written down for the first time.
• Scotties were exhibited for the first at Alexander Palace in England In 1879, the following year they began to be classified in a similar way they are today.
• Scotties were introduced to America in the early 1890s, but it was not until the years between World War I and World War II that the breed became popular.
• The Scottish Terrier Club of America (STCA) was formed in 1900 and a standard written in 1925. The Scottish Terrier was recognized by the United Kennel Club in 1934.
• By 1936, Scotties were the third most popular breed in the United States.
• Franklin Delano Roosevelt, FDR, the 32nd President of the United States (1933–1945) was proud owner of Fala "most photographed dog in the world."
• Scottish Terriers have won best in show at the Westminster Kennel Club Dog Show more than any other breed (except for the Wire Fox Terrier, 13 times), a total of nine times.
• The Scottie is the only breed of dog that has lived in the White House more than three times. President Franklin D. Roosevelt with Fala, Duffy and Mr. Duffy. Eleanor Roosevelt with Meggie and President George W. Bush with Barney and Miss Beazley.
• The Scottie is also renowned for being featured in the popular board game, Monopoly, as a player token. When the game was first created in the 1930s, Scotties were one of the most popular pets in the United States.
• Scotties are born with floppy puppy ears. The ears stand up of their own accord, usually by the time they are about 10 weeks of age.
• You can always tell a Scottie's mood by its very expressive ears!
• Angus is a Scottie fictionalized by Marjorie Flack
Famous people who have owned Scottie Dogs:
• Queen Victoria
• Eva Braun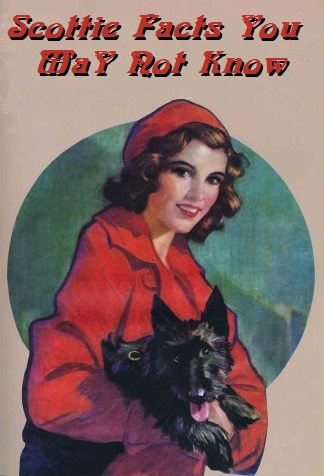 • Dwight D. Eisenhower
• Jacqueline Kennedy Onassis
• Ed Whitfield
• Rudyard Kipling
• President of Poland, Lech Kaczynski
• Tatum O'Neal
• Bette Davis
• Humphrey Bogart
• E.B. White
• Dorothy Parker
• Shirley Temple
• Joan Crawford
• Vera Ellen
• Dorothy Lamour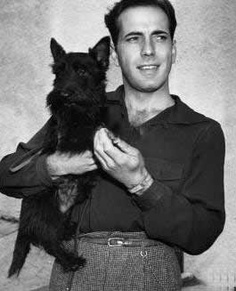 • Julie Andrews
• Betty Hutton
• Lionel Barrymore
• John Barrymore
• Dustin Hoffman
• Charles Boyer
::
Did I miss a Scottie Fact? Want to share something special You know about Scotties? Please post here!
CHECK OUT my 2015 Gift List for Amazon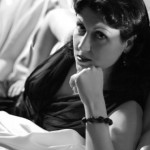 Tam Francis is a writer, blogger, swing dance teacher, avid vintage collector, and seamstress. She  shares her love of this genre through her novels, blog, and short stories. She enjoys hearing from you, sharing ideas, forging friendships, and exchanging guest blogs. For all the Girl in the Jitterbug Dress news, give-aways, events, and excitement, make sure to join her list and like her FB page! Join my list ~ Facebook page