~ In Search of Sam Butera ~
by Steve Conrad edited by Tam Francis
As I finish work on my ghost story collection I thought I would share an interview Steve Conrad did for my magazine Swivel: Vintage Living. Steve is a dance instructor, producer and deejay. He runs the successful Arizona Lindy Hop Society. Take it away Steve…
Awestruck. The only way to describe the legend I was fortunate enough to see live in January 1999 at the Steel Door Arts Center in Phoenix, AZ. Sam Butera, known as the saxophonist who played alongside Louis Prima for more than twenty-three years and band leader of Sam Butera and the Witnesses. I soon found that Sam a colorful history before he joined Louis and his wife Keely Smith.
Sam was born in New Orleans and started playing the tenor sax at an early age. "When I was fourteen I was playing in cabarets while the girls would strip." Sam gradually made his way into more respectable venues. At eighteen he was voted the Outstanding Teenage Musician in America by Look Magazine.
This was just the beginning. He went on to tour with big bands like Tommy Dorsey, Ray McKinley, Joe Richman, and Al Hirt. It was in the fifties that Sam met Prima and Smith. They took Vegas and the rest of the country by storm, breaking attendance records in every showroom they played.
It is Sam's arrangement of Jump, Jive an' Wail that had been made famous by the Gap commercial. He wasn't very responsive to Brian Setzer's arrangement, "It doesn't swing, man."
At first he comes across as slightly bitter about those in show business who have taken advatage of him. When asked about David Lee Roth's rendition of Sam's original, "Jut a Gigolo, Sam replies, "It totally sucks, man," I never saw one penny of the money he made off my song. "I met him (David Lee Roth), in Vegas once. I walked up to him without introducing myself and said: Where's my money."
One thing about Sam, he's seen and done it all. After his twenty-three year stint with Prima and Smith, Sam went on tour with Frank Sinatra, Danny Thomas, Jerry Vale, Sergio Franchi, Jimmy Roselli, and Sammy Davis Jr.
After just meeting Sam I'd already learned more about the history of swing music and how it must have sounded in the early days. As he played the songs made famous by himself and Louis Prima, I watched a true entertainer on stage.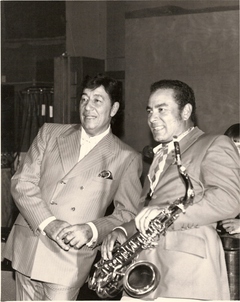 Sam continued to tour around the country as one of the last true lounge acts from the era. As he finished his final set for the evening he left the audience with this advice to everyone. "It's nice to be important, but it's important to be nice." I hope Sam knew know how important he was to music and I count myself fortunate to catch one of his live shows before he left the stage for good. Sam died on June 3, 2009 in Las Vegas at age of 81.
::
Note from Tam: My husband and I were lucky enough to see Sam Butera play in the summer of 1999 at a Viejas Casino, in Alpine, just outside San Diego California. He was an amazing performer, singing and blowing his sax, we felt like we were transported to 1950s Vegas and those dances we shared in his presence are forever etched in my mind.
::
Did YOU get a chance to see Sam Butera when he was alive? Tell us about your time? What's your fave Sam song or Louis Prima song?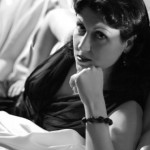 Tam Francis is writer, blogger, swing dance teacher, avid vintage collector, and seamstress. She  shares her love of this genre through her novels, blog, and short stories. She enjoys hearing from you, sharing ideas, forging friendships, and exchanging guest blogs. For all the Girl in the Jitterbug Dress news, give-aways, events, and excitement, make sure to join her list and like her FB page! Join my list ~ Facebook page