~ How To Spot Phony Vintage ~
by Tam Francis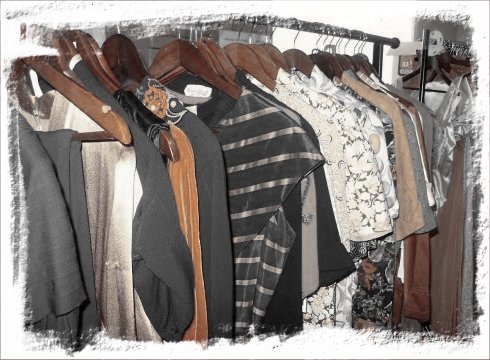 I thought we gals had it figured out, but the more I read and see lately, the more inaccurate information is being passed off as fact. Vintage shops, auctions (ebay, etsy and live auctions) and even published books are spreading misinformation. If I see one more auction with a late 50s dress, calling it swing era, I think I will go insane! My focus and expertise is in the 1930s through the mid 1950s and I will illustrate the subtle changes in fabric, design and construction with an emphasis on dresses. My findings are based on my collection of Sears and Montgomery Ward vintage catalogues, my vintage pattern collection, Women's Day, Colliers and Vogue magazines, salesman sample catalogues and Hollywood movies, (in their respective eras).
1930s
The thirties still felt the effects of the depression and used fabric sparingly. The emphasis was on long slim lines (and I must warn you, even before babies, I had to wear a girdle to achieve the look–but that's another article). The dresses, blouses, and suits were constructed with geometric designs, not the fabric print, but the construction of the pieces and how they were sewn together. Shirts and blouses had an inverted "v" construction on the bodice and skirts had crossing lines and dropped "v" waists. Most of the skirt and dress closures were left side with buttoning down the side and additionally at the neckline. Not fully Art Deco, these garments had remnants of that era's love of sharp line.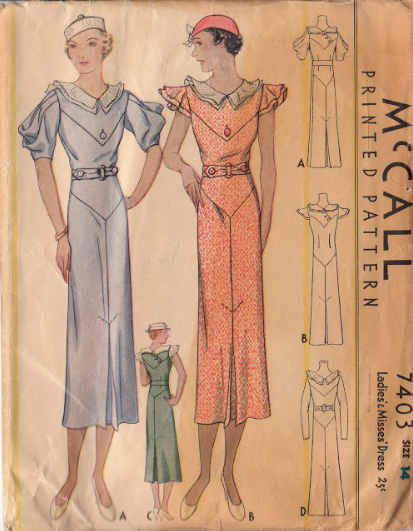 The fabrics for daywear were mostly solids in navy, chocolate, chestnut, brown and beiges. Prints were predominately small and flowery in rayon, silk, woolen and cottons. Fabric was still cut on the bias (45 degrees to its warp and weft threads. Every piece of woven fabric has two biases, perpendicular to each other) and zipper closures were rare. You would most likely find hook-and-eye fasteners on the left side of the garment. Long sleeves were darted at the elbow with snaps at the wrists.
Day dresses and skirts fell below the knee with a slim bias or tulip cut. A perfect jitterbug example would be of daywear would be Day at the Races. The dancers in that famous scene sport below the knee plaid wool skirts. For a little more upscale daywear watch The Thin Man (movies) and drool over Myrna Loy's rayon dresses.
The evening was an entirely different realm. The affluent and jet-setters would be found in slinky long gown with a lot of skin showing. Evening gowns had many cutaway features that exposed, back, neck, arms and shoulders, and if they were not completely bare, were covered with a sheer or netted fabric. Look to Jean Harlow for your inspiration to nail this 1930s glamorous evening look.
Buying and Wearing
Clothing from this era is becoming increasingly rare and more costly. Expect to pay $60 dollars or more for a day dress in good condition. I highly recommend this era for the dedicate Balboa Swing Dancer. As you build your wardrobe consider learning to sew and create your own.
Late 1930s-early 1940s (War Era)
This is my personal favorite fashion time and on the beam for Lindy Hop jitterbugs. Due to wartime rations the hemline moved up to the knee and skirts added an A-line flair which accommodated the change in women's work and leisure roles, allowing for less restricted movement. Long sleeve blouses and dress tops still had darted elbows, but gave way greater mobility. Sleeves had more gathers, giving a pouf look at the shoulder area. Blouses buttoned in back or on sides with snaps and zippers. Waists were more defined with half-belts (belts that come from the side seams), tie-backs and fitted midriff.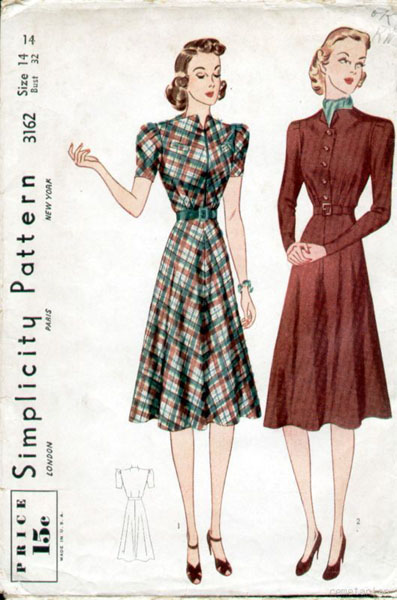 Zippers were quick becoming the fasteners of choice and could be found on the left side and neckline, but snap closures were still prevalent. Some of my favorite examples of this style are Ann Rutherford's costumes in Orchestra Wives, or Gloria Grahame in It's a Wonderful Life.
As America and the world moved toward war the eventual rations took their toll on fashion. The General Limitation Order L-85 issued by the FWPB, Federal War Production Board handed out restrictions for manufacturers, businesses and home sewers.
 Ration Restrictions
Short narrow skirts with a hem circumference not exceeding 72 inches
Hems not exceeding a 2″ depth
No more than one pocket per blouse and no patch pockets on jackets of coats
Sleeves such as dolman, log-of-mutton and cut on bias were forbidden
Belts not exceeding 2″ in width
No trouser cuffs or pleats
Jackets not exceeding 25 inches in length
The elimination of vests from suits
General exemptions were given to infant and toddler apparel, bridal gowns, maternity dresses, persons of abnormal size, historical and ballet costumes, burial gowns, and vestments and robes for religious orders and the judiciary.
Because of these restrictions dressmakers got creative with trim. Bows, buttons, ribbon, and rickrack accents were added to dresses and suits. Silk practically disappeared and most garments were made from rayon, cottons, and woolens. Fabric was no longer cut on the bias, but on the grain.
Evening-wear reflected the same sensibilities, long A-line dresses with fitted bodices, elegant and simple. The early 1940s gowns are easier to find since these items were worn only once or twice a year.
Buying and Wearing
The sportswear and daywear is becoming increasingly hard to find and I encourage jitterbugs to learn to make their own for a truly vintage look. Many of the reproductions sites, although gorgeous and fun, aren't strictly true to an era, more an amalgamation of the eras combined. As I mentioned, this style is killer diller for the lindy hop and WWII swing dancer. Every swing dancer should have at least one early to mid-forties frock. I guarantee you will be asked at some point in your dance life to wear vintage!
Mid-Late 1940s
As rationing began winding down and restrictions lifted, designers began using more fabric in design. Skirt lengths dropped below the knee again, but this time with fuller skirts. Snap and hook-and-eye closure gave way to zippers, (Talon zippers are a sure sign of a vintage dress). Blouses lost the puffy sleeves and closures moved from the side to the back.  More dyes became available and manufactures experimented with fabric blends in cotton and wool combinations, as well as an experimental fabric called jersey.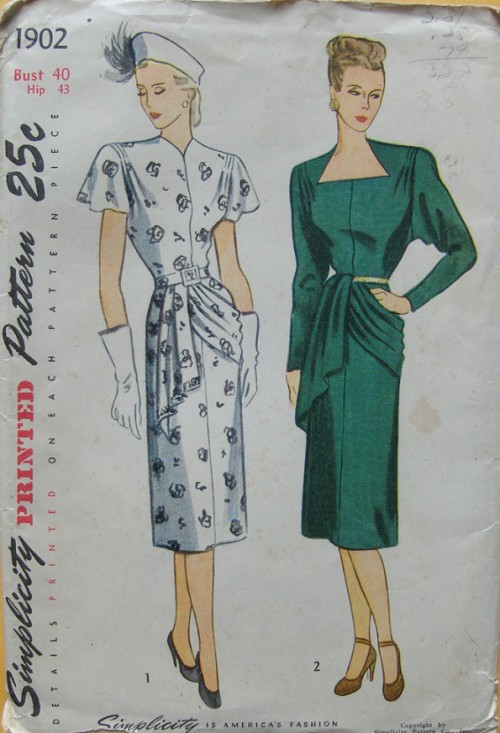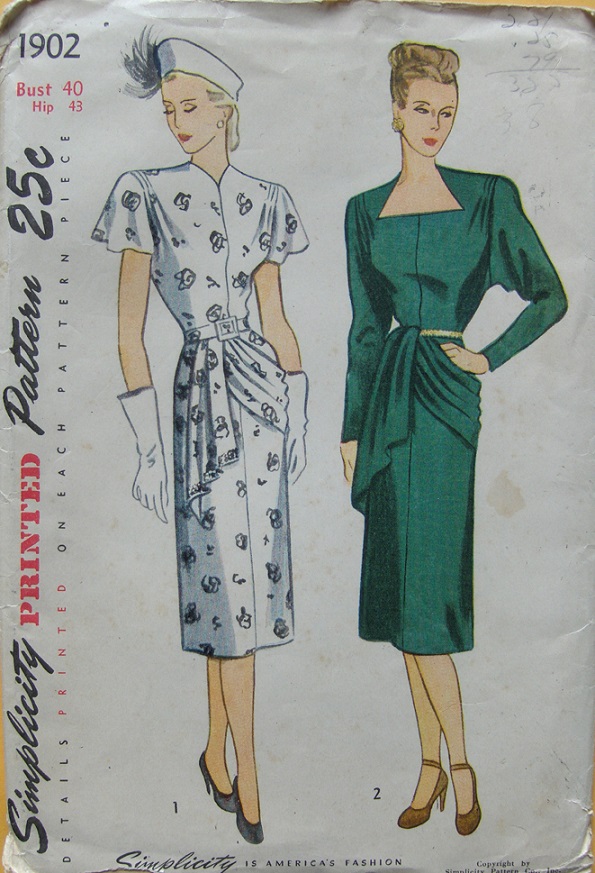 As men returned from war, they brought with them exotic and tropical items which textile companies incorporated into patterns and motifs. Fashion saw flowing and draping designs with the use of peplums, scarves and extra fabric pieces draped cross-body for evening wear. There was a greater emphasis on hips and bust-lines: picture icons Rita Hayworth or Lana Turner.
Buying and Wearing
It is harder to tell the difference between the early and late 40s, but the biggest clue is the greater excess of fabric. Unfortunately very few union labels found their way into women's garments or we could pinpoint (like men's suits–but that's another article), by a couple of years. Expect to pay $40 plus for plain rayon print dresses and suits usually start in the $80s and go up from there. Evening gowns can still be found for under $100. These are a little easier to find than the war era dresses and still a great choice for the avid lindy hopper.
Early-Mid 1950s
Similar to the late 40s style with zipper closures on the left side and back the fifties went crazy with fabric. Skirts not only got longer, but fuller. Toward the mid 1950s skirt length dropped down to mid-calf and formal wear, if not long, was always almost tea-length (just above the ankle). Emphasis was on showing off hips and bust, The Bigger the Better.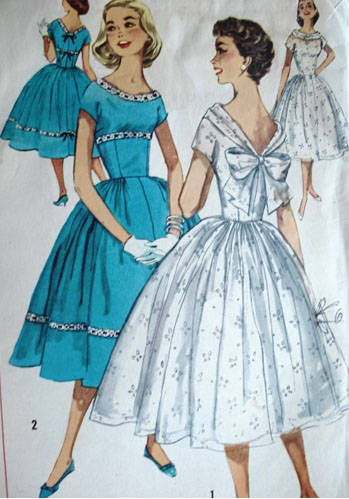 Waists cinched with fitted bodices that gave way to full, gathered circle skirts. Designers could now use as much fabric as their minds could imagine, and boy did they. Dresses and skirts became so heavy that designers introduced crinolines and layered slips to lift the skirt, giving the illusions of a small waist. Cap-sleeves with Peter Pan collars were introduced and could be found on dresses and blouses. Check out Doris Day in: Love me or Leave Me, or April in Paris.
The creation of man-made fibers was integrated into new fabrics. Nylon and acetate were introduced. This gave way to popular sheer blouses and dresses. Rickrack, lace and rhinestones became the trim of choice on frocks and blouses. Most shirts did away with the side closures and were either buttoned up the front or back.
Buying and Wearing
The 1950s are the easiest to find and are enjoying a renaissance of reproduction. These dresses and outfits are perfect for Rockabilly nights, Car Shows, Tiki and Hawaiian events and don't forget Mad Men parties.Their popularity has brought on higher prices and designer couture gowns are through the roof, but worth the investment.
So how does this add up? Don't be fooled by 1970s throwbacks and mis-marked or mis-respresented merchandise. And don't forget shoes and hair. Here's a handy check list to help you on your way.
Check list
Feel the fabric, educate your fingers and eyes.
If it's polyester, jersey or acetate, it's not pre-war.
Metal zippers NO plastic
Look at labels, if they give you washing instructions, it doesn't swing (they rarely had washing instructions on pre 1960s garb).
If seams are serged it is not pre-war
If hems are done with seam binding or bias tape its a good sign that it's ready to wear to a Dean Mora Show.
::
Do you have any tips or any favorite pieces of vintage you'd like to share? I'd love to see pictures or hear stories of good vintage scores! Any vintage go to movies you watch over and over for the fashion? What's your fave vintage piece in your collection?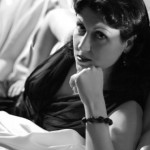 Tam Francis is a writer, blogger, swing dance teacher, avid vintage collector, and seamstress. She  shares her love of this genre through her novels, blog, and short stories. She enjoys hearing from you, sharing ideas, forging friendships, and exchanging guest blogs. For all the Girl in the Jitterbug Dress news, give-aways, events, and excitement, make sure to join her list and like her FB page! Join my list ~ Facebook page