It's a Book Signing Party and Summer Give-away for THE GIRL IN THE JITTERBUG DRESS
I'm very excited to be invited to Wendy R's Gifts in downtown Lockhart. The shop is one of the highlights of the historic downtown district. Whether you are looking for feminine or flirty, tasteful or trendy, elegant or eco-friendly, you'll find THE PERFECT GIFT at Wendy R! And THE GIRL IN THE JITTERBUG DRESS for one day only!!!
Please join us July 16th from 12-3pm

EXCLUSIVE FOR WENDY R's:
Yours truly on hand selling and signing books
Cash, check, or credit accepted
$2 OFF AMAZON list price for THE GIRL IN THE JITTERBUG DRESS
Light Refreshments
Freebie with EVERY purchase (limited to first twenty buyers–choose from red, white, or blue hand-crafted vintage inspired hair flower ornament)
Free bookmarks for everyone that stops by
Wonderful unique gift items for sale in Wendy's gift store

Register to win by signing up for the GitJD Mailing List!
What's in the give-away bag:
Vintage style canvas beach bag with nautical theme
40s 50s style sunglasses (aka cheaters in 40s slang–choice of red or blue)
Signed copy of THE GIRL IN THE JITTERBUG DRESS
Signed copy of GHOSTORIA: VINTAGE ROMANTIC TALES OF FRIGHT
Copy of vintage reprint of: Betty Cornell's: TEENAGE POPULARITY GUIDE (original copyright 1953)
Nautical set of earrings
Exclusive Girl in the Jitterbug Dress vintage inspired hair ornament flower clip
CLICK ON THE THUMBNAILS BELOW FOR A CLOSER LOOK
But what if I don't live in the Central Texas area or can't make it that date? You'll miss our fun party, but you don't have to miss the SUMMER READING BAG give-away. Just sign up any time in the month of July and you will be automatically entered. If you're a prize winner, you will be notified by email and the goodie bag will be sent to the address you provide!
What are you waiting for? Sign up today!
AND THE WINNER IS….Meghan Redmile from Canada! WTG Meghan.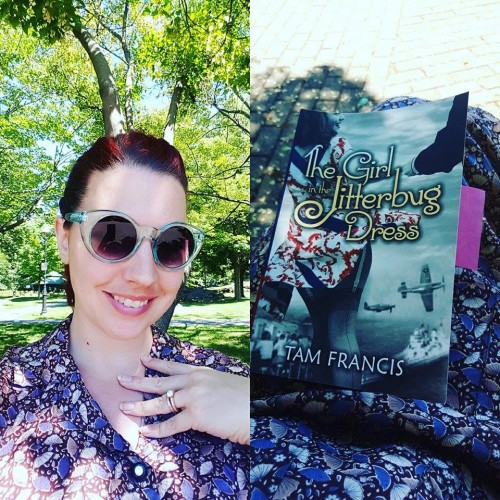 Here is Meghan modeling and showing off some of her goodies. Don't miss the next big give-away. Join my mailing list TODAY!
::
Have you already purchased THE GIRL IN THE JITTERBUG DRESS? Did you like it? Have you reviewed it on Amazon, yet. Why not? What inspires you to buy a book? Cover art? Recommendation? Price? Blurb? What's your fave kind of book to read in the summer?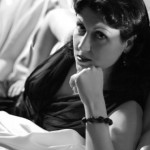 Tam Francis is a writer, blogger, swing dance teacher, avid vintage collector, and seamstress. She  shares her love of this genre through her novels, blog, and short stories. She enjoys hearing from you, sharing ideas, forging friendships, and exchanging guest blogs. For all the Girl in the Jitterbug Dress news, give-aways, events, and excitement, make sure to join her list and like her FB page! Join my list ~  Facebook page