Swinging with the Chickens: Moments in Dance
by Tam Francis

Welcome to Callahan's
A life-size horse—tawny with black tipped ears and legs—greets us at the entrance to Callahan's General Store. The smell of a million dusty summers and grilling meat mingle under the porch rafters. A Texan and American flag flap in the slight breeze flanking the two-tone, hand-painted sign, fat letters flaunted in a western saloon design. We came for chickens.
I pretend the glass door is an old-timey screened one as Dave opens it for me and the kids. I can almost hear the screech and flap of my conjured image. Since moving to Texas, my man now introduces himself as Dave, eschewing his more formal David, even preferring Texas Dave on all his correspondence. Pigs, chickens, goats, and rabbits snort and squawk hello from a pen just inside the door. A western swing band with a Cajun twang fiddles out a rhythm that immediately starts my foot to tapping.
I glance up from where my hands are busy stroking the wiry fur of a baby goat. Dave bobs his head to the rhythm. The gals behind the selling counter seem immune to the beat and nimbly ring up customers.
Stepping to It
Dave circles to right of the band, finding a hitching post of postcards to stand out-of-the-way and watch the musicians. The general merchandise expands to the back, stretching wide, but Dave only has eyes for the band. I give the white pretty rabbit another pet and take a big whiff of the farm smell. I like it. The scent feeds my imaginary trip back in time. I sidle over to Dave and lean in slightly, pressing my hip into his in a way that is both familiar and hopeful. He pulses with the sweet rhythm.
"We could Balboa to this, you know." I whisper in his ear.
To my surprise and delight, he takes my hand, and pulls me toward him. I immediately angle my body as he rocks forward, pushing me backward into the first eight-count steps of the Balboa. I pause a quick second and hand off my purse to our daughter.
She rolls her eyes with a good-natured smirk and grabs my purse. "I'll be in the clothing section." She drifts toward the women's western wear. Her pony-tail bounces like its namesake.
Gliding to the Rhythm
Dave twirls me in a quick inside turn. My feet glide over the tile floor. I look up and see the band grinning. They don't mind us sharing the spotlight. I give into the beat, feeling my legs work. Dave's bicep twitches and shifts below my fingers, his feet slide deftly between mine. The cotton fabric of my pants cling to my legs, unaccustomed to the sensation—I usually wear vintage skirts to dance, unprepared for this diversion. We came for chickens.
Dave utilizes the space of the small make-shift dance floor keeping our steps tight and close. He works the perimeter, making sure not to crash into any merchandise or customers entering the store. The band pulses with, fiddle, bass, washboard, and banjo, incongruous with the fluorescent lights, but absolutely Austin. The music washes over my body and an invisible thread binds me to Dave and the band.
The tune comes to a climatic end, over too soon. We take a quick bow to the band and fill their tip jar with bills. They bend their heads to us.
"Thank ya dancers. How 'bout another?" the vocalist says. His shaggy beard wiggles as he talks.
I look at Dave. He smiles and I know he's in. Our son trots over to us, his face filled with impatience.
What about the Chickens?
"What about the chickens?" He pulls at my hand. I don't step away from Dave.
"In a minute. You go on ahead. We'll meetcha there," I say.
His small hand slides out of mine and for a second I ache at his growing away from us. He scampers off, blond head disappearing behind the sockets, wires, and electrical paraphernalia.
The band launches into a speedy version of, Take Me Back to Tulsa. Dave and I pulse with the rhythm, the bass thumps into our bones, synching our feet. Dave pushes me in the Balboa again, then leads side steps. I swing my head to the side when we hit the side kick-out, my hair swishes around my face, sassy with the momentum.
Dig That Banjo
The banjo comes in and the Balboa is too tame, not enough jive. Dave subtly changes his hand hold and quarter-turns me into the first beat of Collegiate Shag. The band yips at our high flying feet. We extend our hips away from each other, making a bridge with our shoulders and heads, looking like cartoon characters. Our stomps become hill-billy leg lifts for several phrases of the song. He pulls me in. Our lead arms shoot toward the ceiling in a straight line while he shifts his weight beneath mine, pushing out my feet, creating a diagonal. I lean into him. Heavenly.
We transition back to the basic six-count pattern, vacillating between that basic and turns, swing-outs, eventually sliding into Camel Kicks, our bodies side-by-side, hands interlaced like pretzels. Dave leads me around the small perimeter. I notice a customer with a camera. She must be a tourist. Dave and I look at each other and grin. How fun to have added to their Austin experience.
We find ourselves in Texas
The song wraps up with a Texan swagger. Dave and I bow to each other in a classic Lindy piked pose. Then, again we bow to the band. Everyone in the store is clapping, even the gals behind the counter. We stuff another bill in the bucket. Dave shakes hands with the players.
We find a black and white speckled Plymouth Rock, Road Island Red—hens—three Ameraucana chicks. We got the chickens we came for and so much more.
::
Have you ever been to Callahan's? What's your favorite part of their store? Ever dance in an unusual place? How does it feel different from dancing at regular dance venues? What's your favorite Collegiate Shag music?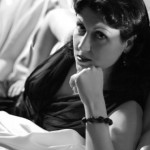 Tam Francis is writer, blogger, swing dance teacher, avid vintage collector, and seamstress. She  shares her love of this genre through her novels, blog, and short stories. She enjoys hearing from you, sharing ideas, forging friendships, and exchanging guest blogs. For all the Girl in the Jitterbug Dress news, give-aways, events, and excitement, make sure to join her list and like her FB page! Join my list ~ Facebook page