~ The Secret Life of Dresses: Vintage Reviewer Book Review ~
by Tam Francis
The Synopsis
The Secret Life of Dresses (5-Spot Hachette Book Group, 2011), by Erin McKean is the story of a young college girl realizing her potential through the secret life of the dresses she begins to wear. When Dora's grandmother unexpectedly ends up in the hospital in a coma, Dora is pulled back to the small town of Forsyth, North Carolina where she was raised by her grandmother. Dora leaves behind college and  a rocky relationship to take over the running of Gramma Mimi's vintage clothing shop.
Even though Dora has a rack of beautiful vintage dresses that Mimi had hand-selected for her over the years, she's never liked wearing vintage and had never worn any of them. Due to Dora's unorganized return, she neglected to pack anything and is forced to wear the dresses.
The dresses do their magic, transforming her inside and out with an added surprise of a story in every pocket of their secret life. Over the years, her grandmother had written, what may or may not be fictional, short stories about each dress. Through these stories we discover more about Gramma Mimi and a little about Dora's deceased parents.
The vintage dresses can't protect Dora from her evil Aunt Camille and cousin Tyffanee. though. Dora must do battle against them as they try to take over the store and turn it into a trendy boutique with intentions of chucking all the vintage and history.
In the midst of fighting to keep the shop afloat, Dora falls for Con, the handsome handyman. While trying to juggle her sadness and stress, the old boyfriend shows up to complicate Dora's already overloaded life, enter the classic love triangle.
In the end, Dora goes forward by going backwards lead by the dresses themselves and we rejoice in her growing up and coming into her own.
What I liked about it
Great clothing descriptions of the women's fashions
The mini short stories were sweet, delightful vignettes that reminded me of the way I think of my vintage clothing. They were beautifully written and I loved them all but most noticeably, I loved the story about the wartime mother splashing in puddles with her children
Dora's character was likeable and believable and I rooted for her
The supporting characters we perfectly quirky and delightfully despicable
What I didn't like about it
Contrived love triangle
Not enough back story on why Dora was attracted to older men
I couldn't figure out how old Con was supposed to be
Unanswered questions like why Mimi had not provided for Dora in her will. Why she never told Dora about her parents and why Dora hadn't really asked.
Favorite Quotes
Part of the secret life of one of the dresses:
The boy knew something was going on. "Mama?"
She smiled at him, and bent down to kiss the top of his head. She swept up the basket, and took the girl's hand. The boy automatically took his brother's hand.
"its the first day of Spring! We're going on a picnic."
"a picnic!" The children hopped up and down. "A picnic."
"Yes. And we're going to stomp in every single puddle on the way to the park."
"Puddles!" Their eyes were wide. They'd never been told to stomp in puddles–just the opposite.
"And we're going to pick crocuses, if we can find any, and te first on of you to see a robin will get a peppermint!"
"Peppermint!" The baby crowed approvingly.
And that's exactly what they did. She stomped along with them, laughing until she held her sides like they hurt.
Overall
The story flowed quick enough for a ChickLit book and as a lover of vintage fashion, this is a must read. Perfect for summer reading or book clubs and a great gift for your vintage friends. It's worth a read alone for the focus on the lovely vintage descriptions and short story vignettes that will have any vintage enthusiasts drooling.
 Vintage Enthusiast Rating
• Fashion: ♥♥♥♥♥
• Music: ♥
• Dance: ♥
:: Have you read The Secret Life of Dresses? Do you know any stories behind any of your vintage clothing? Do you make up stories about your dresses like Mimi did? Do you have a favorite dress? Have you read or written a book you'd like reviewed by the Vintage Reviewer. Please contact me!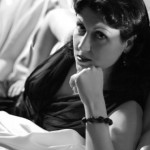 Tam Francis is writer, blogger, swing dance teacher, avid vintage collector, and seamstress. She  shares her love of this genre through her novels, blog, and short stories. She enjoys hearing from you, sharing ideas, forging friendships, and exchanging guest blogs. For all the Girl in the Jitterbug Dress news, give-aways, events, and excitement, make sure to join her list and like her FB page! Join my list ~ Facebook page