First, I've had the extreme good fortune to be allowed a sneak peek at the new Mai Tai Manifesto recipe book from Tiki Torches band members J. Edward Preisman (writer) and R. Hamilton (illustrator). Second, I had recently seen and heard them play at my first Texas Tiki Round-up and was instantly smitten with their look and sound–vintage, fun, and danceable, not to mention sweet sounds to sip fancy cocktails to.
About Preisman
J. Edward Preisman has entered the sphere of mixology by way of many different roads. His musical journey brought him to love the sounds of exotica consequently sparking his interest in Tiki culture and the magic of tropical beverages and, most importantly…rum.
Getting intoxicated with style has been a lifelong passion, but the rum obsession that began just a few years ago changed everything. Escapism was fun again! With years of experience as a professional chef, a passion for quality, and an expansive collection of rare and vintage recipe books, he set out to share his own cocktail creations and a few other classic recipes with other cocktail enthusiasts.
About Hamilton
R. Hamilton, has been fostering his Tiki obsession as of late through drawing, painting, and performing with the exotica four-piece band, The Tiki Torches. Last year he participated in a three-man gallery show displaying colorful painted examples of Polynesian Pop.
About The Mai Tai Manifesto
The short recipe booklet takes you on a fun-spirited (pun intended) journey into some of the most beloved Tiki cocktails with original concoctions that will be sure to excite.
I already knew the simple secrets of simple syrup, but at the onset Preisman sets the stage and stocks the bar with the necessary building blocks aka Tiki tools.  You will learn how to make:
Coconut Rum
Cinnamon Syrup
Cardamon Syrup
Orgeat Syrup
Once you have mastered these basics, and you must, because most of the items you will find at the market are cheap imitations and will make inferior drinks. I'd heard of first three, and being the light-historical fiction writer I am, I had to find out more about Orgeat Syrup.
Orgeat Syrup
From reading as many sites as I could find original information on, it seems like the drink may have origins in Cyprus and several of the Greek islands. They have a syrup named  soumádha. Its path can be traced to the Romans and is cited as an exotic delicacy given to King Casimir the Great of Poland by King Peter II of Cyprus as early as 1364.
Since then, orgeat syrup has made its way around the world with similar drinks. "In Tunisia and Libya, it is called rozata and is usually served chilled in wedding and engagement parties as a symbol of joy and purity because of its white colour and its fresh (flowery) flavor. It comes in many different flavours, such as traditional almond, banana, mango, pistachio, among others."
One site suggested that Jane Austen era imbibers would have certainly partaken in this drink on its own or as a mixer. I even found a site that documents some of its usage in literature, though sadly no reference to Tiki culture–though I'll keep looking:
The King is supposed to drink orgeat and elmonade to the value of 2.190 francs.
~ The Origins of Contemporary France ~ Hippolyte A. Taine
The night before he had taken several glasses of iced orgeat in the open air.
~ Delsarte System of Oratory
They treat thier company with coffee, tea, lemonade, orgeat, and cake.
~ Library of the World's Best Literature
Would you like a good bavaroise, or a decanter of orgeat?
~ The Memoirs of Jacques Casanova de Seingalt
Blean was in the act of handing a glass of orgeat to his wife.
~ Le Cocu ~ Charles Paul de Kock
And I couldn't help but notice that the etymology from Webster's Revised Unabridged Dictionary was:
F., fr. orge, barley, L. hordeum.
One can help but wonder if the orgeat soothes or incites the ogre in us.
The Mai Tai Manifesto Recipes
Of course, I cannot give you any of the special ingredients, measurements or secrets, but I can give you some idea of the wonderful recipes that await you. The wonderful thing about these recipes, is they not only are they tried and tested, but they're mostly original. Sure you can google some of the names and might find something similar, but these are true mixologist connoisseur originals and that alone is worth the price. One of my faves I have to mention is the Papa Doblé. I too have experimented with Papa Hemingway's famous concoctions and felt I'd met a kindred soul in Preisman when I saw this recipe and description on the page. Besides the Papa Doblé, you will learn how to make:
Mai Tai
The Tiki Torch
Green Fire
Lava Luau
Rum Old Fashioned
Thurston Howell
The Movie Star
Papa Doble
Fuzzy Charlie
Black Stripe
Milk of Paradise
What is Tiki Culture
Tiki culture is a 20th-century appropriation and amalgamation  inspired by Polynesian art, mythology, and Tiki carvings that evolved into a subculture encompassing music, fashion, food, cocktails, decor, and architecture.
We see the beginnings of Tiki culture with the first Polynesian-themed bar and restaurant in 1934 Hollywood: Don the Beachcomber, opened by proprietor Ernest Raymond Beaumont-Gantt, later known as Donn Beach. Three years later, Victor Bergeron, known as Trader Vic, glommed onto the theme, turning his incarnation into a worldwide chain of restaurants. On a side note, no one has settled who really invented the first Mai Tai. Both men lay claim to the original.
Since I write in these eras, I was thrilled to find the origins in the 30s and 40s. As WWII servicemen returned from war, they brought with them textiles, decor, and taste buds for exotic flavors. Savvy businessmen were quick to fuel the Tiki flames.  James Michener's 1948 Pulitzer Prize short story collection, Tales of the South Pacific, spawned the famous Rodgers and Hammerstein South Pacific continuing to whet the country's appetite for island exotica.
Several factors cemented the public's fascination with Island cultures:
The Kon Tiki expedition held the world rapt as the vessel made its journey. I've read the book and found it compelling. The movie's not bad either.
Air-travel become more prevalent therefore easier to visit exotic locations.
Hawaiian became a state in 1959, thus shedding light on the people and culture.
This small volume is ideal for a hostess gift, birthday present, and a must have for any mixologist. With its cartoon pop art original illustrations the Mai Tai Manifesto is bright and cheerful, perfect to grace a coffee table, bar, or bookshelf. Overall, the unique, original recipes are sure to be a hit with any Tiki or vintage enthusiasts! Get it here!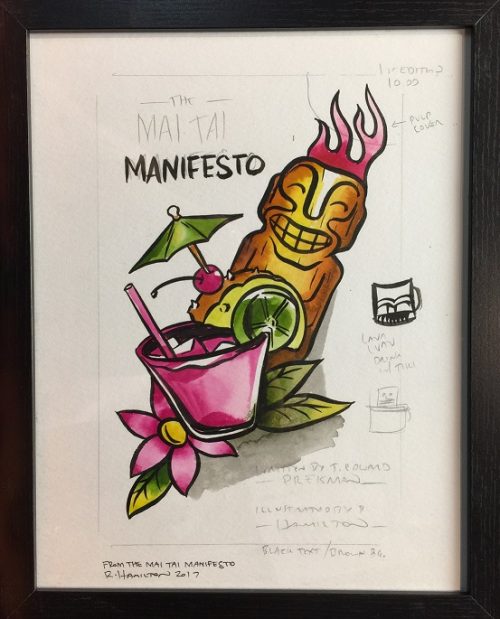 Or check out these events where you can pick up the book for the $10 in person. Hamilton will also have many of the original art sketches for sale:
MAY 17, 2017
The Mai Tai Manifesto Cocktail Book Release Party!
Wed 19:00 · Green Door Public House
MAY 21. 2017
Lei Low presents an evening with The Tiki Torches
Sun 18:00 · Lei Low Bar
::
What's your favorite cocktail? Have you been to any Tiki events, if so which ones. What's your favorite part about Tiki Culture: Fashion? Cocktails? Music? Decor? How do you work Tiki into your everyday vintage? Where have you had the BEST Mai Tai cocktail? Please share any of your successes or failures of Tiki mixology. Let's learn from each other.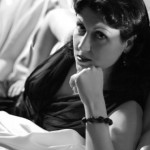 Tam Francis is a writer, blogger, swing dance teacher, avid vintage collector, and seamstress. She  shares her love of this genre through her novels, blog, and short stories. She enjoys hearing from you, sharing ideas, forging friendships, and exchanging guest blogs. For all the Girl in the Jitterbug Dress news, give-aways, events, and excitement, make sure to join her list and like her FB page! Join my list ~ Facebook page