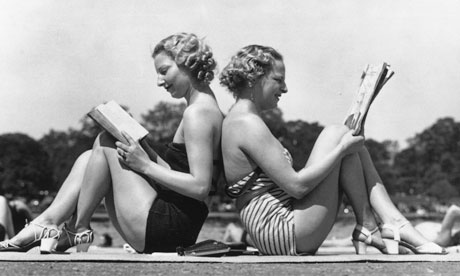 Summertime is a time to slow down, let the sun tickle your toes as it slips into twilight. Grab a crisp cocktail, find a hammock or porch swing, and curl up with a fun, fast book. I have ten picks for summer reading ala vintage fun.
I read all genres of novels, but in the summertime, I find myself traveling, visiting, and indulging. This doesn't engender great focus for heavy reading, not that I don't mind shedding a tear, or getting my heart rate up with a compelling chase scene, but I don't want to have to look up new vocabulary words or reread sentences for clarity.
I've put together a short list of fun summer reading that is perfect for the vintage enthusiasts or those that like light historical fiction. All books are set in the 1920s-1950s and immerse the reader in the climate and mood of the respective era.
TOP 10 SUMMER READING PICKS
1. THE SECRET LIFE OF DRESSES

The Secret Life of Dresses (5-Spot Hachette Book Group, 2011), by Erin McKean is the story of a young college girl realizing her potential through the secret life of the dresses she begins to wear. When Dora's grandmother unexpectedly ends up in the hospital in a coma, Dora is pulled back to the small town of Forsyth, North Carolina where she was raised by her grandmother. Dora leaves behind college and  a rocky relationship to take over the running of Gramma Mimi's vintage clothing shop. Each dress tells a unique vintage story. For my complete review go here.
Why this is the perfect start to my summer reading list is because of the wonderful description of the dresses and the unique stories behind them. So fun!
2. THE PARIS WIFE
The Paris Wife written by Paula McLain (2012 Random House), tells the story of Ernest Hemingway's first wife Hadley Richardson at the cusp of Hemingway's writing career. The story of  young Hemingway and  Hadley's courtship, Paris life, and eventual demise of their marriage. McLain gives us a ringside seat from the first wife, female perspective with lush descriptions of the Paris landscape, bar-hopping with the Fitzgeralds, and intimate portrayals of other infamous ex-patriots. For more see my complete review.
This one is a bit of an emotional roller-coaster, but I loved being in 1920s Paris. I think you will, too.
3. THE GIRL IN THE JITTERBUG DRESS

The Girl in the Jitterbug Dress written by Tam Francis (2016 Plum Creek Publishing), is the parallel story of two women coming of age, struggling with loss, love, and redemption, united by a jitterbug dress. We follow a 1940s jitterbug and a 1990s budding swing dancer until their two stories converge. Filled with fashion, passion, music and dance. If you weren't hot enough already, this book will heat you up with a few of its steamy scenes.
Of course I couldn't leave my book of my summer reading list. It really is a fab summer read! Don't take my word for it. Check out the reviews here and here.
4. HOTEL ON THE CORNER OF BITTER AND SWEET

Hotel on the Corner of Bitter and Sweet by Jamie Ford ( 2009, Random House), is set in 1940's and 1980's Seattle, specifically in Japantown and Chinatown. When the boarded up Panama Hotel is renovated, belongings of Japanese families, which were left when they were rounded up and sent to internment camps during World War II, are found in the basement. Our hero, Henry Lee, is flooded with buried memories. We follow Henry down his personal rabbit hole as the narrative jumps between his present and past, and his experience growing up as a Chinese American at the height of WWII.  For a more in-depth review go here.
Why should you read it and add it to your summer reading list? Wonderful descriptions of Japanese and Chinese during WWII in San Francisco, plus it oozes bittersweet romance.
5. MISS PEREGRINE'S HOME FOR PECULIAR CHILDREN

Miss Peregrine's Home for Peculiar Children, by Ransom Riggs (2011, Random House), is loosely set in the 1940s and I wanted to include it in my list as it was a delightful read and everyone should read a little fantasy in the summer. The home, landscape, and fashion descriptions drop one into the 1940s era nicely. The main character, sixteen-year-old Jacob, sets out on a quest after his grandfather's death. A unique set of photographs and a mysterious letter take him to a remote Welsh isle.where his grandfather grew up.
I might have been influenced by the trailers for this one. The costumes look amazing. But I did enjoy this read and recommend it wholeheartedly.
6. CALL THE MIDWIFE

Call the Midwife (Penguin Group, 20o9), originally  The Midwife (Orion, 2002), by Jennifer Worth, is a memoir of birth, joy, and hard times set in post WWII England against the backdrop of the East End of London–generations of families living, loving, birthing, and dying. We meet Jennifer (Jenny) Worth at age twenty-two as she first arrives to Nonnatus House, a convent dedicated to midwifery skills and community outreach. The experience tests her patience and strength, and challenges her perception of life, death, and God.  For more go here.
This book had me laughing and crying. Plus, its chock full of wonderful 1950s descriptions.
7. THE ALL-GIRL FILLING STATION'S LAST REUNION

The The All-Girl Filling Station's Last Reunion by Fannie Flagg  (New York: Random House 2013), author of Fried Green Tomatoes, is a duel plot novel (just like my Jitterbug Dress), set in present day Alabama and 1940s Pulaski, Wisconsin (and a few other places). We meet Sookie Poole in her lakeside Alabama home as she has recently become an empty-nester, but still has her hands full with her eccentric overbearing mother. When a mysterious letter arrives it throws everything she every thought about herself into chaos and sharp relief. We follow her struggle with self-doubt, self-identity, and what it means to be family. For my complete review check this out.
Not only was this book a fun romp in the past, but it show-cased the strength of women and I learned a lot about the WASPs who have been practically forgotten about.
8. FELICITY BATHBURN BOOKS 
(The Romeo & Juliet Code, Romeo Blue)

The Romeo and Juliet Code (Scholastic, 2012) and  Romeo Blue (Scholastic, 2013), by Phoebe Stone are fun, fast-paced and often page-turning, coming-of-age mysteries with a touch of romance and intrigue.  In this Young Adult Fiction (ages ten and up), the heroine Felicity Budwig, known affectionately as Flissy, is dropped off with relatives in Bottlebay, Maine to wait out the war and be kept safe from the bombs dropping in her native England.
A strange, quiet boy has taken up residence in her family's house. The first book finds Flissy experiencing her first crush and forming an unexpected friendship. The second book tests their friendship and challenges Flissy's perceptions and loyalties. For more on Romeo Blue, check out my full review.
Set against a backdrop of WWII, these books have vintage fashion and fun with the right amount of intrigue. I find Y/A a perfect summer reading cure for beach boredom or stifling hot afternoons.
9.WHAT I SAW AND HOW I LIED

In What I Saw and How I Lied, (Scholastic, 2013), by Judy Blundell, We follow Evie as she comes of age after World War II with her father returning. Murder and intrigue surround a girl  coming-of-age in this mystery set in American in the aftermath of WWII. When Evie's father returned home from World War II, the family fell back into its normal life pretty quickly. But Joe Spooner brought more back with him than just good war stories. When movie-star handsome Peter Coleridge, a young ex-GI who served in Joe's company in postwar Austria, shows up, Evie is suddenly caught in a complicated web of lies that she only slowly recognizes. She finds herself falling for Peter, ignoring the secrets that surround him– until a tragedy occurs that shatters her family and breaks her life in two.
This is the heaviest of all the summer reading books recommended, but I wanted to include it because it has tons of great fashion description, music, romance, and a splash of dance.
10. A VINTAGE AFFAIR

A Vintage Affair by Isabel Wolff (Bantam 2011) invites readers on a trip into the world of vintage couture. Phoebe, a Sotheby's auctioneer leaves her high-profile career to open a vintage boutique in London's Village Vintage. Hiding from her broken engagement and friend's death, she tries to bury herself in her work, but is dug out by her love of vintage fashion and new relationships she forges along the way. With a little romance, mystery, and a lot of fashion this book takes you on a ride through the past and present with an emphasis on 1950s couture.
What's not to love when the book is centered around vintage fashion. It's a no-brainer.
Bonus. GHOSTORIA: VINTAGE ROMANTIC TALES OF FRIGHT
Ghostoria: Vintage Tales of Fright, written by Tam Francis (2014 Plum Creek Publishing) is a ghost story book perfect for summer. Am I crazy you ask. No, it's not too scary, but has a dash of classic horror and Twilight Zone touches. The twelve stories cater to those who want a little romance in their fright with descriptions of vintage fashion, nostalgic music, classic cars, and by-gone dances! Fun, fast-paced stories that I promise aren't too scary in the bright summer sun. Don't take my word for it. Read what other have said.
::
Do you have any recommendations for a good vintage summer reading? I'd love to hear about any books set in the 1920s-1950s especially with lush fashion descriptions and a bit of romance and dance. Have you read any of the ones I recommended? What did you like or dislike about them?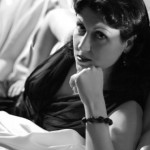 Tam Francis is a writer, blogger, swing dance teacher, avid vintage collector, and seamstress. She  shares her love of this genre through her novels, blog, and short stories. She enjoys hearing from you, sharing ideas, forging friendships, and exchanging guest blogs. For all the Girl in the Jitterbug Dress news, give-aways, events, and excitement, make sure to join her list and like her FB page! Join my list ~ Facebook page