1950s Paper Ornaments for Halloween, Christmas, Easter
Make 50s Paper Ornament for Halloween ~ Christmas ~ Easter
Test your imagination and creative skill by designing variations of handsome hanging ornaments made of lightweight cardboard. Designed by Robert Winquist, they make a pleasant contrast to commercial tree balls. Pictured are ones my daughter and I made for Halloween. What do you think?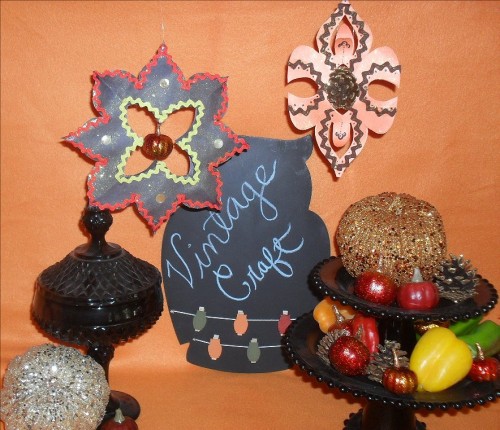 Get in practice by making the ones pictured here.
Download and print patterns to desired size (right click and save to your computer)
Fold a 9 x 12 piece of lightweight cardboard or heavy construction paper in half
Cut on continuous lines shown
Fold on broken lines
Roll design tips around pencil to curl
Right and left designs require two folds
Decorate with ric-rack, paint, sharpies and glitter
Attach around balls, pinecones, baby pumpkins, plastic eggs (be creative) by gluing two halves together (each pattern makes one half)
If you have questions about how to begin, drop me a note at my Contact page.  Stay tuned for more exclusive vintage patterns, recipes, and how-tos!
Additional Material ideas:
Try them with foam paper
Starched fabric
Oilcloth
Handmade papers
Subscribe to my newsletter list and be among the first to receive special download!
::