~ Wish you were Beer ~
by Tam Francis
Mmmmm…Beer
A Wish you were Beer postcard blinked at me from a rack on the counter as we waited for the hostess to clear a table. I laughed at the card and missed my husband who was out to sea, literally, a sailor in the U.S. Navy.
We cozied up in a corner booth and wasted no time ordering drinks while we waited for our favorite local dance venue to open. I ordered a Downtown After Dark, a sweet nutty brown ale, a Gray Goose and soda for my BFF Shep aka Lynnda. My hubby met her first at Lindy by the Bay at the adjacent bar and dragged her over to me knowing we were meant to be friends. We've been inseparable ever since. Her husband didn't dance, and mine was on the big boat too much and we both loved vintage clothes, old movies, good cocktails, and swing dancing. We hoped to try-out Shep's tasty beverage of choice on our friend, Ali.
Ali's the single gal in our group, an animal loving, sweet girl just coming into her own. Her dark brown eyes, ever curious peeked out from below her hopelessly limp short hair, but we envied her flat tummy and thin legs. We'd already got her into a couple vintage skirt and were sure we could find a drink for her that wouldn't cause her a migraine. Birds of a feather gotta flock together.
Steven, local deejay and a teddy bear of a guy, bounded into the bar, plopped himself down, and began expounding on the evils of long-distance relationships. Maybe it wasn't evils, more like travails, but at any rate, it didn't sound all that good. He reminded me that I often maintained a long-distance relationship. Did it make a difference that I was married? That my better half was serving his county? I wondered. Steven ordered a taster flight of beers. They arrived in tall, fluted glasses, a rainbow of yellow, tans, and browns, capped with showy white heads. Mmmmmmmmm beer.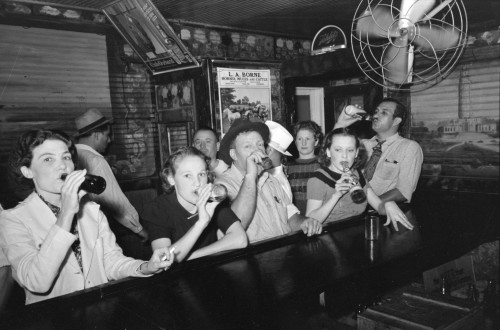 Our friend Angie's bleach blonde head bobbed along the street as she approached. Her smile brightened the room as she joined our party, but all eyes were on her ample breasts as they spilled over her vintage blouse in a classic pin-up style. I envied her curves.
Conversations twisted and turned until our food arrived. Shep and I had split the chili soup and salad gobbling it up only to find it was only 8:40, too early for the dance. We'd left the house way too early. What were we thinking? I sipped my beer swishing the amber liquid in my mouth, trying to make it last. I didn't want another. The Firehouse Dance Hall was no place for drunks and although we liked our drinks, we didn't like to be drunk.
Dinner with a Tiff
Dancers from the Firehouse's Intermediate Lindy Class trickled in and filled the seats beside us. They were flush with the new moves and the energy that comes from learning, the Lindy fever still fresh. They gabbed among themselves but shared smiles with us, infusing us with hope for the future of Lindy Hop in our town.
We wrapped up the dinner with a tiff. The waiter combined our check with the newly arrived intermediates, even though we'd asked for separates when we ordered. The waiter blatantly ignored us and I was in some kind of mood when I finally had to ask for the manager. Most of the time, I let things slide, go with the flow, but I wanted what I asked for and was politely insisting. The manager was sweet, cute, and acknowledging. Shep and I wondered if we could coerce him to dance with us. He fixed our check, made us happy, and I felt like I'd won one for the gipper, (whatever a gipper was).
We practically skipped over to the Firehouse, but had to make an emergency detour to Lynnda's car. My vintage wedgie shoes had sprung a leak, the ankle strap pulled right out and I needed my back-up pair. Word to the wise vintage clad ladies: always bring a back-up pair of shoes when your wear vintage, not to mention a sewing kit in your purse.
"Damn," I said, "They matched my  home-sewn halter shorts outfit I chosen to wear for the joint tonight."
"Yeah, It's usually too damn hot in there," Shep unlocked her door for me.
"Well it's not named the Firehouse for nothing," I said as Lynnda laughed and I tossed my broken shoes in her backseat. When we got to the door, we pulled up short realizing the beginning lesson was still running.
"Geeze, we really need to start our night a little bit later next time," Shep suggested.
We went in anyway and I struck up a conversation with the deejay and turned in my CD for the So you think You can DJ contest I'd been asked to enter. I had started dee-jaying lately since I didn't like how jazzy and bee-boppy some of the song selections were getting. I liked the kind of swing music that dug into your bones and made your blood hop. I was bringing swingy back!
"Are you going to cry if you don't win?" my husband had asked in his last email.
"Hell yes," I'd replied.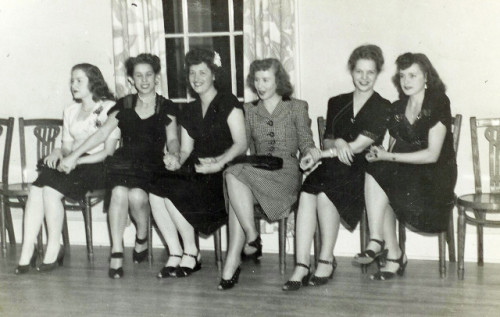 I try really hard not to let my emotions get the best of me, and I was working on it, but crying was just my way to let it out. Other people get pissed and punch walls, I cry. I didn't understand the big deal and why it bothered people to show that emotion. I guessed some considered it a weakness, but I knew better. Crying could be cleansing and strengthening.
The beginner lesson over, the lights went down and the music went up. The dance had begun. Only problem was, it was slim pickins' for my favorite leads and it was horribly follow heavy, three girls to every one guy and most of them younger than me. Lynnda and I stood at the edge of the dance floor and chatted with the other surplus girls until I finally got a lead to whirl me around the floor. God, I loved Lindy!
A Little Late Night Trek
At some point we realized we weren't going to make the drive to the other dance venue as we'd planned earlier. Our night would begin and end at the Firehouse. Whew. It was time for reinforcements. Steven joined us as we took the short trek to the liquor store at the end of the block. It loomed like a lighthouse in the dark sea of fancy cars and hotels.
We stepped through the threshold into a bright, glossy island populated with packaged food and drink, fresh fruits shimmering on metal tree stands–you gotta love southern California. The island chief was splendid with affected tone and prissy manner. We ran around his store like children on a field trip. He joined our fun, hepping to our game. We grabbed a six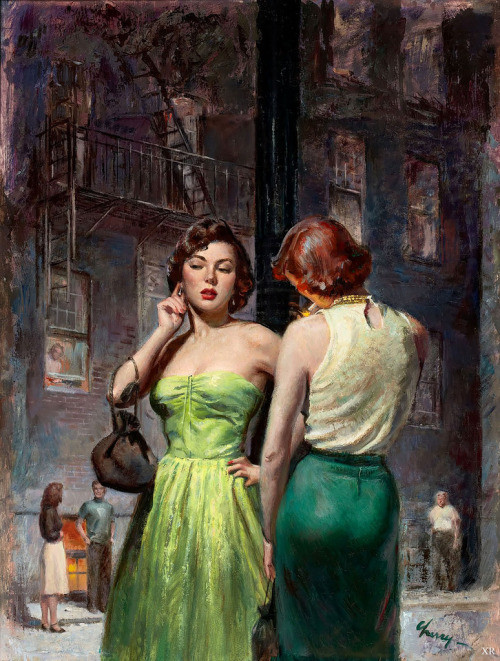 -pack, a bottle opener, and he demurely offered us six perfectly-sized brown bags. We took them with a smile and a wink. We aimed to be respectable bums and do it right. Our island chief was not completely sure what to make of our vintage 1940's splendor, but willingly handed over the goods with a chuckle.
We'd planned to sit in the black chairs that lined the front facade of the Firehouse with every intention of tarnishing it's goodie-goodie, wholesome image, but a cop car pulled a speeder over right in front of us and we weren't quite sure of the laws about public consumption of alcohol in La Jolla. We opted for the back of the building which turned out to be brilliantly seedy and silly at the same time. Not that we were desperate for drink, but more giddy with boredom and for better or worse, the alcohol sprinkled taste on an otherwise bland evening dance. Part of me knew that unadulterated reality should be enough, that life, the incredible gift of life should be enough, but I also knew that reality was flexible and I liked to flex.
Tremaine, a handsome combination of a young Sinatra and Prince stretched taut, zoomed into the adjacent lot and parked his car with the gusto that young men do. He drifted over and accepted our offer of beer, knowing he was ours for the night. He'd traded his lead arm for beer and we were thrilled to have him in our back pocket. He saved the night as our Lindy man with one of the best swing-outs in town, and man, don't you know, it's all about the fucking swing-out!
::
Do you like to drink and dance? What's your favorite lindy hop move? What do you do when there's not enough leads? Do you have extra shoes and a sewing kit in your bag?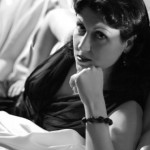 Tam Francis is writer, blogger, swing dance teacher, avid vintage collector, and seamstress. She  shares her love of this genre through her novels, blog, and short stories. She enjoys hearing from you, sharing ideas, forging friendships, and exchanging guest blogs. For all the Girl in the Jitterbug Dress news, give-aways, events, and excitement, make sure to join her list and like her FB page! Join my list ~ Facebook page