I met my Canadian twin and her name is Liz Gruening. I stumbled across her blog and was instantly smitten. Like me, she writes about her Lindy Hopping experiences (one), social media coordinating for Toronto Lindy Hop (two), vintage shopping at her fav stores (three), live Jazz/Swing/Rockabilly music (four), and other random vintage and swing dance related events (five). I was thrilled when she agreed to an interview.

VINTAGE FASHION with LIZ
Tam Francis: I've always loved vintage, since I was a girl and watched reruns of old movies. I predominately like 1930s-1950s. What about you? When did you buy your first vintage piece and why?
Liz Gruening: I too love the old movies, especially the musical from those eras. I have a fond memory of Sunday afternoons when I was a child curled up on the couch watching these song and dance dreams come to life in my living room with my mom. These movies are what got me interested in vintage music (not the clothes yet). The love of vintage clothes came after I saw Gone with the Wind with my grandmother. WOW..Scarlett's outfits…dream worthy. I'd spend hours and hours drawing my own outfits for Scarlett and dream about one day making them a reality. From then on, the love of vintage clothing started to be formed (which eventually led me to go to school in Toronto for Fashion).
My first vintage piece was not a Scarlett O'hara styled outfit (bummer), it was a 1960s shift dress that I found in a thrift shop in my home town. I still own it till this day (I bought it in the 90s) and still wear it. It came home with me that day because well…I don't really know the exact reason. I just know I was really drawn to it and thought it was very pretty and that I could not leave it on the rack for someone else to find.
Tam: What's your fave era to wear and why?
Liz: I love the 1940s. I find that the silhouettes really fit my tall, curvy form and I just adore how the dresses were simple but yet stunning. A glittery applique on the shoulder can make any standard black dress stand out. Don't you agree? I also love the 40s because I'm an avid lindy hopper, who likes to dress up when I go dancing.
Tam: Me, too. 40s fashion look good on everyone! I love 'em. What are some of your favorite classic movies and which femme fatale do you find yourself emulating the most?
Liz: Anything with Gene Kelly in…swoon. He was my first crush as a young girl and to this day I still find my heart skips a bit when I watch his movies. I love Singing in the Rain, On the Town, and of course American in Paris. I love all of Judy Garlands movies, especially Meet me in St. Louis. Oh my this honestly is so hard to just name "some", I love them all!
Tam: On the Town is one of my fave's too, my hubby being a sailor and all, how can it not be. AND Meet Me in St. Louis. My daughter did a performance of Under the Bamboo Tree and I made vintage costumes for her! We were lucky enough to interview Gene's brother Fred when I had my newsprint magazine, Swivel: Vintage Living.
Liz: My Femme Fatale, hmmmm. I don't think I emulate anyone actually. I tend to bring more of the girl next door look to my vintage style. Deanna Durbin is someone who has this look down and, I just adore her simple but stunning looks in the 40s.

MAKING VINTAGE SOCIAL with LIZ
Tam: Tell me about the Toronto Vintage Society. What eras do they represent and what kind of events do they sponsor. What is your role in this group? If I wanted to start a group like this, what would your advice be?
Liz: The Toronto Vintage Society represents anything from the early 1900s up to 1980s. We are mostly online based, providing Toronto with all the weekly vintage events in the city that our followers can attend. We also share cool vintage blog posts, tidbits, images, where to vintage shop in the city and so much more.
However twice a year we do run our own events. A Tiki Party called Tiki Lani Lanai and our Holiday party entitled Kitschmas. This allows us to meet many of the people who follow us on Social Media and also showcase our passion for all things Tiki and Kitsch. They have been very successful events and keep getting bigger every year.
My role in TVS is helping with social media, and I also help plan our events with the other team members. If you were to attend our events, you would also find me on the stage as the MC. I guess being a ham in real life makes one good to MC events hahaha.
If you wanted to start a group like this, the biggest piece of advice I can give (and I did not start this organization, my friend Jacquie did), is be in the know of what is going on in your city in the vintage world. Jacquie started TVS because she was tired of attending fun events by herself, she wanted like-minded friends. Several years later, we have all the like-minded friends we could ask for and more and we know where all the cool vintage events are now. Plus having a passion for vintage is a must!
Tam: What is the most important thing people don't know or understand about vintage enthusiasts?
Liz: This is said by many, but that we enjoy dressing up this way because we like the clothes/style not because we are going to a costume party or Halloween party. Just like someone might like wearing jeans and T-shirt, I like wearing a 50s novelty skirt and blouse to hang out with friends. This is what I like, and it just happens to be from a time gone by.

LINDY HOP LOVE with LIZ
Tam: I am delighted to see, not only are you involved in the TVS, have your own blog, but you also swing dance, specifically Lindy Hop! Woo hoo! Everyone has a dance story, tell me YOUR Lindy story. How did the dance make its way into your life?
Liz: I love Lindy Hop! I fell in love with vintage music specifically 1930s & 1940s Big Band music very early on in my life. My grandfather, who was a ballroom dancer, had a marvelous collection of swing music, and he would always have it on when we visited. I just fell deeper and deeper in love.
However it was not till the swing revival in the late 90s early 2000s that I even realized that was a real dance that you could do to the music.
Tam: I remember that time. That's when we started dancing and the modern side of THE GIRL IN THE JITTERBUG DRESS is set.
Liz: Unfortunately, my dance dreams had to wait as the town I lived in, did not offer swing classes. Spring forward to 2006ish, I had been living in Toronto for 6 years and just got out of a crummy relationship and was eager to find something to fill my time. BAM! I remembered how I wanted to learn how to Swing Dance. I looked into what was available and headed to my first class which was West Coast Swing—not the Swing I was looking from the revival period.
I enjoyed WCS and stuck with it, until a couple of years into my classes I heard the word "lindy hop" and realized that THIS was the dance I always dreamed of learning. I found classes and the rest is history. I even met my husband on the dance floor, on my very first night social dancing!
Now I take lessons weekly, dance frequently, and I have been doing all the social media for the 'Toronto Lindy Hop' for 5 years. So Lindy Hop is a big part of my life now. Lindy Hop also helped me find my other love: Rockabilly music. Being a part of that scene has grown my circle of friends and allowed me to experience events that are different from Lindy Hop, like the Big Viva Las Vegas Rockabilly Weekend. So it's been a wild and fun ride.
Tam: Does dancing in Toronto differ from other cities around the world? If you were selling us on coming to Toronto to dance and vintage shop, what would you say?
Liz: Dancing in Toronto is very different than other places because we're a city that is lucky to have such a rich and vibrant live music scene. If you follow TLH on social media, you will see that I'm posting almost daily about great bands playing all kinds of music you can Swing Dance too.
Every Saturday Night we have a Swing Dance with live music that has been running for years and years. So if you come to visit us over a weekend you will always have a spot to dance. Lastly another reason to come and dance in Toronto is for our Lindy Hop Workshop Weekend in September (Sept 23rd-245th) called Lindyworks that brings together amazing Teachers (this year is Laura Glaess & Todd Yannacone) with Toronto Bands at night for a great weekend of learning and dancing. It's a super way to come and see what we are all about.
As for the vintage shopping, many of the cool shops to visit are in fun neighbourhoods in Toronto. Like the eclectic Kensington Market, or the hip Leslieville in the East End of Toronto. You're not just vintage shopping, you're experiencing all the cool things Toronto has to offer.

DANCING, DRINKING AND LIFESTYLE
Tam: What's your fave dance move and why?
Liz: The Standing at the bar drinking a beer move. Hehehe Kidding! I don't know if I have a favorite move, I think they are all great. However, I will say maybe any move that I execute well without over thinking it.
Tam: Cheers! I agree. I'd be right there with you at the bar. I find too much drinking not good, but a little is just right. That said, I've had some doozy disasters and a pretty good fall while dancing. Can you share with us your biggest dance disaster?
Liz: That was pretty much me as well. Two years ago while dancing in Glasgow, Scotland, I was at the front by the band, and my partner and I were just having a great time. Then I did the one thing all follows know NOT to do. I turned on my toes and ended up flat on my butt in front of everyone. My partner was so great and turned it into a move but that was a lesson that I've never forgotten.
Tam: I'm going to ask a question I asked my fictional characters in my novel: If you could go back in time to any era and stay there would you? Why or why not?
Liz: Honestly, I would not go back to any era to stay. I love the 1930s-50s clothes, music the dancing but I love my life today in this world. I love that I have many more choices as a woman that I would not have had in those time periods.
Tam: Quite right. Nicely put. How has being a vintage chick changed or enriched your life? Would anything make you stop living a vintage lifestyle?
Liz: The day that I found my vintage style, was the day I finally felt like Liz. For years I struggled with my self-esteem (I'm a tall woman who was teased about this for years) and who I wanted to be as a person. When the vintage clothes and the swing dancing/rockabilly world came into my life, my self-esteem grew, and I became a much more confident woman. I love the Liz of today and nothing would make me stop living a vintage lifestyle.
::
Has living a vintage lifestyle or swing dancing enriched your life? In what ways? Have you had any dancing disasters? What's your fave vintage piece? Have you danced in other countries and found any differences or similarities?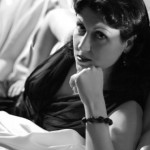 Tam Francis is a writer, blogger, swing dance teacher, avid vintage collector, and seamstress. She  shares her love of this genre through her novels, blog, and short stories. She enjoys hearing from you, sharing ideas, forging friendships, and exchanging guest blogs. For all the Girl in the Jitterbug Dress news, give-aways, events, and excitement, make sure to join her list and like her FB page! Join my list ~  Facebook page