~ Costume vs Historic: The Art of Sewing Vintage ~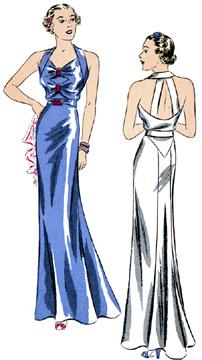 I've been sewing since High School. When I watched Demi Moore in "About Last Night" and coveted her wardrobe, but knew I couldn't afford it, I pulled out my sewing machine. Putting those same thrifty sewing skills to work in my first studio apartment, I crafted matching pillows, curtains and slip-covers. But it wasn't until I started swing dancing (Lindy Hop, Balboa and Collegiate Shag) that I really honed my sewing vintage skills. I drooled over 1940s peplum jackets and skirts, glamorous 30s evening gowns and "Rosie the Riveter" overalls, but even working two jobs, I couldn't afford the boutique prices and was easily outbid on ebay.
Once I wed and had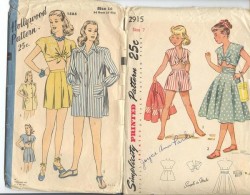 babies, I was obsessed with matching outfits for me and my brood. My husband, a sailor, frequently deployed to Iraq, made it hard to maintain our vintage lifestyle. I thought if the kids and I were in matching outfits–no matter what event, swing dance, Lindy by the bay, vintage expo–and if (God forbid) one of the kids wandered off, people would know they belonged to me. I found matching patterns and sewing vintage made us a mini version of the Von Trapp family.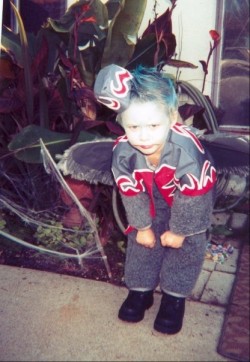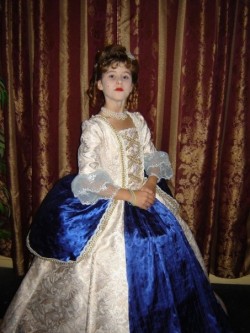 Halloween became the next outlet for my sewing vintage obsession. It's the best holiday with all the fun, food, decorations and parties of Christmas, without the stress of gift-giving. I created elaborate costumes sometimes using three or four different patterns and created my own pieces. I spent hours pausing the DVD to sketch the intricate pattern of the Flying Monkeys in "The Wizard of Oz." I love the problem solving aspect of having a vision, watching it come to life and the satisfaction of having made it with my two hands.
When we moved to little Lockhart, Texas and became involved in the local theatre, once again, my sewing vintage skills were put to the test. Most recently I worked on costume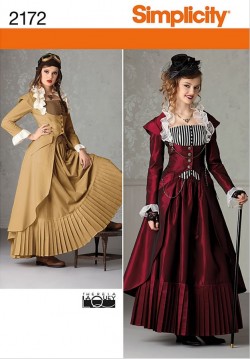 s and props for a wonderful mixed cast (adults and youth) production of Still Life with Iris. Since my kids and I were fortunate enough to get cast in juicy roles, I volunteered to make our costumes. What I learned was this: I am not a costume maker. I am a garment maker, a crafter of beauty, an artisan. Try as I might I couldn't "throw together" our garb.
I can't help thinking of my vintage clothing: I am wearing something someone made decades ago, so might someone wear something I am making now, years from today. Maybe it's a little vanity, maybe it's a little mortality and longevity, but my mother's voice in my head reminded me to finish the seams, not to cut corners (unless the pattern says so), and don't be in such a rush not to baste the seam. I finally made my peace with the extra step of basting, running the quick stitch through every patchwork piece of my difficult costume. I gave into the slow rhythm of stitching and ironing, stitching and ironing.
Then, there's the awkward moment when you realize you've sewn the  pattern piece wrong to right side, or upside down, or the button-hole is on the wrong side. Out comes the seam ripper like a Mother Superior scolding you and insisting hard labor for your sewing transgression.  Sometimes it seems like I rip more seams than I sew.
My son's laughter interrupts my concentrated bent. I wonder how many years I have left before his high-pitched giggle turns to a manly guffaw. How many big things in life are there to look forward to, to marvel over, to see the magic in. There's been nothing quite as amazing as the wonders of motherhood, but that time is pressing forward faster and faster.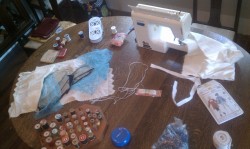 Returning to my sewing I contemplate: There may not be many big things left or new things but there are so many little things I may have overlooked.  I must learn to revel in the small things, like figuring out how to make my daughter's Marie Antoinette costume fit both her and her understudy. The light in my son's eyes as his Young Mozart costume comes together with silver trim against the deep blue and lacy jabot. The half-moon curves of the bodice to my Steampunk "memory coat." The clipped cloth, blossoming like flower petals under the hot iron, allowing the fabric to lay flat and, at the same time, fit the contour of the female form.  There is magic in everything, even sewing. You just have to know where to look.
::
Have you made magic with fabric? What's your fave sewing projects? What era do you sew?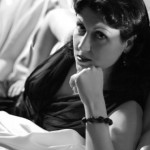 Tam Francis is writer, blogger, swing dance teacher, avid vintage collector, and seamstress. She  shares her love of this genre through her novels, blog, and short stories. She enjoys hearing from you, sharing ideas, forging friendships, and exchanging guest blogs. For all the Girl in the Jitterbug Dress news, give-aways, events, and excitement, make sure to join her list and like her FB page! Join my list ~ Facebook page