~ Don't Be Cheap: Why You Should Spend Money on Your Novel's Cover Art ~
by Tam Francis
I'm on the verge of self-publishing my ghost story collection. This seemed like a no-brainer. Literary agents are not usually interested in story collections and although I found some small presses willing to publish collections, I have to admit I was intrigued and excited about the self-publishing process. Time and time again I've read blogs about the importance of good cover art. I would like to share my process and experience of this journey.
First Attempt
I'm artistic, I can do a collage, take a photo and voila, cover art with all the elements I need, right? WRONG!
First rule: Don't try this at home.
Here is my first attempt at what I thought would be an awesome cover. And I would have the bonus of using the original art as a give-away on the site. As you can see, there is NOTHING about this that would make you pick it and even flip it over and read the back cover copy. The one on the left I designed with mixed media and then tried to scan it. As you can see, the images blurred. I then added text in illustrator, but again, it looked awful.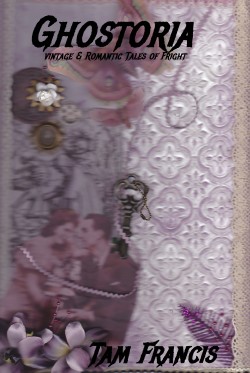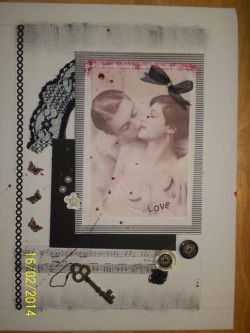 My daughter's attempt, (on the right) was a little bit better and more graphic, but it did NOT capture the professionalism, feeling of mystery, romance, fright and nostalgia that I was going for.
I finally decided to go the professional route. I know what you might be saying. "I can't afford it." And I will say: "I am not rich. I am not retired. I have not inherited any money to feed my muse. I do not have a husband who makes six figures, in fact he makes less than the teachers I substitite for. And if I can afford it on a measly minimum wage substitute teacher salary, you can afford it to!"
I even tried to enlist some of my fine art friends to do something, but that never quite got off the ground and fine art doesn't necessarily sell books.
I was lucky enough to find the right designer for the job. A writer from my writer's group had used the designer for her speculative fiction novel: Born Rich . She had also attempted to design her own cover, but wisely chose the path of the professional. Here are some reasons why a pro is better (even if you are good at design and desktop publishing).
Reasons to hire a COVER artist
Book Designers KNOW the Market
Book Designers have an unattached view of your novel
Book Designers are faster than you (usually)
Karen Phillips was amazing. Besides seeing what she did with my friend Janet's cover, I looked over her samples and found a few that were similar to what I had in mind. We arranged a phone call to talk about my theme and vibe of the project. She was warm, funny and friendly and I felt I could trust her right away. Since it was my first time hiring an artist to design a cover she explained the way she worked:
She would design a few different covers using grabbed art to see what direction to take
She would go to work on the more specific design
Narrow it down to one
Work on the one until I was happy
Add the back cover and spine
Second Attempt
I waited anxiously for those first designs. Then she sent them (there were a few more, but variations on the same):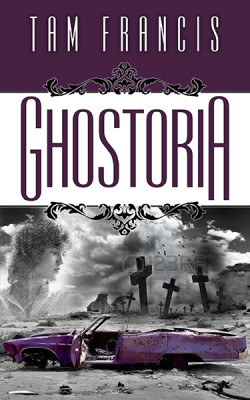 I hated them ALL! I cried. Oh yes, I'm a big baby and I was sure I was wasting my hard-earned minimum wage money. To be fair, I didn't really HATE them all, but vision is tough to convey. I didn't know what to do.
I waited a couple days and gently (or maybe not so gently, I am a Yankee) explained that none of them really captured the feeling I was going for. As you can see they're very nice designs, but didn't capture the nostalgia and melancholy I was going for.
She was gracious, amazing and kind. She asked me to send her the stories, she would read them and come up with something else. My hope was renewed!
She read the stories and sent me a very complimentary assessment of them, even offering a few edits on typos. The next batch of designs were all so beautiful. It was hard to choose. She captured the vintage, romantic, eerie, melancholy timelessness that I was going for with a touch of dance.
Third Attempt:
I loved elements of all of them. In the end I chose the couple dancing on the grave, stole the golden color from the other and crackle finish.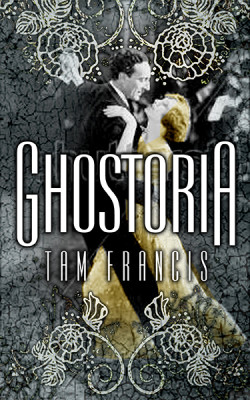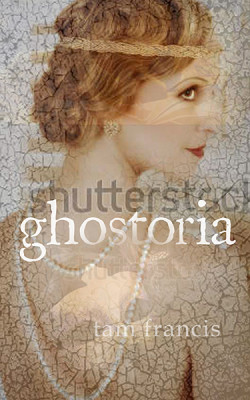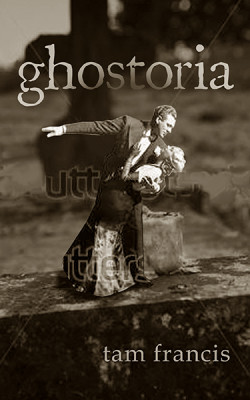 Working with Karen was an AMAZING process. We made small changes like adding the subtitle, bumping up the font size, adding the contest winner info and even experimenting with different frames.
I was beyond happy. I felt I had a cover that conveyed all the complexity of my short stories and still tied into my Girl in the Jitterbug Dress brand. But a note on the side of the designer: Don't take advantage of their time and their resources. Make sure YOU aren't overstepping the bounds and being a nightmare client!
Fourth and Final!


What you should look for in a Novel Cover Artist:

Strong portfolio
Writer recommendations
Willing to work with edits
Timeline
Agreed upon price and number of edits
Wrap-around, back cover and spine included in price
ebook cover included in price
Someone you have a rapport with
Willing to make you happy
Now I'm off to find an ebook guru and finish the last edits. Look for Ghostoria on Amazon in the next few weeks!
::
Have you had an experience with a cover artist? Have you designed your own? Were you happy or unhappy with the results? Did you know your book's cover is its best marketing tool? Do you agree?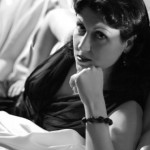 Tam Francis is a writer, blogger, swing dance teacher, avid vintage collector, and seamstress. She  shares her love of this genre through her novels, blog, and short stories. She enjoys hearing from you, sharing ideas, forging friendships, and exchanging guest blogs. For all the Girl in the Jitterbug Dress news, give-aways, events, and excitement, make sure to join her list and like her FB page! Join my list ~ Facebook page