~ Meet Django Reinhardt: The Gypsy Jazz Man ~
by the late Jacob Faust edited by Tam Francis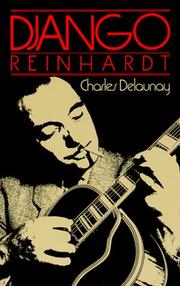 Django Reinhardt, an in-depth biography on the late jazz guitarist virtuoso,  written by his good friend and colleague Charles Delanunay, (published by Da Capo Press, London 1982).
If ever there was a worthy account of this fascinating guitarist, this would be it. It chronologically details the life of Django from his turbulent early years to his rise to fame and eventual legendary status in Europe.
About Django
Born in Belgium in 1910 to gypsy parents, Django became an innovator of European jazz, rose to fame as a hero among his fellow gypsies, and is still considered to be one of the greatest jazz guitarists.
However, this extremely gifted man led his life as randomly as his solos. It was not only his mastery of the guitar that made him such an interesting figure, but his concept of living in general. He seemed beholden to none. When he wanted to drop everything and travel, he did. This book gives an incredible examples of his odd persona at work.
Forming a Band
When his string quintet was founded with Stehpane Grappelli, and rose to great fame, many American musicians found themselves seeking him out in France while on tour. Benny Goodman, Benny Carter, members of the Glenn Miller Orchestra, Dizzy Gillespie, and Duke Ellington, all searched for him while in Paris, if not to play with him, to just listen. Duke Ellington in particular was a good friend of Django, and Django, needless to say, a big fan of The Duke.
In 1946 Django accepted Duke's invitation to tour the States, but due to Django's misconceptions of America, and his gypsy habits of showing up late, if at all, the tour which included Carnegie Hall was a disappointment. He never returned to America.
Europe Digs Django's Jive
Despite his lack of popularity in the United States, Django thrived in Europe. He was able to record during the war years and was protected from being hauled away to concentration camps like many other gypsies due to his German last name (which is ironic because he was illiterate and couldn't spell his last name). What he lacked in grammar, he made up for in music. Never learning music theory, how to read or write music, her relied on his well trained ear and imagination.
He made beautiful ballads such as Nuages, and Manoir De Mes Reves, haunting refrains like Tears, and Minor Swing, and songs that sounded as if they were written for a big band like Djangology and Swing 41. He was a true musician. He knew what music fit a certain time of the day. He was not only a blistering hot soloist, but a great accompanist as well. And when Be Bop cam in, he held his ground and was more than able to make smooth transition and yet keep the swing in his playing. He did record plenty with a semi-hollow bodied electronic Gibson guitar, but seemed to prefer his hand crafted Flavino, a rare guitar that takes years to make and more money than most would see in a lifetime.
Too Early to Go
Django died of a stroke on May 5th 1953 at the age of 43. The cause of the stroke is a mystery and until the end of his life he refused to see a Doctor. His last words when a Doctor was called were, "You've come now, have you?"
This book provides wonderful insight from a firsts hand perspective. It accounts every significant and many insignificant events without losing the reader's interest. It also contains an authoritative discography complete with legend, listing every recording Django took part in. It's just a shame those 78s are so damn hard to get a hold of today. I highly recommend you get a CD by Django if you don't already have one. I am almost heartbroken that more people don't know about him and those that do, only know from what they've seen in Swing Kids or heard at swing dances. It is a rewarding experience to listen and read about this great artist. I hope that it will change your life as it has mine.
He did more for guitar than any other man in jazz. His way of playing was unlike anyone else and jazz is different because of him. There can be many other fine guitarists, but never can there be another Reinhardt. I'm sure of that ~ Stephane Grappelli.
Vintage Enthusiast Rating:
Fashion: ♥
Music: ♥♥♥♥♥
Dance: ♥
::
As a personal note. I absolutely love to Bal-Swing and Balboa to Django. Do you? Any favorite Django or Hot Club songs you'd like to share?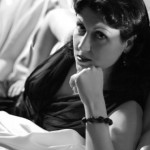 Tam Francis is writer, blogger, swing dance teacher, avid vintage collector, and seamstress. She  shares her love of this genre through her novels, blog, and short stories. She enjoys hearing from you, sharing ideas, forging friendships, and exchanging guest blogs. For all the Girl in the Jitterbug Dress news, give-aways, events, and excitement, make sure to join her list and like her FB page! Join my list ~ Facebook page