Recreating Vintage Swing Dance Photography
Here's a little story about how we recreated vintage swing dance photography, what we learned, and how you can do your own photo shoot.
The Impetus and Inspiration
As I approached the publication of my vintage swing dance novel: The Girl in the Jitterbug Dress, I needed cover art for my talented and amazing book cover designer Karen Phillips to work her magic. A copyright free photo to be exact.  I needed the dance photography to capture the movement and mood of the 1940s and the energy that is specific to Lindy Hop (and the dances related to it, Collegiate Shag, Balboa, East Coast Swing).
If you've been around the swing dance scene for any length of time you've probably seen my inspiration photo. It's a beautiful shot of Maxie and Collen Dorf dancing. he probably isn't doing Lindy, since he was the King of Balboa, but the photo conveys the spirit of WWII swing dancing. Don't you think? I contacted people who knew Maxie, but no one could tell me who to ask permission to use the photo.
Plus, The Girl in the Jitterbug Dress already has a sequel written and I will begin work of the third book later this year. I really needed a photo or photos that would work for all three books, a variation of the image. A vintage swing photography shoot was the logical way to go.
And a Sailor 'ta Boot
And just like the photo of Maixe, I wanted a sailor in the picture as well–my 1940s character falls in love with a sailor wouldn't you know. Luckily I married one, and he still had his uniform. Don't tell anyone, but after twenty years in the service, his sailor suit was a tad snug and he didn't button the top two buttons. You can't tell in the photo's, though.
For my vintage swing dance girl, my daughter stepped up to dance with her dad–not sure if she will thank me, or hate me for it later, but she gave me a precious afternoon of working with her. Why not cast myself as the girl in the jitterbug dress? To be honest, I'm not quite the girl I used to be and I needed to direct the scene, not to mention, I liked the height difference between my husband and my daughter.
Dressing the Part
Although the fictional  dress in the book is a handmade variation of a 40s sailor dress, (based on vintage sewing patterns) I didn't have anything in my wardrobe that fit my petite daughter. I did however, have several dresses I'd collected for resale and one of them fit her beautifully. Plus, the skirt had great swish potential.
We kept her hair and make-up simple. Subtle victory rolls, held in place with hair combs and the rest in loose curls. My goal was that her hair would echo the whirl of the dress in action. I also added a 1940s pair of seamed stockings with garter belt to give a hint of subtle vintage romance and a little sexy sass. And don't forget the vintage shoes!
The Vintage Backdrop
I happen to live in a charming little old town with historic photo ops in abundance. At photographer Lauren Ashley's suggestion we started out using a ghost sign for our first backdrop. I loved it, but my actors/models couldn't do any actual dance moves on the gravel.
We moved around the square, down alleys, and up stairs, gravitating toward old beautiful doorways of the time-worn buildings. The actors relaxed and Lauren quickly caught the swing vibe, snapping pictures and finding interesting dance photography angels to showcase the movement and spirit of the novel.
The Right Photographer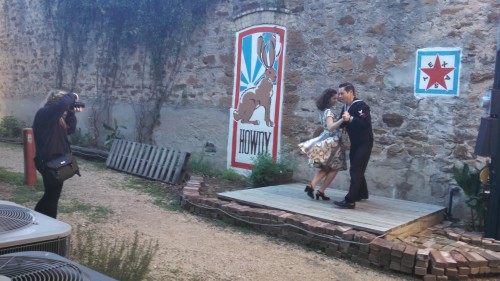 Not just anyone can take action shots and capture the rhythm and energy of swing. I suggest not only a photographer who is comfortable with people, but a photographers with an eye on art.
With Lauren Ashley photography we had the best of both. She's a wonderful photographer and also a fantastic actress which gives her a theatrical eye, perfect for the drama of swing dance. Did I mention her reasonable prices, professional attitude, and punctuality?

Vintage Swing Dance Photography Checklist
Inspiration photos, ideas, sketches
A Great Photographer
historical or Vintage backdrops
REAL vintage clothing: shoes, dress, stockings, etc.
Vintage style hair and make-up
Dancers who know actual swing dance positions
Action shots
Great lighting: (during our winter hours that time was 3-5 pm)
::
Are you ready to do your own photo shoot? Capture your Lindy Look? Or your vintage glam? Do you have any tips I might have missed? What are some of your favorite swing dance photography shots? Don't forget to join my list to be notified of the book launch and the give-aways. (Hint: signed original prints and much, much more!)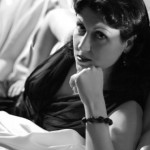 Tam Francis is a writer, blogger, swing dance teacher, avid vintage collector, and seamstress. She  shares her love of this genre through her novels, blog, and short stories. She enjoys hearing from you, sharing ideas, forging friendships, and exchanging guest blogs. For all the Girl in the Jitterbug Dress news, give-aways, events, and excitement, make sure to join her list and like her FB page! Join my list ~ Facebook page