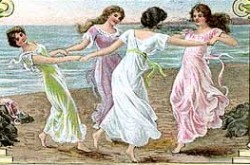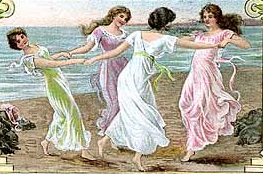 ~ Shimmy Shimmy Shake: Magical Memories of Dance Joy ~
My chest was un-hitched, arms in open hug position. Breasts jiggled, nipples polished the inside of bras. Across from me, Ali had her chest thrust out, arms open, with a slight pelvic inward lean, she was "shakin like a polaroid picture." Lizzy popped up and joined the shimmy shimmy shake, her hair bouncing as much as her breasts. My girl and partner in crime, Shep, scooted in from the outside and it was booborific. With slight twisting to the abdomen and a lower pelvic thrust, it was all upper body detached boobies flying and flopping. Monica shimmied like a satellite, making two full revolutions before joining the closed circuit. A force-field enwrapped us, an invisible umbilical cord joined us to the band. If you could see the energy we felt, you would have seen a ball of white light surrounding us, an arc to the band.
We exhausted our upper bodies and took it down to our asses, simultaneously turning them into the center, a pre-ordained tribal cue. I bent at the knees and sunk into my hips and shimmy shimmy shook my rear. Our center looked like an incredible ten scoop ice cream sundae in an earthquake.
Thrrraaannggg…The spell was broken. Tommy, singer of the Stilettos, strummed in with lead guitar and woke us from our revelry. Henry's Pub materialized around us like vapor. Our lost partners re-appeared, grabbed our follow hand and brought us back to the dance floor, breaking the remaining thread of our female bond. Carl's sweet face and Cheshire grin shone as he led me into classic Lindy moves. I was exhausted but danced with him in downtown San Diego on a Tuesday night.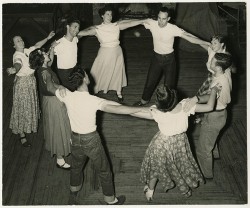 The night sparkled for me like a woman in love. I was a woman in love, in love with my newly returned husband, [back from a Navy boat debt-The War in Iraq]. I caught his eye and he took me to the floor, swinging me out, and did his Dean Collins look and follow-through, his sugar pushes glided out of his swing-out, no telling where one move ended and another began. He did a shoulder twist release. My weight shifted as I spun on the balls of my feet, my eyes tracked in circle to find his baby blues. The tendrils of the past reached back into our beginnings, I fell in love again.
* * *
This memory is sharp and clear as I prepare for another departure, another suspended time of my heart being stretched across the world. This one is different, though. This time he's going to Afghanistan and he won't be on a boat, he'll be on the ground. It's different too, because now I live in Texas and all those lovely women I shimmied with on the dance floor, are a life away.
We swing dance here in Lockhart and have created a nice Jitterbug community (thanks to the generosity of Chisholm Trail Ballroom), but it's not the same. I feel like I'm on an island in the sea of Texas. I hope when this present meets the future past I can find myself falling in love again.
::
Do you have memories that stand out against other, memories that you revisit and revel in? What made them special for you? For more personal stories check out these: Summer, Casbah, Swinging Blind, Party, Confessions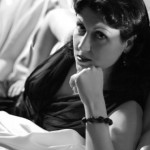 Tam Francis is writer, blogger, swing dance teacher, avid vintage collector, and seamstress. She  shares her love of this genre through her novels, blog, and short stories. She enjoys hearing from you, sharing ideas, forging friendships, and exchanging guest blogs. For all the Girl in the Jitterbug Dress news, give-aways, events, and excitement, make sure to join her list and like her FB page! Join my list ~ Facebook page