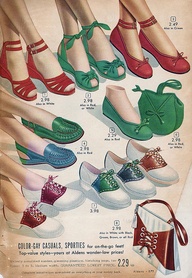 ~ Sole Entertainment: Vintage Shoes ~
Women love to buy shoes and nothing compliments an outfit better than the right shoes. Many shoes styles grace our stores and closets but my focus is on the popular styles of the 1930s and 1940s.
One of the most popular basics for noon or moon fashion is the Pump. This style refers to any basic style heel which is mostly enclosed. There are variations on this style: Open Toe Pump, Lace-up, Sling-back Pump (open heel) and Spectator Pump (popular in spring and featured a wing-tip or cap toe duotone construction: brown and cream, navy and white, black and white, and sometimes brown tone combinations.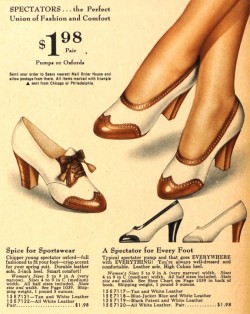 My favorite are the Platform and the Wedge or as we gates like to call them Wedgies, not to be confused with the slipshod fashions of the 1970s. A Platform is any shoe, be it pump, wedge or sandal which has an abundantly thick sole (thicknesses range from an eighth inch to two inches – measured under toe-box). I don't recommend the thick wedge for hepcats who cut a rug on a nightly basis, but they add drama and sophistication to any frills.
The classic jitterbug Wedgie is my top pick for cutting a rug. It is similar to the pump wedge but has a solid platform sole from toe to heel. I find it more sporty and thus appropriate for all but your most formal frocks.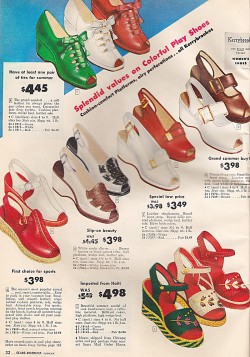 Finally, one of the most iconic shoes, the Saddle Shoe. Saddles are an oxford style, a laced shoe characterized by shoelace eyelet tabs which are stitched underneath the vamp invented in Scottland and originally called a Balmoral. At the height of its popularity, in the 1930s, the saddle was available in a dizzying variety of single and duotone colors. Unfortunately today, it is usually the black and white version of this shoe we find at retailers.
It is important to be good to your shoes, Remember these tips:
~Don't wear shoes two days in a row, the leather needs time to dry and breathe
~Replaces heel taps as soon as you see the nail wear through
~Never rock on your heels, it weakens the construction and can break heel and shank
~Polish or treat with leather conditioner, regularly
~You can never have enough shoes.
Some resources for vintage and vintage style shoes:
http://www.remixvintageshoes.com/
http://www.pinupgirlclothing.com/shoes.html
http://www.muffys.com/modern_traditional.html
::
Do you have additional sources for vintage or vintage looking shoes? Tell me about your fave shoes and why they're your favorite. What's your fave shoes to Lindy, Bal or Shag in?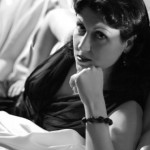 Tam Francis is writer, blogger, swing dance teacher, avid vintage collector, and seamstress. She  shares her love of this genre through her novels, blog, and short stories. She enjoys hearing from you, sharing ideas, forging friendships, and exchanging guest blogs. For all the Girl in the Jitterbug Dress news, give-aways, events, and excitement, make sure to join her list and like her FB page! Join my list ~ Facebook page