It is the author's intent that the soundtracks (chapter titles) for both June and Violet's characters enhance each chapter. The specific versions of the songs were selected because they defined the mood of the chapter and are meant to enhance the reader's experience.
June's selections come from the swing resurgence of the 1990s and fall into the genre of "neo-swing." Violet's songs are gathered from the Big Band Jazz Era with recordings from, but not limited to, the 1930s and 1940s.
For those interested in musicology, this index (by character and chapter) includes original information about the songs and lyrics.
***Newly added: Soundtracks for the sequel Hops the Atlantic!***
BE SURE TO CLICK THE SONG TITLE TO
LISTEN TO OR PURCHASE THE SONGS!
 

1990s – June

1. She Walk Right In (the Big Six) written by Ralph Bass/Jesse Powell/Frances Dailey; additional lyrics by Eddie Nichols.

3. Meet me in Uptown (Mighty Blue Kings) composed by Ross Bon 1996.

5. Good Enough for Grandad (Squirrel Nut Zippers) written by Don Raleigh / James Mathus & His Knockdown Society.

7. After You've Gone (8 1/2 Souvenirs) composed by Turner Layton, with lyrics written by Henry Creamer; originally recorded by Marion Harris on July 22, 1918 and released on Victor

9. What's Next (Big Bad VooDoo Daddy) written by Scotty Morris 1999.

11. That's Where My Money Goes (Indigo Swing) Traditional.

13. Smack Dab in the Middle (Steve Lucky and the Rhumba Bums) written by Charles (Chuck) Calhoun aka Jesse Stone 1955

15. Work Baby Work (Royal Crown Review) composed by J. Adrian.

17. Jump Jive and Wail (Brian Setzer) Written and first performed by Louis Prima in 1939

19. What's the Matter with You (Lavay Smith) composed by Albinia Jones

21. Feelin Kinda Lucky (Big Sandy) written by Webb Pierce

23. Back in Your Own Backyard (Dean Mora) Composed by: Al Jolson / Billy Rose / Dave Dreyer

25. Wednesday Night Hop (George Gee) Composed by: Andy Kirk / Leslie Johnakins

27. No More Nothin (Lucky Stars) Composed by: Zeb Turner

29. Rock This Town (Brian Setzer Orchestra) Composed by: Brian Setzer / Dave Edmunds

31. Let me In (Steve Lucky and the Rhumba Bums) Composed by John Marascalco

33. Boogie Woogie on a Saturday Night (Stompy Jones) Composed by: Irene Higginbotham and Hal Miller published by Decca.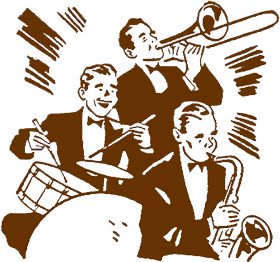 1940s – Violet
---