~ Style Me Vintage: Book Review ~
I received a fabulous little gem for Christmas from my sister. It's a must have for any gal who loves dressing vintage and needs a little help with the vintage hair.
The book is expertly written by hair stylist from the United Kingdom, Belinda Hay (published by Pavilion Books an imprint of Anova Books: 2010). The first thing any vintage lover will admire is the book has the lovely feel of a vintage novel. Instead of a slick plastic glossy cover the book is bound with a faux cloth finish of vintage fabric with two darling snapshots of vintage hair on front.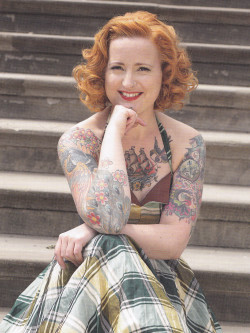 Throughout the book the pictures and directions are superimposed over sumptuous vintage fabrics that reflect their respective eras. Even the hair equipment is given the vintage treatment. The models for the before and after pictures are all decked out in vintage garb which makes the book not only good instruction, but wonderful coffee table eye candy.
Within its pages you with find:
Finger Waves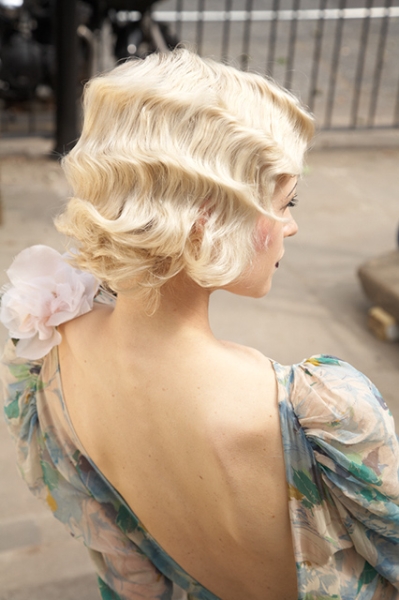 Forties Waves
Victory Rolls
The Poodle
Fringe Roll
Fifties set (The Marilyn)
Pompadours
Beehives
Bouffants
Barbarella
And many extras. I found the instructions easy to follow and had no problem recreating the hair-styles, but lest your first attempt not be a success let me admit, I have been experimenting and styling my own hair vintage for over fifteen years.  I had a lot of fails before I got it right. If you've never attempted vintage style before it can be a bit daunting and may not come out the first time but with a bit of practice and following Hay's directions you'll be able to get the curls just right in no time.
Another wonderful feature that Ms. Hay employed was using vintage images of movie stars juxtaposed to their modern equivalent, like Marilyn Monroe next to Scarlett Johansson or Ms. Hay's amazing models. This gave the book a real base in history, but showed how these styles can be achieved with modern equipment.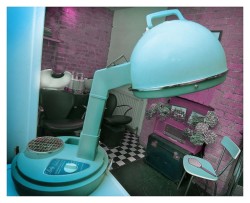 I only had two suggestions: one, it would have been swell to show a tutorial for the forties waves. There was a wonderful set and instruction for The Peekaboo, (Veronica Lake style), but not for the sensational, fuller, wavy curls of Rita Hayworth and Hedy Lamar or Dita Von Teese (pictured in the book), which were iconic 1940s styles and a great set for the avid Lindy Hopper.
My other suggestion would have been to include the 1930s style, a transition from the flapper fingerwaves into softer, but tight curled hairstyles like Ginger Rogers, Myrna Loy, and Norma Sheerer. I also recommend this hair and fashion style for the Balboa or Balboa Swing dancer.
Overall this is a beautiful book to have received. You can bet I'll be buying a few copies for my vintage friends and fellow swing dancers. You can find it here on Amazon or check Anova Books.
Vintage Enthusiast Rating:
Fashion: ♥♥♥♥♥
Music: 0
Dance: 0
::
Do you have any experience with vintage hair you'd like to share? Any epic fails or fabulous masterpieces? Do you prefer a wet-set or hot rollers or curling iron? What's your favorite hair-spray or styling product?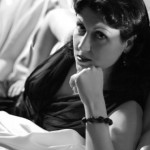 Tam Francis is a writer, blogger, swing dance teacher, avid vintage collector, and seamstress. She  shares her love of this genre through her novels, blog, and short stories. She enjoys hearing from you, sharing ideas, forging friendships, and exchanging guest blogs. For all the Girl in the Jitterbug Dress news, give-aways, events, and excitement, make sure to join her list and like her FB page! Join my list ~ Facebook page