I've been living in Texas for six years, and I had no idea we had something this cool in our backyard. Well, not my backyard, but in a big beautiful backyard in Austin, Texas to be exact. A friend of mine invited me to go to The Texas Tiki Round Up, hosted once a year by Aloha Julie. What started out as a love for Tiki Culture backyard party has turned into a mini Tiki Oasis.
My top 7 reasons why the Texas Tiki Round Up is the place to be.
Texas Tiki Round Up Reason 1: Size
It's a small event. Unlike some of the bigger events where you feel like cattle and everyone is trying to get a piece of your wallet. This event was made up of friendly folk wanting to have a good time and enjoying Tiki culture. We found ourselves sharing our table with two Texas Tiki Round Up newbies and several times Tikiphiles made room for us on the rock ledge or lent us chairs until the rest of their party returned. Because it is small, you're forced to talk to new people and make new friends. In this day and age, I found that delightful.
At one point, while waiting for the bathroom, a lady treated me like her best friend. She asked me to help her decide which dress she should buy. Another showed me pictures from her recent vacation to Sweden.
And as an added bonus, parking was free and not a problem. Very easy to get in and out of the property, and a pretty drive from my native Lockhart.
Texas Tiki Round Up Reason 2: Vendors
Scattered across the lush lawn, the vendors extended themselves beyond the patron/seller boundary. Each table had their own wares and vibe, but all were friendly.  With such a variety of merchandise, there was easily something for everyone. This year three clothing vendors abounded. A classic beauty named Dana with a girl-next-door smile brought a wonderful selection of kaftan and Polynesian style dresses for the gals and button down shirts for the fellas. Hempton's Retro Threads displayed a sassy collection of reproduction vintage and Tiki outfits from halters, to swimsuits, skirts, dresses, and accessories! If I didn't already have an insane collection of purses, I might have been tempted to buy another. The third vendor carried an eclectic assortment of dresses as well as sewing patterns and fabric to make your own. Just wait and see what I sew for next year!
Along with the wonderful array of fashions, Aloha Texas Tiki Company added to the atmosphere with wonderful island carvings and hand-painted signs to decorate your own oasis. Three other vendors joined the fun, one with a table of miscellaneous items ranging from barware to shelving, and other decor. Another vendor hocked amazing dead-head Tiki-torch centerpieces made from Deadhead Rum. (I wonder if he drank them all to make them???). And a gal with a tray of beautiful hand-made hair accessories roamed the grounds!

Texas Tiki Round Up Reason 3: Fabulous Food
The dining room became a banquet buffet with the bulk of the food prepared by The Big Kahuna featuring Hawaiian Style Chicken Bulgogi,(marinated in a sweet sesame, ginger, garlic, shoyu pineapple sauce), and Kalua Pork and Cabbage, (lmu style in banana leaves mixed with cabbage). Hand-served trays of tuna poke were served by Polynesian-clad Goddesses. Trays of colorful veggies, fruits, salads contributed by the guests rounded out the delightful delectables.
And did I mention the desserts? Beautiful themed cookies in both chocolate and sugar cookies looked like turquoise Tikis, coconuts, hibiscus flowers, tropical leaves, and more. Almost too pretty to eat. A Tiki mold of cherry Jello dared anyone to take a bite, but by middle of the evening someone had. I hope they weren't cursed!

Texas Tiki Round Up Reason 4: Music & Entertainment
Between the wonderful deejays Atomic Mambo DJ with Tropicana Joe and Tim Beard Sounds of the Islands, they spun a collection of surf, rock, swing, and everything in-between. Never too loud and always just what I needed. The deejays had a connection to the guests and could sense our needs and moods.
As the sun sunk low, the sky filled with colors to match the brightly clad revelers. Combo Mahalo, a Hapa Haole Swing Band, plucked the first notes on a ukulele. A perfect way to begin the evening's line-up. They played many of my favorites with upbeat tempos. I spied one couple dancing a little Lindy and Balboa and wished my partner was there to give me a spin–but next year for sure!
The lovely and talented Vivian Locke of Island Rhythms Hula took us to the sandy shore with her captivating hula. Those who were the bravest among us gathered round after her performance for a introductory hula lesson. Lest you think it was only for the ladies, let me divest you of that assumption. A few men found themselves being hipsters in an unconventional and charming way.
After the combo, hula and lesson, the wonderful atmospheric band The Tiki Torches from Dallas played Exotica style music that put everyone under their spell.

At the far end of the Enchanted Lagoon, a lone bamboo hut stood ready and waiting for imbibers. Threatening and comical ceramic faces stared from the shelves behind the bartenders. A prickly pear chandelier cast strange shadows over the two mixologist, one gentleman from The Austin Shaker, the other Charlie Valentine from newly opened Moloko bar experience.
Painkillers, Dark Magic, Kapena's Nui Nui, Mai Tai, Dark n' Stormy, and Black Light Scorpion beckoned with promises of exotic tastes and experiences. They poured strong and fast and sent us on our way. I chose a traditional Mai Tai and found it to be the perfect blend of sweet and tart with a kick. For those not living dangerously, an assortment of micro-brewed ciders, beers, and ales were accessible throughout the cove.

Texas Tiki Round Up Reason 6: Lounging, Swimming & More
The combo of hot tub, salt water swimming pool, and a beautiful koi pond created the Enchanted Lagoon. Charming bridges and stone walkways interlaced the waterways. It wasn't long before patrons were enjoying a refreshing dip in the shimmering pool.
For those of us who weren't ready to take the plunge, we were welcomed into the second floor Bora Bora Room. Ordinary house walls and ceiling were transformed by bamboo panels, hung with illuminated puffer fish, lanterns, and island paraphernalia. A big kahuna Tiki head, lit from within, presided over the room as guests mingled and made their way to the rattan Tiki bar where another islander poured samples of rum varieties.
And for those wanting something a little more recreational, hidden behind the vendors and foliage was a four-course putt-putt golf. Each hole had its own island them. The trick was to see how well you could hit the ball after a couple Mai Tais and Scorpions.

Texas Tiki Round Up Reason 7: Door Prizes
What vintage party would be complete without door prizes! As we walked under the giant X of torches and checked in, we were given slips of paper to write our names on. After Miss Locke's Hula, Aloha Julie pulled names from a bag and gave away records, prints, idols, and gift certificates. Unfortunately I didn't win a prize, but it was fun to play along, hope to hear your name, and cheer for those who did win. Even though I didn't win a door prize I felt like I won in so many ways. I had a fun-filled evening with a good friend, made new ones, and found a little bit of those things I still miss from California.
::
I'm inspired to go next year, or maybe start some Tiki Culture in my own backyard. How about you? Have you been to Texas Tiki Round Up? Tiki Oasis or even Tiki Caliente? Do you like tropical drinks? What's your fave? Have you tried Deadhead Rum? Did you like it? Do you have any fave tropical or Polynesian outfits you want to brag about? Please comment below. I love to hear from you!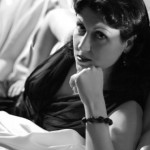 Tam Francis is a writer, blogger, swing dance teacher, avid vintage collector, and seamstress. She  shares her love of this genre through her novels, blog, and short stories. She enjoys hearing from you, sharing ideas, forging friendships, and exchanging guest blogs. For all the Girl in the Jitterbug Dress news, give-aways, events, and excitement, make sure to join her list and like her FB page! Join my list ~ Facebook page