Bridging the Generation Gap with Postmodern Jukebox
by Tam Francis
As you loyal readers may know, I've taught swing dance with my sailor hubby for fifteen years and published Swivel: Vintage Living Magazine at the height of the swing resurgence. Now I write vintage fiction, you can check it out here.

PRE POSTMODERN JUKEBOX
What you may not know is that I  also substitute teach on the side, which is how I wound up with the overly optimistic task of filling in for the regular dance teacher at our local high school.  I mistakenly thought I could waltz into the  dance class and rock it, (pun intended) and teach them, if not Lindy Hop, at least six-count swing aka East Coast Swing.
 I breezed into the high school gym, my 1950s vintage pink dress swishing around my knees—I tend to go for the 1920s-1950s with an occasion dip into the 60s Mad Men style. The previous night I'd wet-set my hair in sponge rollers, and in the morning, brushed it into a pristine Doris Day style do–complete with silk flower behind the ear.
The gym echoed with cavernous acoustics. Fluorescent lights reflected the dull yellow of the highly polished floor. Basketball hoop nets hung like leftover party decorations. No chairs or desk, or anything resembling a place to set up my computer graced the room. I scrounged a laminate desk with rickety metal legs from the hall, dragged it in, and set up my laptop, opened to my music files. It wobbled every time I tapped a key, but I was ready to inspire the high school dance classes with the vintage world of swing music and dance.
How hard could it be. Dance was an elective they picked, right?
Little did I know their entire dance education could fit into a thimble, (too old-school sewing reference?). Okay, it could fit into a Mini Starbuck's Caramel Frappuccino. They had been taught hip hop, jazz (a slower version of hip hop), and lyrical, which at their skill level consisted of heavy leaps, a lot of rolling around on the floor, and fluttery hands. They'd never even heard swing music, hot jazz, or doo wop. Yikes!
EPIC FAIL
I thought I'd start out by teaching them The Madison. The fairly recent remake made the movie fresh in their minds, right? Wrong . I thought I could bridge the generation gap with a retro line-dance. But, only twenty-five percent of the class participated.
How could I get them to open their minds to vintage dance and understand that their beloved hip hop moves evolved from 20s, 30s, and 40's jazz, tap, and lindy hop footwork?
I went home a little defeated and heavy-hearted, trying to regroup for the next day.  I wouldn't give up, though. There had to be a key to opening them up. Then, like providence, when scrolling through Facebook, a friend had shared a video of:  Postmodern Jukebox. The Bluegrass—reminiscent of Western Swing , which I LOVED—cover of Robin Thicke's Blurred Lines danced before my eyes. It was right up my alley and expertly done. I'd never heard of Postmodern Jukebox.
WOW. Mind. Blown.
INSPIRATION IMPETUS 
Of course, I shared the Postmodern Jukebox cover on my FB page and tagged my daughter and her hipster friends. They loved it. I went nuts. What else did Postmodern Jukebox have in their back pocket? Turned out, tons. I listened to their covers for hours and promptly bought loads of their songs. The next day I would conquer the cynical teens with Postmodern Jukebox.
That morning I decked myself out in vintage , again. This time in a flower print circle-skirt, puff-sleeve sweater, and my bakelite Scottie dog pin.  I dragged in the dilapidated desk again, plugged in the "Lionettes" (school dance team), extra large speaker, and started playing the cover of Macklemore's, Thrift Shop.
It took the students a minute to realize what they were hearing, but they began to smile and bob their heads. A couple of the girls busted out a few hip hop moves.
I was in!
"Do you want more of that?" My voice echoed across the gym. "How about I teach you some dance moves to go with it, and promise to play your favorite radio songs. With a twist?"
"You mean our cool songs with your old style?" a girl asked, her asymmetric haircut and bleached blonde streak a symbol of defiant youth.
"Yup, more like that," I answered.
"Okay, I'll try it." She tucked her cell phone in her back pocket, and she and her friends shuffled to the middle of the gym. Others joined in. I divided them into leads and follows–the two boys in the class not enough to handle all the girls.
I spent the next forty-five minutes breaking down the basic six-count moves, (I started with East Coast–didn't want to blow their minds with Lindy), teaching them as much as I could about partner dancing, foreign to most of them. Though the gals who were first and second generation–their parents from Mexico–had an advantage. They had a basic understanding of partner dancing from their traditional quinceanaras and weddings.
I was not only bridging the generation gap, I was bridging a cultural gap as well. My heart swelled. I could share my love of vintage music and dance.
Even though they'd done well, the brisk beat of Postmodern Jukebox's, Thrift Shop was a little fast for the newbies. I tried out several Postmodern Jukebox songs, but the teens glommed onto the PMJ Kate Davis version of Meghan Trainor's, All About That Bass . The tempo pulsed perfect for practicing newly-learned swing in an easy, steady, solid beat, with words they could sing along to. I almost cried of joy!
INSPIRING THE FELLAS
As the class was ending, the next class was entering and many of the athletic boys cut through the gym. They eyed what we were doing and wanted to learn, too.
"Come on in." I smiled. "If you get your teacher's permission and you're not missing an academic class, I'll teach you to swing."
Ten minutes later, I was ready to rinse, lather, and repeat, when a few of the boys ambled in with notes from their teachers. Yes! One of the girl's boyfriend came to learn, too. They could practice together later–always a bonus. My bridge-building felt strong. This class was the cheerleader dance class, and they were talented and quick to pick up the rhythm and footwork. I decided to step it up a notch and teach them Collegiate Shag .
I  found two wonderful Postmodern Jukebox songs for them to practice to. The Justin Bieber cover of, Love Yourself – featuring Sara Niemietz, and the Nicki Minaj cover of Anaconda . Both songs had the fast, stomping beat that made it easy for them to hear the rhythm of the Collegiate Shag.
I felt in the zone and ready to come back with more Postmodern Jukebox to bridge the gap, when the tall, slender figure of the Athletic Director promenaded across the floor. Her long wavy hair bounced in time to the Anaconda. She wore a look of consternation on her face as she crooked her finger at me. I turned down the music. The bell dismissed the students.
"Excuse me, who gave you permission to have those boys in your class? That is not allowed." Her fists rested on her hips in a superman pose.
Was she looking for a fight?
"Their teachers did. I had notes from each one of them. None of them missed an academic class." I stood my ground, albeit respectfully.
"I saw a few of them in the lobby, hugging on each other, messing around, PDA (public dispay of affection). I can't have boyfriends coming into the dance class."
Why the hell not? I wanted to yell. I didn't.
"I can assure you," I said instead, "they were in here practicing and learning until just a few seconds ago. They worked hard." I could almost feel tears coming to my eyes. I wasn't sure if it was out of anger or frustration. "I've subbed here for six years, and I've seen students get passes for other classes all the time. I…"
"No," she cut me off. "Ms. Francis, you are doing a great job with these kids, and doing more than most subs would, but we can't have kids messing around like this."
"I'm sorry, but when a kid is inspired to LEARN, to learn anything and is excited and engaged, I'm not going to say, NO." My face felt hot. My blood boiled.
She patronizingly took my hand and patted it. "Maybe you could come after school? Or set up some kind of club for the kids? Or, teach the faculty this salsa stuff."
Salsa? You have no idea what you're talking about lady.
I slid my hand away from hers and gritted my teeth. "Thank you. I'll think about that."
I plastered a smile on my face and wondered how in world I could bridge her cultural and generation gap. Back to the internet? Okay Postmodern Jukebox, what else ya got for me?
::
Did you learn dance in school? Would you have liked to? Has your swing dancing ever been mistaken for another kind of dance? Do you think the Athletic Director was justified in her response? Are teens today too exposed to sex that  to allow them to dance together would be unseemly?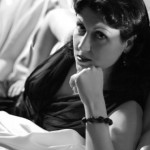 Tam Francis is a writer, blogger, swing dance teacher, avid vintage collector, and seamstress. She  shares her love of this genre through her novels, blog, and short stories. She enjoys hearing from you, sharing ideas, forging friendships, and exchanging guest blogs. For all the Girl in the Jitterbug Dress news, give-aways, events, and excitement, make sure to join her list and like her FB page! Join my list ~ Facebook page