~ My Favorite Halloween Costume Projects ~
It seems like this year's Halloween has snuck up on me. Only ten days before we get to play dress-up. Of course, wearing vintage on a regular basis, I play dress-up more than most. As my children get older they have taken charge of their dressing up and their costumes have become less elaborate, so they don't need mom's help. I thought I would share some of my favorite Halloween Homemade Costumes. The above picture is my two kids and my friend's daughter (Dorothy's costume was store bought).
 We had agreed to go with a Wizard of Oz theme, which may not be original in itself, but how many flying monkeys have you seen? I'm not sure why it thrilled me that my daughter wanted to be the wicked witch, but it was fun to make her costume and the fact that she thought outside the box not wanting to be Dorothy or Glenda filled me with glee. The Flying Monkey, was a horse of another color. At the time there were NO patterns for flying monkey costumes. Perhaps there are now, but when I made his costume I used a standard one-piece body suit which I made in furry gray fabric. The jacket was pure fabrication. This was BEFORE DVDs were popular and we had The Wizard of Oz on video. I paused, and rewound and paused and rewound and hand drew the monkey jacket design. And talk about a pain in the emerald city, all the piping was crazy to sew. Of course I could have painted it on or done something less elaborate, but my mother's voice is forever in my head telling me to do it right.
I also have this crazy vintage standard that when I do a vintage piece  (I considered this costume to be), I want it to look like it could have been made by a mom in 1940. Crazy, I know. And how about his cute faux-hawk and blue face, what a trooper. Below is the poor little fella after the sugar crash. This is one of my fave Halloween pix!:
A couple years later I convinced my husband to do a couples costume and hoodwinked him to be one of the guys from the Brush and Wash from Wizard of Oz (you know the part where they're in Emerald City and getting spruced up to see the Wizard). I had always loved the color green and the cute 40's gals who did the hair trim! I fabricated my husbands hat and my collar and sleeve cuffs. I used a 1940s pattern for the dress body, but fit it a tiny bit long in the waist for me. Although it still worked, it scrunched up a tiny bit at the waist. It was amazing to lindy hop in though!
Moving on to our Alice in Wonderland phase. My kids were enamored with the (then) recent Tim Burton incarnation. I have to admit, I LOVED it, too. (Secret confession: I can recite Jabberwocky and frequently opine to unsuspecting first graders). So, again, non-traditionally, we went with the Red Queen and the Mad Hatter. This time it was my daughter's costume which made me see red. Much to my chagrin I could not convince my son to wear the Hatter's make-up. Here is the inspiration for the Red Queen costume and my reproduction.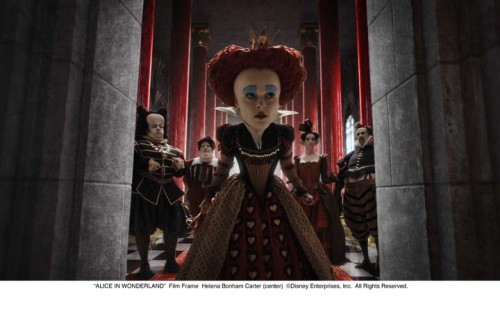 Did I happen to mention I get a bit obsessed with getting as close to the original as possible. Again, none of the standard costume patterns would do. So, I hand painted the front skirt piece below:
 This is BEFORE I painted the gold in the hearts!
I continued my frenzied hand-painting, hand stitching and costume fabrication until I finished and thought it was as close as I could get. My daughter wanted to by a wig for the hair, but again we couldn't find anything that came close enough. So what's a costume freaky mom suppose to do. Well, we dyed her hair (organic, no peroxide) and I wet set and gave her hair a heart shaped up-do. Add the make-up and she was thrilled, as was I. What do you think? How'd we do?
From there we went even further into the past, my very favorite costume to date. This was probably the most complicated as far as sewing and pattern pieces. Although I didn't fabricate any original pieces for this dress, I did use several different patterns. It all started around a masque  my daughter purchased with her own money. We were watching Labyrinth and she fell in love with the masquarade scene and wanted to do a costume around it. This evolved into the Marie Antionette costume, by far still one of my favorites. It is shown here without the mask.
::
Do you have any favorite vintage or Historical Halloween costumes? Do you sew? What kind of patterns do yo use? You're never too old to play dress-up! If you love Halloween check out my collection of 12 spine tingling, vintage romantic tales: Ghostoria.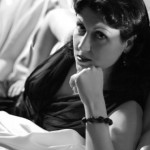 Tam Francis is writer, blogger, swing dance teacher, avid vintage collector, and seamstress. She  shares her love of this genre through her novels, blog, and short stories. She enjoys hearing from you, sharing ideas, forging friendships, and exchanging guest blogs. For all the Girl in the Jitterbug Dress news, give-aways, events, and excitement, make sure to join her list and like her FB page! Join my list ~ Facebook page