Fruit and Luggage Labels for Vintage Backyard Decor
by Tam Francis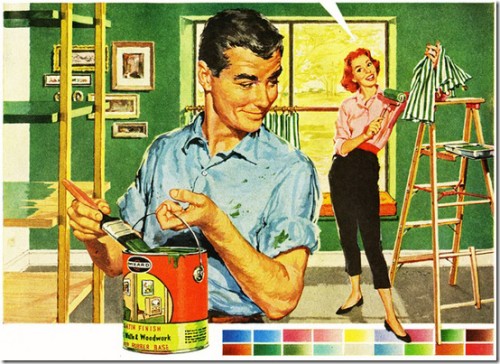 I don't know about your part of the world, but here in the southern U.S. the weather is turning warmer, and people are planting and sprucing up their backyards. I wanted to share one of my favorite projects. How to make a boring wood fence beautiful and add a little vintage backyard decor.
Our house was surrounded by a plain slatted-wood six foot fence. I wanted to grow vines or something pretty to cover the faded grayish brown wood, but hubby said vines would rot the wood faster and increase our water bill–which was true, by mid-summer we're on water restriction.
I had to find something else to inspire me and keep with my 1940s, 1950s theme inside and out.
The Inspiration
I happened to be watching an old movie with a baseball scene and noticed the ads painted on the wooden fence surrounding the field. I'd always had a thing for old luggage labels, (buying reproduction ones to decorate my scruffy vintage luggage). I had an epiphany. What if I painted them six-foot tall on my fences, like the ads in the movie?
Off to the internet I went. While looking up luggage labels, fruit crate labels popped up. I was instantly smitten. I'd always been a crafty girl, sewing, cocktails, baking, and of course dance, but I was no artist. I had to find the kind of labels I could paint.
How To
But how to get them on the fence parts to paint them. Like I said, I'm no artists, but I could paint by number. I found an old overhead projector. Picked out blocky, simple designs, and waited for dark. After much trial and error, I found it easier to paint the background with the solid background color first, and then draw on the design with a sharpie. The pen flowed better and didn't get stuck on the raw wood.
The next morning I would wake to see how my tracing went and begin my mural journey. As I grew more comfortable with the process, I picked out harder designs. I even got the kids into it, letting them paint the big blocks of color. Not bad for a non-artist, and it made the backyard so much more inviting and interesting. Everyone loved to take pictures with the murals as a back drop.
Vintage Backyard Mural Supply List
Wood Fences
Overhead projector
Scanned luggage labels
Craft Paint
Discount gallons of house paint
Cheap brushes
Rollers for background
Sharpies
Tape
Helpful Tips
Start with easy color blocked pictures
Buy up discount gallon paint cans
Paint solid background first
Tape transparency to overhead
Use paint-pens for detailed outlining of letters
Wear bug-spray
Make an outdoor cushion to sit/kneel on
It took me about 5-7 days to complete each one, if I worked on them for 4-6 hours a day. Before we moved, I had completed almost a dozen murals. Now, you can create your own vintage backyard decor.
Hopefully I've given you some easy, fairly inexpensive ideas for making your dreamy vintage backyard.
::
How do you make your outdoors reflect vintage style? We all love the old iron furniture, but what else do you do to make your lifestyle extend to vintage backyard style? Anyone have a victory garden? Interesting sculptures or accessories? Have you ever used the repro luggage labels? Where else do you fit vintage living into your life?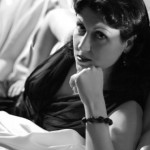 Tam Francis is a writer, blogger, swing dance teacher, avid vintage collector, and seamstress. She  shares her love of this genre through her novels, blog, and short stories. She enjoys hearing from you, sharing ideas, forging friendships, and exchanging guest blogs. For all the Girl in the Jitterbug Dress news, give-aways, events, and excitement, make sure to join her list and like her FB page! Join my list ~ Facebook page