As I work on my new collection of short stories: Swing Shorts (look for release in late 2017 or early 2018), I came across this short story I'd written. Since temperature across the country are hitting the 100s and higher, I thought this the perfect start of summer blog posts. I've used Phoenix as my hot spot, but feel free to insert Austin, Dallas, San Diego, Miami, Oklahoma City, Salt Lake, Las Vegas, or Kansas City, any town that makes you wilt before you start:

Hot Summer Swing Heatwave
Sweat drips down my ass crack, surprising me that I'm sweating so much. I never sweat. I glow. I even perspire sometimes, but sweat, not me. I'm usually good at regulating my body temperature. Not tonight, tonight I'm dripping. The back of my neck feels like I poured water over it. Rivers of sweat course down the back of my thighs, carving rivers and canyons, tickling the back of my knees and pooling into my vintage shoes.
Never again, will I come to Phoenix in the summer. I must really love my niece, or Lindy Hop, or dancing to put myself through this. My face is as red as my garden tomatoes.

Me and Marilyn
I stand in front of the fan, trying to regain some composure. My smile twitches the corners of my mouth as I pull a Marilyn Monroe with my vintage skirt. Thank God I wore cotton and not rayon—cotton is much easier to launder.
I flap my skirt at the fan one more time and glance around the room for my next quarry, my next sweat buddy.
My next victim finds me. I am definitely the victim. His button-down shirt is soaked with sweat and his thinning hair is plastered to his head like a blond Hitler. He dances a crazy Ballroom Jive and I thank God—for the second time tonight–that I never took up Ballroom dancing. I like the way Fred and Ginger ballroom danced, but there's gotta be a social level of this dance that looks like the classic couple, though I've yet to experience it with any ballroomers. This guy is all sharp angles and poses.

For the Love of Fred and Ginger
His lead is actually good and solid, but the moves are weird and don't really go with the music. He's all hands, hands, hands, and pretzel arms. I hate the Pretzel move. He rock-steps, pauses, and windmills his arm around like a big league pitcher. My brain melts into putty, and I have trouble relaxing into the dance. I try to find the joy in the challenge of the unfamiliar, but it's too odd. And too hot for thinking so hard.
With all the swing dance contests and international classes, will my beloved Lindy Hop become as homogenized and exaggerated as ballroom dance has become? Is that the future of anything that becomes commercialized? Has Lindy already funneled down this path?
I dance with another guy, cute, young, sideburns, stocky and a good fit in all the right ways. His lead is good, and his moves, not quite Lindy, are not really East Coast Swing, either. Maybe this is the new breed of swing dance that comes from too much amalgamation? I go with it, but yearn for a hot and fast swing-out with a solid three and four.

Paradise Found
I finally find my solid swing-out in three fellas, Mike, Dabney, and Tucson John. All different leads, but all good and fun. And it feels like swing. It feels like Lindy. It feels like love.
Dabney's turn-of-the-century curling mustache gives him a permanent mischievous look. I do the best I can to keep my hands from slipping and my feet from sloshing around in my shoes. My mind dribbles into a boiling ocean as I try to keep up with the sparse, lanky man.
My follow skills feel a little delayed, maybe a quarter beat behind. The energy slips away with my sweat. Dabney grabs on and sends me out into sharp, snapping whips, just the way I like it. I only hope I don't disappoint in my fizzled sizzle.
Mike feels like someone I've danced with for years, but I haven't. I can't figure it out, but I relish the homey feeling he provides. His coffee skin sparkles with a clean sheen. I stare into his warm brown eyes and find them smiling. Everything he does feels like butter—melted butter right now—but good, sweet butter. He dances us over to the fan, turning me in double spins. The air rushes under my skirt and cools my warm thighs.

Retroman Swings
Tucson John—that's how I remember his name, he's from Tucson—looks like he time-traveled from 1960s Manhattan. His horned-rimmed glasses frame his thin face, and his crisp crew-cut reminds me of pictures of my dad as a young man. John has a subtle Balboa bounce, and his 20's Charleston is divine. As we dance, he throws more and more moves at me, ever complicated. I glide and tuck my hips under me, pulsing on the balls of my feet. His arm muscle twitches below my fingers. Most of his leads I catch, but some of them smear, sliding off my boiling brain. I struggle to keep up.
The three fellas try to convince me to stay an extra day and make one more dance venue the following night. I'm flattered and could dance with them to world's end without becoming bored. They try to sway me with a promise of good old-fashioned, air-cooled refrigeration. I'm not entirely convinced that air-conditioning will hep my jive, and I very much miss my own home and my local love.
I opt not to stay, but take the memory of my hot summer heatwave home with me.
::
Have you ever danced anywhere too hot to dance? What kind of vintage do you prefer to wear in hot weather? What's your favorite hot city to dance in? Do you have any suggestions for dancing in the heat?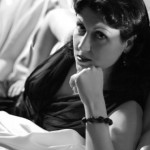 Tam Francis is a writer, blogger, swing dance teacher, avid vintage collector, and seamstress. She  shares her love of this genre through her novels, blog, and short stories. She enjoys hearing from you, sharing ideas, forging friendships, and exchanging guest blogs. For all the Girl in the Jitterbug Dress news, give-aways, events, and excitement, make sure to join her list and like her FB page! Join my list ~ Facebook page