~ Meet Jimmy Valentine the Extraordinary One-Legged Lindy Hopper ~
by Peter Loggins edited by Tam Francis
About Peter Loggins
Peter is a dancer and dance historian who I had the very great pleasure of working with for my magazine Swivel: Vintage Living, and also the good fortune to take many lessons from. He's collected a myriad of stories from old-timers who were alive in the great era. Below is a wonderful article he wrote for the magazine about an amazing swing dancer.
About Jimmy Valentine
Born Paul Parinee on Sept. 5th in New York, caught the dance fever at the tender age of eight. He took the stage name Jimmy Valentine shorty after that first performance and began dazzling audiences all over the New York area.
His love for jazz led him to Harlem where he started localizing the Savoy Ballroom where he learned the Lindy Hop.  Many would later come to know him as one of the best. His talent led him to perform with Whitey's Lindy Hoppers for two years, taking him to the stages of the Appollo theatre and two tours of the southern United States. It was on these tours that Herbert White had Jimmy disguise himself as black while performing. It was dangerous in those days to associate yourself, let alone perform interracially, in the deep south. Because of that, Herbert White finally sent Jimmy home against his will.  It just wasn't safe for Jimmy.
The Move to Los Angeles
Shorty after, Jimmy moved to Los Angeles and quickly met up with the locals at places like Diana Ballroom, Palomar, Bourston's and the Hollywood Cafe. When it came to swing dancing, Jimmy was one of the best and a favorite with the ladies, not only because he was such a great dancer but because he was one of the most handsome men that stepped foot on the dance floor.
Irene Thomas (the brunette in the Groovie Movie) said Jimmy was a dream to dance with, so smooth, so firm and yet gentle. He was a true leader and usually had the girls lined up to dance with him. Jimmy went on to perform on the Ed Sullivan Show seven times and in the late 1950s became a regular partner with Peg Leg Bates to show the world again his amazing ability as a team.
A Leg to Stand On
Oh, and I forgot to mention, Jimmy had gone through life with one leg. When Jimmy danced with ladies on slower songs he would use his crutch positioned under his right arm while he whipped into a move most people couldn't do on two legs. When the music got hot and fast he would toss his crutch aside and fly, leaving onlookers in awe as he swung out.
I had only gotten to know Jimmy in the last couple of years and was lucky enough to have done so. He was kind and enjoyed talking about his past. His last years were spent in Las Vegas where he kept in contact with one of his older and dearest friends Norma Miller. She shared with him her life and times gone by.
At 4:10am February 1st 1999, Jimmy left us, making it not only a sad day for dance, but for the world. Another legend had gone to a better place. As we all partake in an art form that Jimmy dedicated his life to, I know he is looking down on us and smiling.
For more info on Jimmy Valentine, other swing dance legends and more in-depth historical dance info, visit Peter's site: The Jassdancer.
::
Have you met any legends of swing dance. Would you like to share your story. Let use know. Do you know anyone who dances with a disability? Jimmy makes an appearance in my next novel, the sequel to The Girl in the Jitterbug Dress. I had fun giving him a cameo for my 1940s gal.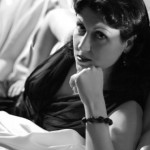 Tam Francis is a writer, blogger, swing dance teacher, avid vintage collector, and seamstress. She  shares her love of this genre through her novels, blog, and short stories. She enjoys hearing from you, sharing ideas, forging friendships, and exchanging guest blogs. For all the Girl in the Jitterbug Dress news, give-aways, events, and excitement, make sure to join her list and like her FB page! Join my list ~ Facebook page