~ Rock the Casbah: Lindy Hop Mosh ~
The night started out good. I fit into a vintage creation I hadn't worn in years, a spicy little pant jumper sewn from a late 1930s pattern done in red and white gabardine with blue striped trim, very WWII. We arrived at the infamous Casbah Club early, grabbing one of the three lone tables which lined the dance floor and provided good stage views. We spread our purses and sweaters across the formica and hooked our feet to extra stools. The fabulous 1940s perfection Monica and the 1950s doll, Angie showed up in vintage splendor.
Other swing dancers and lindy hoppers trickled to our table and claimed their spot. The joint filled up fast and was soon standing room only. An old friend, Alberto, looking fine in 40's gabardine Ike jacket and hand-painted tie, stopped by our table for hugs and gave me my first dance of the night. It has been a good five years since we danced; his East Coast Swing took two turns and a rock-step, before we clicked but quickly found our groove.
Trying to Farm the Lindy Beat
A Henry's (downtown bar) transplant grabbed me for a dance in front of the stage. The opening band, The Farmers, defied classification. Alt Country-ish with good dance beats albeit a little too country for me. They transitioned into 60's Go-Go tunes and1970's rock-in-roll. It was such an eclectic mix of I couldn't figure how they were a good fit for the headliner, Big Sandy and the Fly-right Boys.
After what seemed a couple songs too long, The Farmers quit the stage and the gawkers filed out toward the back bar and patio. We die-hard dancers took over the floor. I dragged one of my regular partners out to the floor and warmed it up. His swing-out and circles make a girl swoon in lindy hop heaven. Two more buddies, Carl and Sal made an appearance. Carl took me for a test drive which was solid and sweet. The beer sunk into my bones and loosened my reserve. I was one with the music and the partner at the end of my arm.
Big Sandy lit up the stage and sung to us in his sweet, vintage sounding lilt. His blend of rockabilly,  honky-tonk, rhythm & blues and doo-wop made him a perfect match for swing dancers. I was on cloud nine. The dancing became combatant; mosh pit conditions and I couldn't get enough. Big ole rockabilly gals threw their weight around, hoppers with cutting elbows and bumping backsides made room to swing out, and god awful drunk girls doing hoochie-coochie dances in front of the band, all fought for space on the floor like teenagers at a punk show. I switched to a Bal Swing and floated around the floor. Sal took me for a spin and shifted my world with an amazing Cha-cha-cha (lindy straightened out to a Latin beat).
Back on the Floor with my Man
My husband inspired by Big Sandy's "Feeling Lucky" led me to the dance floor. The Fly-Rite drummer boy kept the beat solid and sweet. Big Sandy crooned in melodic pitch. After being on a boat for months my man's Lindy was rusty and rough, but it felt good, it felt like home. The moves came back to him as we pinballed off the other dancers, their bumps threw our bodies together and that was very good, we fit. Big Sandy wrapped up the song with a "thank ya dancers," which made us love him even more. He and his boys were one of the only bands that "thanked" the dancers and we would follow him anywhere, and often did.
I tracked down Dance Instructor Joel who tried for incognito in plaid jacket and baseball cap. I coaxed him out onto the floor where his nice easy lead cleared a path for us. He was all grins and silliness and it was delightful to have him out dancing with us in San Diego, not teaching in a foreign city.
The crowd of voyeurs had left, none were left standing; we stayed and swayed until Big Sandy and his Fly-Rite Boys played the last song. Hugs and kisses rolled the night in reverse, good-byes felt like greetings. We walked out into a soft rain, droplets littered our skin like glitter.
::
Ever been to the Casbah? What's your fave dive bar with loads of history and atmosphere? Do you like places like the Casbah, why or why not?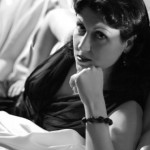 Tam Francis is writer, blogger, swing dance teacher, avid vintage collector, and seamstress. She  shares her love of this genre through her novels, blog, and short stories. She enjoys hearing from you, sharing ideas, forging friendships, and exchanging guest blogs. For all the Girl in the Jitterbug Dress news, give-aways, events, and excitement, make sure to join her list and like her FB page! Join my list ~ Facebook page