Be My Guest
I'm excited to welcome fellow Lindy fiction novelist, Renee Conoulty to my blog. Before we get into her wonderful guest post about vintage fashion hair accessories–Snoods–I wanted to make sure you knew about her debut swing dance novel: It Don't Mean a Thing.
I met Renee on twitter as we both found ourselves tweeting about a lot of the same subjects: Lindy Hop and vintage fashion. Then low and behold, Renee had a swing-centric novel, too. Where GitJD is rooted in the 1940s and 1990s,  It Don't Mean a Thing is totally contemporary.
I recently finished reading it and adored her main character and supporting cast. Renee, being a "down under" gal, found me scratching my head at some of her references–vocabulary and slang were different than American, but I loved every bit of the diversity. In the end though, the emotional content and wonderful dance world carried me through to the climatic and satisfying end. Make sure you click her links to check out her wonderful novel.
About: It Don't Mean a Thing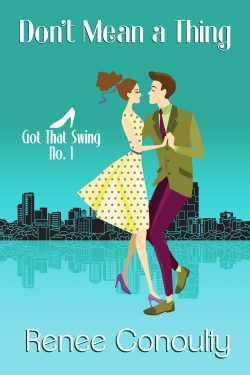 What if you finally took the lead, but life refused to follow?
Thirty-year-old introvert, Macie Harman, has finally found a career she is passionate about, and after months of training, she's begun her new job in the Royal Australian Air Force. Leaving behind her family, friends, and the life she knew, Macie has travelled to the other side of the country where the only person she knows is Rachael, the extroverted girl she went through basic training with. Everywhere Macie goes, Rachael is there too.
While looking for a way to widen her circle of friends in her new town, Macie discovers a local swing dancing class. The jazz music captures her heart, and Matt, the sexy swing dancer, sweeps her off her feet. Matt has claimed the tropical Northern Territory as home and has no plans to leave. He loves his teaching career with its predictable routine and has a great bunch of friends. All he wants now is the right girl to make his house a home.
Military life is tougher than Macie expected, and not everyone can deal with the inevitable separations and last minute changes. Is this exciting but unpredictable life something Macie wants to fight for, or could she give it up and put down roots with Matt?
Vintage Hair: Snoods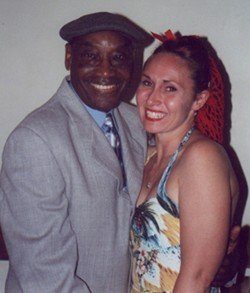 A great way to finish off your vintage look is with a vintage styled accessory or hairdo – or even a vintage styled accessory in your hair. A snood is the perfect way to add a vintage touch and a fun project to make yourself.
When I started swing dancing back in 2000, it took me a little while to master victory rolls (well, maybe not quite master, but jam in enough bobby pins to pretty much hold it in place). A snood looks great pinned in behind your victory rolls to cover the rest of your hair, or if you haven't mastered them yet, just section off the hair in front of your ears into an elastic, push it forward a little to give it some volume then pin the snood behind.
You can even wear a snood if you have short hair. I know a few ladies who filled the snood with fake hair extensions or even stockings. There are lots of different patterns for snoods. I prefer to crochet, so here's a to the pattern I used to make mine.
Make Your Own Snood
If you don't like to follow pattern and have some basic crochet skills, here are some simplified instructions.
1. Draw a 45 cm (18 inch) diameter circle on a sheet of paper to use as a guide.
2. Using a series of chain stitches and trebles (or double trebles) crochet an open square mesh,
increasing and decreasing as required to fit the circular guide.
3. Cut a piece of hat elastic and tie off to fit your head circumference.
4. Single crochet over the elastic, around the outside of the circle of mesh.
5. Tie a bow with matching satin ribbon and stitch to the front of the snood (the front can be wherever you like, but line the mesh up as either square or diamond so it looks good once on).
There are lots of other things you can do to decorate your snood. I've added metallic thread to the wool for one and stitched a scattering of imitation pearl beads on another.
All About Renee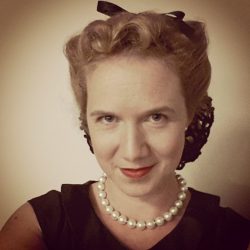 Renee Conoulty is an Australian Air Force wife and mother of two. Her debut chick lit novel, It Don't Mean a Thing, is now available through Kindred Ink Press.
When she's not devouring books, reviewing and blogging on HeySaidRenee, or writing her own stories, Renee can be found swing dancing. Or possibly napping. She tweets about reading and reviewing @HeySaidRenee and about writing, military life and dancing @ReneeConoulty, but hasn't created a handle for nap talk yet.
Sign up for Renee's monthly newsletter for her highlights on blogging, reading, writing, and life.
Renee's Book Links
Social Networking Links
::
I hope you enjoyed visiting with Renee as much as I enjoyed meeting her and reading her novel. Do you like a little romance mixed in your Lindy fiction? How much fashion and passion do you like? Have you read Renee's book? Do you wear snoods? Have you crocheted any? Where do you find your snoods and how do you wear them? Have you read or written a book you'd like reviewed by the Vintage Reviewer? Please comment here and let me know!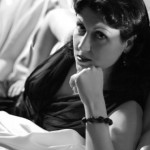 Tam Francis is a writer, blogger, swing dance teacher, avid vintage collector, and seamstress. She  shares her love of this genre through her novels, blog, and short stories. She enjoys hearing from you, sharing ideas, forging friendships, and exchanging guest blogs. For all the Girl in the Jitterbug Dress news, give-aways, events, and excitement, make sure to join her list and like her FB page! Join my list ~  Facebook page