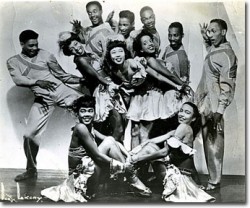 ~ Swingin at the Savoy: Book Review  ~
by Tam Francis
Lindy Circles
If you've heard the name Norma Miller, you're probably a Lindy Hopper. The mention of her name in Lindy Hop circles always spark discussion. Even if you're not a swing dancer, read her book, Swingin at the Savoy. You'll be invited on a journey through a girl's life in Harlem, her struggle with prejudice and poverty, her success as a dancer, an award choreographer, show producer, stand-up comedian, TV & film actress, and finally author.
Early Norma
Swingin at the Savoy  begins with Norma returning to Harlem after many years and many successes. We quickly journey back to when her mother Zalama Baker, landed on Ellis Island. From there the book takes you on a short walk through her mother's courtship, Norma's birth and her father's death. Writer, Norma Miller drops us off in Harlem on a hot night with little Norma listening to tunes floating up from the Savoy Ballroom. "One of these days I'm gonna go in there and dance the night away."
Savoy & Hollywood
It wasn't too long before Norma was swingin at the Savoy, the Cotton Club, Broadway, Hollywood and the world. Vivid descriptions of the Savoy Ballroom fill the book with excitement, wonder, and nostalgia. Swingin at the Savoy is simply written with an intense and personal perspective peppered with facts and locales long forgotten. Pictures of young Norma, Whitey's Lindy Hoppers, musicians, singers, movie stars and more are scattered throughout the book.
Swingin at the Savoy Quotes
Norma's reminiscence of dancing with Whitey's Lindy hoppers highlights from Swingin at the Savoy:
"Each of Whitey's dancers was unique and we never copied each others' steps. That was taboo, dancers were known by the steps they created. There was Snookie Beasley's famous "Lock Step" in which he swung the girl around and reversed, throwing her weight such that he is able to lean on her with his legs twisted and locked. There was Long George (Greenwich) who, because of his long legs, did his Charleston Split. Of course there was Stompin Billy, who had a way of slapping his foot that brought the house down. Then there was Leon James with his Wobbly Legs that could never be duplicated. These were the things that made each dancer's Lindy Hop distinct."
Most dedicated hoppers  spent hours watching the old clips and like Norma said, duplicating some of them (the dance moves/steps/footwork/style) can't be done. Swingin at the Savoy is rich with reference and description of the dancers.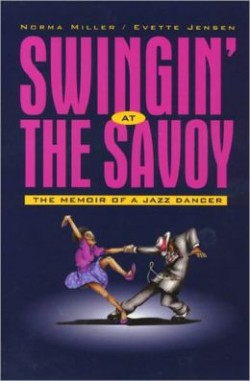 Miller takes us to Hollywood with her in a visit that is all too short. We spend a brief time on the set of Helzapoppin and Day at the Races. Ms. Miller focuses on the tours and the internal struggles of Whitey's management style.
"She [Ethel Water] understood the hold that Whitey had over us, and being a compassionate woman, she resented the way he had treated us. She started watching us like a hawk…Miss Waters and Whitey were two old veterans and it was inevitable that the two would lock horns over us. We were her star act, and she didn't want anyone, including Whitey, mistreating us."
Musicians & More
We get up close with some famous musician/singers like Bob Baily, Joe Williams and John Hendricks. Some inclusion of movie stars, musicians and performers appear almost stuck in as an afterthought.  Nonetheless, they are welcomed and appreciated. Swingin at the Savoy contains many great quotes, and I longed for an index to have them at my fingertips. One of my favorites is from Joe Williams and it illustrates Norma's love of music and dance.
"All over the country wherever you went there were dance halls, and the people went them to dance. The bands played wing music, and it felt so good that the dancers would dance from the first number to the very last note. Really, as a musician you did it as much for the dancing as you did for the music."
[Swingin at the Savoy by Norma Miller, Evette Jensen, Temple University Press, Copyright 1996].

Vintage Enthusiast Rating:
Fashion: ♥♥
Music: ♥♥♥♥
Dance: ♥♥♥♥♥
::
Have you had the pleasure of taking lessons from or dancing with Norma? Did you read Swingin at the Savoy? What did you think? Should all swing dancers read this, a must read?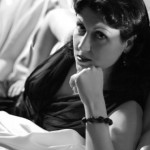 Tam Francis is a writer, blogger, swing dance teacher, avid vintage collector, and seamstress. She  shares her love of this genre through her novels, blog, and short stories. She enjoys hearing from you, sharing ideas, forging friendships, and exchanging guest blogs. For all the Girl in the Jitterbug Dress news, give-aways, events, and excitement, make sure to join her list and like her FB page! Join my list ~ Facebook page Don't forget to follow my blog (sign-up in sidebar).