The Little Church of the West Unites the Past & Present
by Tam Francis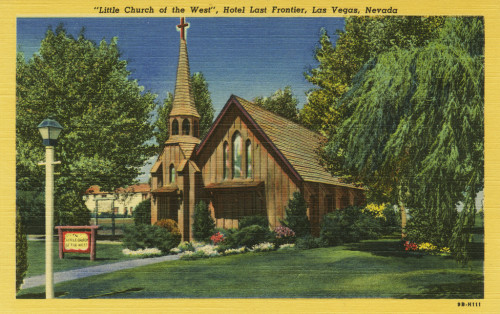 I'm always surprised when the past folds on itself and reveals a connection that seems too  serendipitous to be real, though that's what moments of fictional romance are made of, aren't they? But then life's often stranger than fiction.  So three parts of my life came together for a brilliant flash of magic, but maybe it's just my perspective—placing value where none really is. See what you think.
My Past
Way back in 1995 I met this awesome guy who dressed vintage and loved old movies. I coerced him (it didn't take much—a smile and invite) to check out Lindy Hop lessons with me. Two years later with a lot of  dance fun in between we were planning our wedding, but my mom fell ill. She had her first brain tumor, a hemangiopericytoma, so we postponed the wedding. But I'll tell you a little secret. Dave and I snuck off to Vegas and got married anyway. We told no one. I still wanted the big wedding and didn't want to deny my family, folks, and friends, but we were moving from Phoenix to San Diego and wanted to be hitched before we did. Three months later we came home and had the vintage wedding of our dreams.
Fast forward ten years, two babies, a house, a rescued cat, still dancing in between deployments and raising kids, Dave surprises me with a trip to Vegas to renew our vows. Well, the Little Chapel by the Courthouse, where we got hitched, was no longer there, but this other wonderful little place—you guessed it—The Little Church of the West, was. We donned our vintage duds and took another stroll down the aisle.
Here & Now
So what does this have to do with the now and serendipity? I'm getting there…. My mom just died losing her battle with the brain tumors, and I'm burying myself the only way I know how—in writing and avoiding the real world, doing research for the sequel to my swing dance vintage novel, The Girl in the Jitterbug Dress Hops the Atlantic.
My 1940s character has just come to early Vegas and I have her working at the second casino to be built on the strip, The Last Frontier.  As I read different accounts about the hotel, I kept running into references of The Little Church of the West, built as an authentic replica of a pioneer church in California. The more I read about it, the more I realized, it was the SAME church my husband took me to eight years ago to renew our vows. You'd think I wouldn't forget a thing like that, but after a move to Texas, kids in soccer, theater, choir, cheer, student council, eight chickens, two cats, a dog, a foreign exchange student…you forget. You forget those little moments of beauty, of connection, islands of emotions that fade with time.
The Reminder
With the fresh loss of my mom, the reminder of what a good guy my husband is, and how a wonderful vintage thread runs through my personal tapestry, The Little Church of the West tied the strings of my life together at the moment I needed it. Call it serendipity or my own grasping at straws of connection, I'll call it a little bit of life magic.
Chapel Fun Facts
It was William Moore's, nephew to Texan R.E. Griffith, idea to build the Little Church of the West
It's built of California redwood
Opened its doors in 1942 on what would later become The Strip
Built as part of the Hotel Last Frontier complex
The four Victorian lamps that light the chapel are believed to be from 19th-century railroad cars but have since been converted from gas to electric
The chapel was moved from the north side of the hotel to the south side in 1954
To make way for the Fashion Show Mall, the chapel was moved onto the grounds of the Hacienda Hotel and Casino in 1979
When the Hacienda was closed and demolished in 1996, the chapel moved again to its current location on the east side of the strip south of the Mandalay Bay
The church was listed on the National Register of Historic Places on September 14, 1992
In 2012, the Little Church of the West celebrated its 70th anniversary and remains the oldest chapel on the Las Vegas Strip
Elvis Presley and Ann-Margret recited their vows in the movie Viva Las Vegas, filmed at the Little Church of the West
Celebrity Weddings
January 10, 1942 Actor Mickey Rooney first married Ava Gardner
July 5, 1943 Actress pinup girl Betty Grable married bandleader/trumpeter Harry James
1945 Actress Deanna Durbin married Felix Jackson
1949 Actress Zsa Zsa Gabor married actor George Sanders
June 1954 Actor Fernando Lamas and Arlene Dahl
July 2, 1963 Singer Dinah Washington and Dick Lane
1988 Actor Dudley Moore and Brogan Lane
December 12, 1991 Actor Richard Gere and Cindy Crawford
May 5, 2000 Actor Billy Bob Thorton and Angelina Jolie
2001 British Actress Billie Piper and Chris Evans
::
Where did you get married? Who's celebrity wedding do you think would have been the most fun?  Have you ever been to Vegas? What did you like or not like about it? Do you have a serendipitous moment that felt like magic or the past seems to met the future?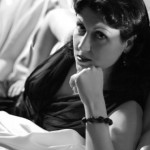 Tam Francis is writer, blogger, swing dance teacher, avid vintage collector, and seamstress. She  shares her love of this genre through her novels, blog, and short stories. She enjoys hearing from you, sharing ideas, forging friendships, and exchanging guest blogs. For all the Girl in the Jitterbug Dress news, give-aways, events, and excitement, make sure to join her list and like her FB page! Join my list ~ Facebook page