The Paris Wife: 1920s Hemingway's Hadley Book Review
by Tam Francis
The Synopsis
The Paris Wife written by Paula McLain (2012 Random House), tells the story of Ernest Hemingway's first wife Hadley Richardson at the cusp of Hemingway's writing career. The story opens with Hadley visiting friends in Chicago and meeting the pre-published Hemingway. McLain gives us a ringside seat for the first match as Hemingway starts a literate love affair–writing Hadley fevered letters after she returned home, often several a day. Ernest is like no one she's ever met, brilliant, masculine, funny, vibrant, and amazingly, he's interested in her.
He pulls her out of her dreary, safe existence marrying her and whisking her of to 1920's Paris. This is when the story really heats up. We meet notables like Gertrude Stein, Ezra Pound, James Joyce, and F. Scott Fitzgerald. Even though we root for Hadley, we, like Ernest, can't help being seduced by the glamour and artistic, intellectual expatriates that circle their lives.
As Ernest's career starts to take off, Hadley's person is further eclipsed and it becomes harder and harder to cheer her on as she mires in the unglamorous rituals of raising a baby and meekly fending off the women who try to seduce Ernest. It's interesting to see Ernest through Hadley's eyes, though Hadley is a bit of  a pushover, and we are more than relieved when she finally calls it quits after one particular woman worms her way into their life, ultimately destroying their marriage.
Although Hadley is the heroine of the story, we can't help loving and hating Ernest as she did, and understand that everyone else, Hadley included, was just shadow boxing with him. He's a fella you love to hate.
What I liked about it
Great clothing descriptions of not only the women's fashions, but the men's as well
Rubbing elbows with the Fitzgeralds and other literary greats. McLain wrote a particularly beautiful scene describing Zelda and Scott dancing
Sipping cocktails with the Hemingways: the descriptions of drinking Absinthe and other exotic cocktails
Made me want to try Hemingway's books again, (wasn't a fan before, but want to try again)
Learning about Hemingway's writing process
What I didn't like about it
Hadley's meek subservient character
McLain wrote beautifully about their surroundings, their time in Pamplona, and their vacations, but left me cold with their love scenes, I wanted spicier love scenes
Some of the repetitive feel sorry for herself of Hadley's inner dialogue
I wanted more of the club scenes with them drinking, dancing and hob-knobbing
The cover art is all wrong. The woman on the cover looks 1950s, not 1920s
Overall
As a lover of vintage fashion, music, and dance this historical fiction had enough to keep me swinging. In the end, The Paris Wife
is several books in one: a love story, a woman's struggle for independence and happiness, and a myopic, time-stamped biography of Hemingway. Pull up a ringside seat and place your bet.
Vintage Enthusiast Rating
• Fashion: ♥♥♥♥
• Music: ♥♥
• Dance: ♥♥
:: Have you read The Paris Wife? What did you think of Hadley? Are you a fan of Hemingway? Do you think artists should be given a wide berth to create their own moral universe?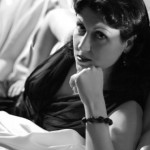 Tam Francis is writer, blogger, swing dance teacher, avid vintage collector, and seamstress. She  shares her love of this genre through her novels, blog, and short stories. She enjoys hearing from you, sharing ideas, forging friendships, and exchanging guest blogs. For all the Girl in the Jitterbug Dress news, give-aways, events, and excitement, make sure to join her list and like her FB page! Join my list ~ Facebook page