Threadbare: The Traveling Show
by Tam Francis
The Synopsis
Threadbare: The Traveling Show (CreateSpace, 2016) by Alexandra DeMers is an alternative history young adult romance set in post-World War II.
The New American Republic controls a large swath of the United States, but a resistance team of subversive patriots  work to overthrow the iron-fisted regime. Our heroine, a sheltered young woman, Amandine, is thrown into chaos when her father is killed in action and her mother imprisoned, mistakenly suspected of ties to the resistance.
Amandine sells her only asset, the family home, and sets out on a dangerous adventure to rescue her mother. In route, she meets the young, dashing Rene who introduces her to his family, a band of gypsy/circus characters who are on their way to a festival with a performance competition, not far from where her mother is being held. Her skills as a seamstress make her indispensable to the company, but with the NAR hot on her tail, not everyone in the troupe is happy to keep her on.
As they near the prison and the competition, Rene will be forced to show where his loyalties lie and Amandine's courage and conviction will be put to the test. Threadbare a story of loyalty, bravery, love, and what it means to be family.

What I liked about it
Great tag line for Threadbare: How do you piece together your life when the world is falling apart at the seams? 
I adored the post-apocalyptic/post WWII, dark setting that had a subtle steampunk edge.
The coming-of-age romance aspect was delightful and just the right about of steam for young adult, (though this adult wanted more).
 I fell in love with Rene and Amandine and the compelling, loveable, vivid unique supporting characters as well in Threadbare.
DeMers knowledge of fabric and sewing.
Threadbare, had great suspense and tension building with several wonderful twists, one I saw coming, the other surprised me in a delightful way.
Wonderful, creative, original character and place names like Tall-me, Glorious Halloway, Thatch, and Nieuwestad.
The fun use of slang like, cooking with gas, ducky shin-crackers, and more.

What I didn't like about it
Although, the cover was pretty and the original photography top-notch (love the lighting), I wanted the cover to reflect more of a vintage, postwar, traveling show theme and certainly feature a vintage caravan.
I wanted a little more back-story to the NAR. I felt like the alt history was murky, although I went with it, I wanted more explanation. I didn't need the explanation up front, but the history of how the NAR came about and the relationship to the rest of the world, ala The Man in the High Castle.
Although the prologue was beautifully written and could stand alone as a short story, it threw me off. I was quite a ways into the story when I figured out where the prologue fit, but since Threadbare was primarily Amandine's story, it didn't work for me.

Favorite Quotes
"Hello, everybody! My name is Marc Antony and you are listening to the best station on the radio, the only one that will satisfy you ducky shin-crackers anymore—"
She struck him as something innocent and fragile. She was like someone's irreplaceable possession, hidden away and carefully guarded throughout the war; weakened, but otherwise undamaged by dark times.
She wore a striped corset with the bones removed and the front cut out in the shape of a heart, baring her stomach. The rest of her limbs were wrapped in scraps of black lace, mesh, ribbons, and her shadowy new look was completed with a pair of gloves and ballet slippers.
Amandine gave the stop motion a turn and the machine moved flawlessly, making a familiar soft cha-cha-cha-cha sound that reminded her of happier times.
"What I've got planned for the festival is gonna be harder and stronger than jazz. It'll be faster and hotter than swing! But I am just one man with a little electric music box. I got some really big dreams and if I ever want to see those dreams come to life, I need some ingenuity, some creativity, and a little magic!"
Overall
I thought this was an original, hip, interesting, and compelling read with characters I was rooting for all the way through. Although the novel is marketed as young adult historical fiction, there's enough mature themes and story to satisfy any age, and enough vintage and fashion to inspire GitJD blog followers. I highly recommend this read, and put it at the top of my list. Read it today.
 Vintage Enthusiast Rating
Fashion: ♥♥♥♥♥
Music: ♥♥♥
Dance: ♥
::
Do you like a little romance mixed in your historical fiction? Do you read much Young Adult fiction? If so, why or why not? How far would you go to save a member of your family? Do you think family is always a blood relations? Do you have people in your life that you consider family, even if you're not biologically related?  Have you read or written a book you'd like reviewed by the Vintage Reviewer. Please contact me!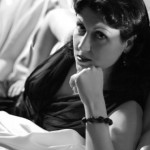 Tam Francis is a writer, blogger, swing dance teacher, avid vintage collector, and seamstress. She  shares her love of this genre through her novels, blog, and short stories. She enjoys hearing from you, sharing ideas, forging friendships, and exchanging guest blogs. For all the Girl in the Jitterbug Dress news, give-aways, events, and excitement, make sure to join her list and like her FB page! Join my list ~ Facebook page