Halloween is my favorite holiday. I love the idea of being a character or someone different, plus it has all the fun festivities as Christmas without all the stress of gift-buying, party-going, and in-laws. Over the years I've tried to cull my decorations to have a vintage Halloween motif. I try to stay away from the newfangled ghosts, pumpkins, and skeletons, and find vintage Halloween decoration that might have been in Meet me in St. Louis or The Donna Reed Show.
I've taken out some of the guess work for you and put together a list of must-haves to set you on the spooky vintage Halloween path. I've chosen the items because of their look, quality, and timeless sophistication. All items are reminiscent of pre-1960s era style.
This is a must have. Fun for kids and adults. I chose it for it's size, price, and potential party fun. I'm sure the resourceful among you can find a way to add a little cocktail fun into this game of fortune. Don't take a chance on your fate. Make sure you add this to your vintage Halloween decor!
This garland was so charming and unique I couldn't pass it up. Black scaredy cat, a jack-o-lantern man, a cute owl, a witch and a little flying bat make the pattern. In simple orange, black, and white tones this banner style garland will add vintage sophistication to any decor. The designer used a heat-transfer method onto light wool felt for many years of re-use and durability. The only draw-back is at four inches by four inches, I wish they were a tiny bit bigger and more of them. Buy at least two strands for a complete look.
If you don't want to go the entire route of dressing up in random costumes, why not ask guests to wear all black? This choker is the perfect accessory. It exudes vintage Halloween charm. At such an affordable price, why not buy one for each of your guests. They come in several different styles and are packaged in a box perfect for gift-giving.
These adorable ceramic salt and pepper shaker will spice up any party. With the classic 1940s 1950s look they will compliment any buffet or dinner party for your special vintage Halloween evening.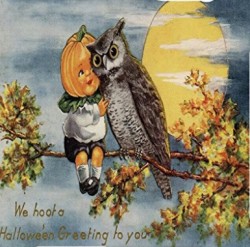 One is nice, but two is better. Don't forget about your sitting room or parlour. These adorable vintage Halloween pillow covers will add subtle charm to any room. I love the nostalgic look of these prints. They're right off of early century Halloween postcards. They're removable and lay flat for easy storage and at their great low price, what's not to love?
Planning on doing a little swinging or some lindy-hopping at your Halloween shindig. These will liven up the dance with these 1940s 1950s cat characters wielding musical instruments. Made of cardboard stock and standing seventeen inches high, they will easily add hep atmosphere.
If the felt banner is too expensive for a tight for budget, this banner garland made to look like vintage lanterns will do the trick. I love the art nouveau style of these. The faux lanterns hang seven inches tall, repeating twice and can be stretched out to twelve foot on the thread, but look best at about three to four foot. Witch, cat, devil, and owl with stylized jack-o-lantern are in simple orange and black silhouette in durable thick paper.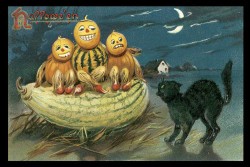 Add some art to your vintage Halloween decorating. These posters are reproductions from vintage postcards. They each measure approximately 12 x 16 with two-inch borders for easy framing. Not too expensive and absolutely gorgeous and sophisticated. Add a couple of these spooky prints to make your guests feel surrounded by the past.
Don't forget party-goers will have to use the bathroom. Don't stop the vintage decor. This nostalgic scene turned into a shower curtain is an easy and inexpensive way to carry the vintage theme into the bathroom. Try this style or the 40s 50s pin-up style to complete your overall atmosphere.
This is the perfect idea for party-favors. Fill each retro bag with candy, straws, and other goodies. Spice it up for adults by adding a mini bottle of booze. Last year I bought everyone Kraken Rum. They were delighted with the frightening old-school line-art that graced the bottle. Add something like that and your vintage party is sure to be a hit!
Have a ghost story reading on Halloween with these original fiction tales steeped in vintage fashion, dance, and music. Buy a few extra copies as give-aways for prizes at your party. Participate in Neil Gaimans, All Hallows Read. Ghostoria contains twelve different stories from all your favorite eras.
I hope I've given you some ideas on how to make a wonderful vintage Halloween party with tips and easy links.
::
Got any more ideas to share? What else do you do for Halloween to keep it vintage? Costumes? Food? Decorations. Do you try to stick to one era? Which one? Victorian? 1940s? 1950s? Do you go for an overall color scheme. I want to hear all your fun ideas!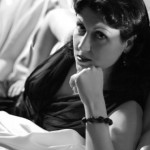 Tam Francis is a writer, blogger, swing dance teacher, avid vintage collector, and seamstress. She  shares her love of this genre through her novels, blog, and short stories. She enjoys hearing from you, sharing ideas, forging friendships, and exchanging guest blogs. For all the Girl in the Jitterbug Dress news, give-aways, events, and excitement, make sure to join her list and like her FB page! Join my list ~ Facebook page