Vintage Sewing Pattern Plus Montage Dance & More
For many years my family and I have participated in Vaudeville at the Baker,  an old-fashioned variety show. This year's theme was Rat Pack Vegas a la 1950s style. We were involved in three acts as well as my hubby playing Frank Sinatra and myself as a cigar/cigarette girl.
For this show, I made use of almost all my talents (no writing), I costumed three acts using a vintage sewing pattern for one, choreographed all the dance sequences, assisted with hair and make-up backstage, and acted–playing the part of a Vegas lounge cigarette girl, (interesting how often Vegas comes up in my life–check out my blog post about getting secretly married there and renewing our vows for our ten-year anniversary, and how it connects to the second book (Hops the Atlantic) in my Jitterbug Dress series.
Vintage Sewing
First up was my daughter and two other talented ladies who performed Please Mr. Postman a cappella, which required 1950s matching costumes, of course. For this song I broke out the sewing machine and worked from a 1950s vintage sewing pattern. We choose a bold fabric that we could incorporate a red, white, and blue US Postal theme. Not quite a circle skirt, but almost, it gave the girls plenty of room to dance with nice movement on stage.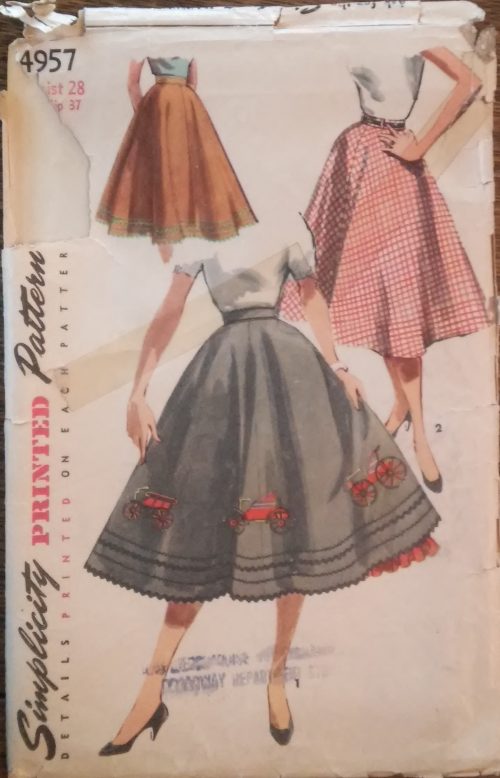 We went with a discount fabric from Wal-Mart that was only a dollar a yard. I needed at least three yards per skirt per girl, plus all the notions, plus all the other costume accessories. Below is the vintage sewing pattern laid out on my dining room table. The pattern shows a seam front and back (plus sides-four-gore), but instead, I cut two on the bias, making it nice and full. I really like the way fabric hangs when cut on the bias, especially for anything dance related.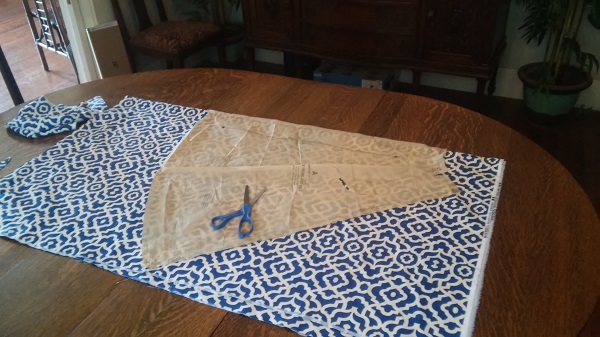 I actually almost ran out of fabric on the third skirt. Thank goodness my daughter is so short, although I did bring the volume of the skirt in a little since I had to fold the fabric a different direction. I was afraid the skirt would look odd when put together, but it didn't. The colors ended up being perfect with the red blouses, red shoes, and white bobby socks.
Here they are with the postman in their fave Charlie's Angels' pose.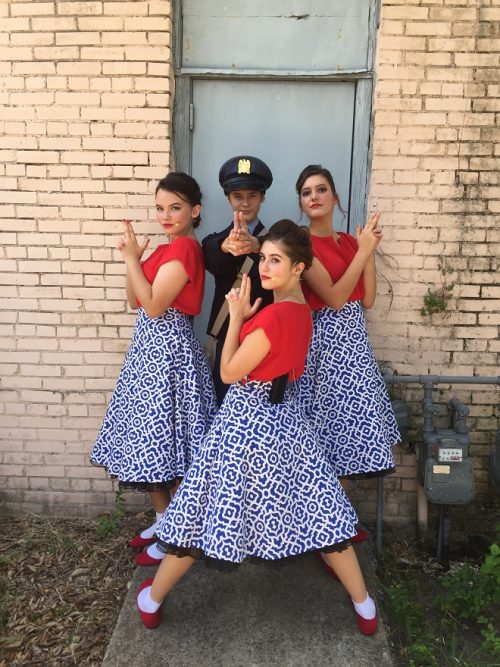 Silly as their pose is, you can really see how nicely the skirt hangs, and how cool the pattern ended up looking. I used vintage red 1950s buttons that you cannot see, but the girls really appreciated the small detail. Now to see them in action:
Costuming: Amazon to the Rescue
I had originally intended to make the dresses for the Little Shop of Horrors act, but after shopping for fabric, working days on end on the choreography, I realized, there was not enough time to make three killer diller dresses. Surprisingly, Amazon had just what we needed. We found 1950s style dresses at a great price along with a crinoline petticoat to give both the Little Shop dresses and the Postman skirts a nice lift.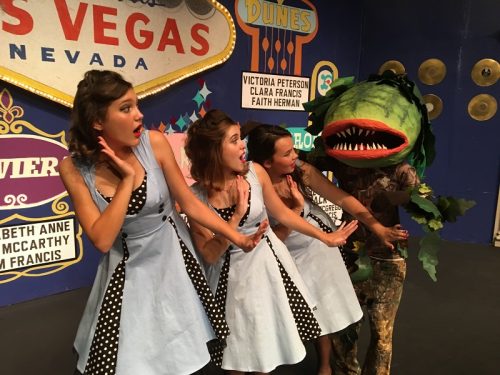 My very talented friend and mother of one of the girls, made the awesome Audrey II head for my son. Green turned out to be a very difficult color to find in long sleeve anything or pants, so we went with camo which is quite abundant in Texas. The biggest challenge was altering the dresses to fit each girl's body type.  I had to shorten my daughter's dress by three inches and that new stretch microfiber is awful to sew on. I much prefer vintage sewing and real vintage, but in a time crunch this worked.
Choreography: 1950s 1960s Dance Montage
We always have an abundance of singing for the show and originally the director had asked my husband and I to do some swing dance, maybe a little Shag or Lindy, but he just started a new job, with a second career after retiring from the Navy. He was overwhelmed, and as you can see, I was overwhelmed with helping the kids.
My friend's daughter got it in her head that she wanted to do a dance act with my son. Originally I was going to choreograph Make 'em Laugh from Singing in the Rain, but for novice dancers, there was far too many complicated moves. When I was listening to the radio, the Jive Bunny mix came on and eureka! the kids could do a dance montage. I knew most of the old dances and could easily teach them.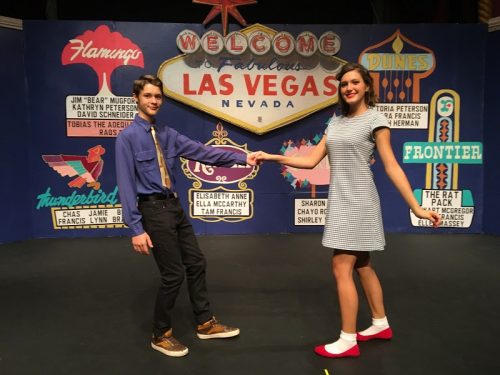 We outfitted my son, Chas,  in a 1950s gabardine flap pocket shirt and vintage 1960s tie. Kathryn was decked out in an authentic 1960s dress she'd picked up at our local vintage store, Magic Mirror. We found a matching scarf for her in the theatre's costume collection, and viola, an act was born.
I had originally wanted them to start the montage with the Jive Bunny mix, but it turned out to be too fast for such new Lindy hoppers, and besides. Sh-Boom, had always been one of my favorite songs. In fact, in my first novel: The Girl in the Jitterbug Dress, I have my main 1990s character try to dance to it. I've included the choreography notes below. As you can see we spiced up some of the dances, cut and pasted them into a small snippet, and added a sprinkle of humor. Also note, this recording was at a matinée show and not as amazing as their evening performance.
The Dance Steps Breakdown
Sh-Boom – Swing Dance

3-6 count East Coast swing
1-4 count Jitterbug Send Out
2-8 count Lindy Swing Outs

The Twist – Chubby Checker 

1-8 count twist face forward
2-8 count twist look stage right
1-8 count twist look each other
1-8 count twist back to back, bump butts, done

It's Madison Time 
Nitty Gritty 

1-8 count scoops
1-8 count digs 2 (1-2 count) slow 4 fast
1-8 count side swish 2 slow (1-2 count) 4 fast
1-4 count cross shuffle
1-8 count side swish 2 slow (1-2 count) 4 fast
1-4 count cross shuffle
1-8 count digs 2 (1-2 count) slow 4 fast
1-8 count scoops

The Bug Jerry Dallman & the Knightcaps 

2-8 counts Kat bug
2-8 count Chas Bug
2-8 count Chas chase Kat with bug
2-8 count both bug last count throw to audience

C'mon and Swim – Bobby Freeman 

2-8 count overhand
1-8 count side strokes separate
1-8 count breast stroke
1-8 count hold nose (four counts with each hand)
1-4 Chas Doggie paddle
1-4 Kat notice reprimand
1-8 count overhand swim BOTH
1-8 Dive, Chas goes to ground, Kat shrugs and surfs
2-8 Kat surf then finish out with swims

The Fly –  Chubby Checker 

2-8 count (shake 2 right low, shake 2 left low, shake 2 right High, shake 2 left high)
3-4 count shake 2 low, shake 2 right, repeat 3x
1-4 count hop on right foot
1-4 count hop on left foot

Born to Hand Jive 

1-8 count basic handjive forward
1-8 count handjive facing
2-8 count hand slap, floor slap secret handshake
3-5 count cotton eye joe, rotating right, left, right
1-8 count basic handjive facing forward

 Pony  –  Chubby Checker 

1-8 count face forward pony
1-8 count face each other pony
1-8 count switch places
1-8 count joust
1-8 count Kat hop on Chas back, gallop off stage to fade
Extra: Yours Truly and the Hubby
To round out the performance, my husband played a skirt-chasing, Scotch-drinking Frank Sinatra and I a cigarette girl. Again, I had wanted to make my own costume, but the kids took priority. Amazon came through with a cheesy, but workable outfit, adding a micro crinoline to make it that much more vintage. I took the horrible brass buttons off and ditched the sailor hat, opting for a unique headpiece that seemed oh so much more Vegas! Adding the long sleeve gloves gave it that much more of a vintage glamour feel. In my second book, Hops the Atlantic, my 1940s character has a similar outfit when she's a camera girl. To finish off the outfit, I made a box in which I sold candy cigarettes and gum cigars (all sales went to the non-profit theatre).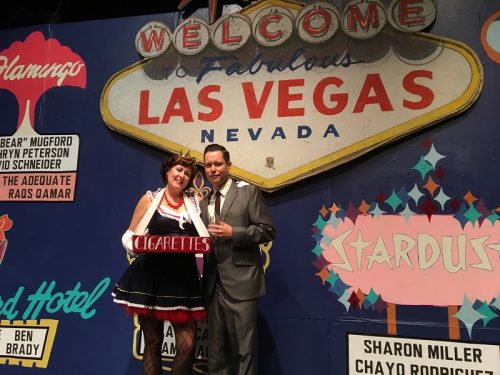 As my daughter graduates this year and will be off to college, I fear it our last time to all be on stage together. Having us all there together made all the hard work worth it. So besides the launch of the new novel,The Flapper Affair, this was my summer. How was your summer?
::
Did you do anything interesting over the summer? Do you like live theatre? Which act did you like best of the three videos? What did you think of the vintage sewing pattern and how the skirts turned out? do you have any sewing tricks? What's your favorite vintage novel of mine? Have you read any? What arty things do you do yourself or with your family?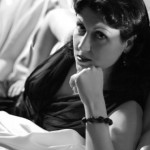 Tam Francis is a writer, blogger, swing dance teacher, avid vintage collector, and seamstress. She  shares her love of this genre through her novels, blog, and short stories. She enjoys hearing from you, sharing ideas, forging friendships, and exchanging guest blogs. For all the Girl in the Jitterbug Dress news, give-aways, events, and excitement, make sure to join her list and like her FB page! Join my list ~ Facebook page